Much was expected of Ohio State quarterback Braxton Miller this season. After a sporadic freshman year, Miller entered his sophomore campaign as the no-doubt-about-it starting quarterback. Not only that, he would do so under the tutelage of head coach Urban Meyer and offensive coordinator Tom Herman.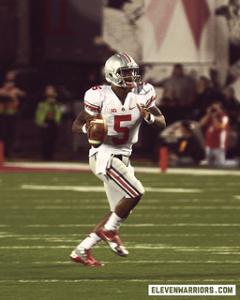 Those expectations have been surpassed. Miller has the Buckeyes on the cusp of an undefeated season. Ohio State enters its bye week at 10-0 and ranked No. 5 in the country with Wisconsin and Michigan as the remaining hurdles.
In the first game of the season, Miller established a new single-game rushing record for an Ohio State quarterback with 161 yards against Miami (Ohio). He broke it one month later against Nebraska with 186 yards in a game Ohio State won, 63-38.
Miller has 1,166 rushing yards and 13 rushing touchdowns on the season. He is the first player under Meyer to reach the 1,000-yard mark in a season. Miller ranks 15th in the country with 116.6 rushing yards per game and is averaging more than six yards per carry.
Antwaan Randle El and Denard Robinson are the only other Big Ten quarterbacks to rush for 1,000 yards in a season.
But what makes Ohio State's rushing attack even more potent is the addition of running back Carlos Hyde. Together, Miller and Hyde average 36 carries and almost 209 yards per games, second-most in the country for a run tandem. They've scored 26 touchdowns.
It isn't just running that has defenses off balance, however. Miller has thrown for 1,753 yards and 14 touchdowns against six interceptions.
He has accounted for 27 touchdowns, four shy of the Ohio State record shared by Troy Smith and Bobby Hoying. Miller's 292 total yards per game is 22nd in the nation and on pace to best Joe Germaine's OSU single-season record of 270.6 set in 1998.
All told, that's why Miller is among the handful of players being seriously considered for the Heisman Trophy. It's also why he was on a conference call with national media Monday night.
Despite being banged up repeatedly, Miller said he's "absolutely healthy" and is continuing to get healthy for the November stretch run. He ices his arm daily after practice and says it isn't bothering him.
Footwork is the part of his mechanics that needs the most improvement, Miller said. He said at times his individual work in practice is lacking because the offense needs to get better as a whole. Miller said he felt more complete as a quarterback against Illinois.
In practice, Herman is the coach who works most with Miller. He said Meyer jumps around to each position but does spend some time with the quarterbacks.
On the bowl ban, Miller said things happen. Meyer and the rest of the coaches have kept the team focused throughout the season, according to Miller. Sending the seniors off the right way has been a central theme.
The polls aren't a focus of the team. They just go out every week, play their game and take it one at a time, Miller said.
Miller said he watched the Alabama-LSU and Oregon-USC games, said they featured a lot of playmakers and athletes.
The spread offense (obviously) has been a good fit for Miller. He said he knew it would be exciting not only for him but other positions on the team.
He's having a Heisman-esque season, but Miller said he hasn't paid attention to his own stats. He said he only hears about it when people tell him. "OK, that's cool," he said.
Troy Smith said Miller could be the best quarterback in school history over the weekend. Braxton said it means a lot to him because Smith was an all-around quarterback. Braxton called Troy "complete," said he watched him all the time.
When the two talk, Miller said Smith told him to make sure he completes his passes, gets everyone involved and is a leader on the field and in the huddle.
Miller said Carlos Hyde and others playmakers are stepping up now because they've been in the system for so long now. Everyone is getting comfortable and the offense is clicking.
Having Hyde and Rod Smith in the backfield is great, Miller said. "With those two guys in the backfield, nothing will go wrong," a chuckling Miller said. He said he's comfortable with the triple-option.
USC wide receiver Marqise Lee is the one player that has caught Miller's eye. His production at so many different positions is the reason.
Miller is not comfortable being in the spotlight and he doesn't like to talk about himself. "Man, it's tough. I try not to talk about it," he said.
The most memorable play of the season for Miller was his run at Penn State. It wasn't a designed QB-read. He was supposed to hand off to Hyde, but Miller pulled the ball after a bull-rush collapsed on Hyde.
Leadership is the spot where Miller believes he has improved the most. Last year as a freshman, he said he didn't know how to take that role. Miller said he has to be vocal being the quarterback.