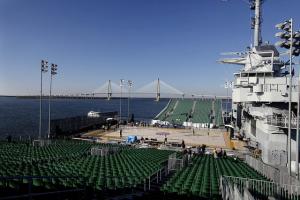 Ohio State and Marquette start the 2012-13 college basketball season tonight with a unique experience. On a night when a poor shooter might actually throw the ball into the ocean, evaluating a team's level of play will be nearly impossible.
That's why Thad Matta and Jim Foster won't spend too much time dissecting the game tape. The stress level won't rise too much if shooting percentages are low. Diving for loose balls, however, might cause the players' blood pressure to spike.
Two members of the men's team are a little leery of the surrounding water. Deshuan Thomas and Amir Williams have each expressed a sense of anxiety.
"I've never played on water before," Thomas said. "That's kind of scary.
"Hopefully if Aaron sees me diving into the water, he'll try to catch me."
Williams said he's not a fan of large bodies of water, but he figures his nervousness will dissipate once the team has a shootaround on deck and the game gets underway. 
Something that could get in the way of high-arching shots destined for the hoop is the wind. Matta said he contemplated practicing some outdoors but couldn't find a suitable place to do so. Growing up in Indiana, Thomas told stories of playing in the wind and rain and didn't think the deck of an aircraft carrier would affect the trajectory of his shot too much.
"He'll find a way to put the ball in the basket," Craft said.
Michigan State and North Carolina struggled for portions of their game shooting. The Spartans never could get on track for an extended period of time, making just 30 percent of their shots from the field. The tempo of the game was also affected from being played in the elements.
No one knows if there will be a repeat performance – the weather forecast is calling for sunny skies during the day and a zero percent chance of rain. Temperatures are predicted to hover between 70 and 55 during the two games. Still, Foster isn't betting on finding too much out about his team.
"The game is outdoors, the game is on a ship," he said. "For us to evaluate ourselves after that game, it will be on effort and how hard we play. Depending on the condition, it might not be the kind of barometer you want it to be – for either team. I just hope we can get through it without being seasick."
And if the wind does kick up, what do you do?
"For this generation it's a little more difficult," Foster said. "Players in the past played outdoors often. You obviously take it to the hole."
| # | Name | YR | HT/WT | PTS | REB | ASST | P | # | Name | YR | HT/WT | PTS | REB | ASST |
| --- | --- | --- | --- | --- | --- | --- | --- | --- | --- | --- | --- | --- | --- | --- |
| 4 | A. Craft | JR | 6-2/195 | 8.8 | 3.2 | 4.6 | G | 5 | J. Cadougan | SR | 6-1/205 | 6.3 | 2.1 | 5.4 |
| 32 | L. Smith Jr. | JR | 6-4/210 | 6.8 | 4.6 | 2.0 | G | 13 | V. Blue | JR | 6-4/200 | 8.4 | 4.5 | 2.6 |
| 10 | L. Ross | SO | 6-8/220 | 2.0 | 0.4 | 0.1 | F | 22 | T. Lockett | SR | 6-5/210 | 0.0 | 0.0 | 0.0 |
| 1 | D. Thomas | JR | 6-7/215 | 15.9 | 5.4 | 0.9 | F | 0 | J. Wilson | JR | 6-7/225 | 7.1 | 4.1 | 1.2 |
| 23 | A. Williams | SO | 6-11/250 | 1.7 | 2.1 | 0.1 | C | 54 | D. Gardner | JR | 6-8/290 | 9.5 | 5.3 | 0.7 |
Opponent
The season hasn't even started yet and already Marquette is a man down. Sophomore guard Todd Mayo was declared academically ineligible on Monday.
If the Mayo name sounds familiar, there is a reason. Todd is the younger brother of NBA player, OJ Mayo.
Last season, Mayo averaged eight points and almost three rebounds per game. But his production tailed off significantly as the season wore on. Mayo has been in the spotlight before for the wrong reasons.
Some have said he brings a toxic attitude to the locker room and Marquette head coach Buzz Williams sent Mayo home over the summer to reevaluate himself. Now his absence leaves the Golden Eagles with a dent in their depth.
Marquette, coming off consecutive Sweet 16 appearances, has high hopes for the 2012-13 season. Tom Crean brought the Golden Eagles back among the nation's elite, but when he left, many thought they would fade under Williams.
But even in the mighty Big East, Marquette has continued to thrive. Sustaining that level of play this season will be a daunting task. Jae Crowder, the Big East player of the year, and Darius Johnson-Odom, an honorable mention All-American, are gone.
The points and rebounds the duo leaves behind are similar to that of Jared Sullinger and William Buford – 35.8 points and 12 rebounds per game.
A whole host of players will try to shore up the missing links. Davante Gardner, Jamil Wilson and Chris Otule are the threats in the paint, while Junior Cadougan and Vander Blue provide steady guard play.
Several highly touted newcomers could boost Marquette this season. He's a senior, but Trent Lockett has never suited up in blue and gold. His past three seasons have been spent wearing maroon and gold in the desert. The Arizona State transfer brings a double-digit points per game average and nearly six rebounds. He gives Marquette instant credibility at the guard position and a reliable three-point threat.
Another newcomer, freshman Steve Taylor, could provide a spark for the Golden Eagles. A McDonald's All-American, Taylor went to perennial national power Simeon High School in Chicago, where he won three state titles and averaged 16 points, nine rebounds and three blocks as a senior.
Virginia native Jamal Ferguson's stats were even more impressive than Taylor's. Ferguson tallied 17 points, eight rebounds and three assists per game.
Tonight, Marquette is just hoping history repeats itself. The Golden Eagles are 80-15 all-time in season openers and have won 12 of the past 13.
Buckeye Breakdown:
The topics have all been discussed. The absences of Sullinger and Buford, who will take over their points, how long will it take the offense to take shape and on and on.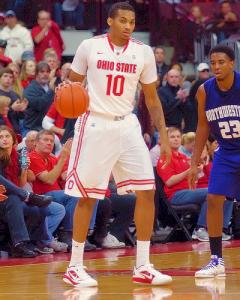 After the Buckeyes' exhibition game versus Walsh, questions of who would be in the starting lineup seemed to dissipate. But it is no done deal that it will be LaQuinton Ross over Sam Thompson. After all, Thompson is currently the more well-rounded player with significant game experience.
Two days ago, Matta was still unsure about which direction he was leaning, at least that's what he told the media. According to Matta, he believes Ohio State could use several different starting lineups this season. With so many new pieces, it could take time to develop that cohesiveness Matta is looking for and the appropriate substitution patterns.
"That's irrelevant to me," Matta said of who is starting. "I know the lights and the smoke and the videos and all that stuff is probably more important to them than it is to me. But I want to make sure we put a team out there that has a chance to get off to as good a start as we possibly can."
Ross and Thompson both had their moments against Walsh, but Thompson's athleticism and eagerness stands out when he is on the court. Ross had 13 points and five rebounds compared to Thompson's 11 points, four rebounds, four assists, three blocked shots and two steals.
But it's those numbers that could also lead Thompson to coming off the bench. Having an effective sixth or seventh man can be a huge boost. It was seen with Daequan Cook and Aaron Craft during their freshman season.
"You also have to look and say, 'Who gives us the best chance to start the game well,'" Matta said. "I've always told our guys, I may not start the five best players, but I'm going to start the five guys that play the best together. That's usually the way we finish a game, as well."
That tends to play in Thompson's favor because he is the far superior defensive player. In fact, while Ross was wasting away on the bench last season, the primary reason Thompson was getting minutes was due to his defense.
During the offseason, Thompson worked hard at developing his offensive skillset. Ross worked on his defense, an area he is rumored to be much improved.
The group of Buckeyes that walk out on the court after the under four-minute timeout in the second half tonight will say a lot.
Etc
Thad Matta has never lost a season opener during his tenure at Ohio State.
The Buckeyes are 5-4 all-time vs. Marquette, though the Golden Eagles have won three of the past four.
Ohio State and Marquette last played in November 1994 at St. John Arena. Marquette won, 82-70.
Aaron Craft and Deshaun Thomas were named to the John Wooden Award watch list.