What if.
That's the question that has been asked for months now, even before the season started. What if Ohio State goes undefeated? What if Ohio State had taken a bowl ban a season ago?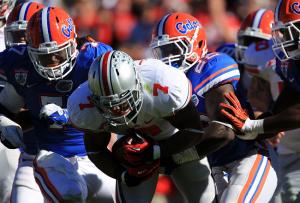 The first question is two games away from being answered. The fairy-tale unbeaten season was thought to be a long shot in August. But as Ohio State enters the bye week, it sits 10-0 and ranked No. 5 in Urban Meyer's first season as head coach. Only Wisconsin and Michigan stand in the Buckeyes' way of a dream season.
"It's cool, isn't it," Ohio State director of athletics Gene Smith told Eleven Warriors. "It's great. We couldn't be more blessed to have Urban and his staff and the focus that they bring."
Considering where Ohio State sat a year ago, the transformation is remarkable. The Buckeyes finished 6-7, tied for the most losses in school history. In the throes of a scandal that paralyzed the football program for a year, there was uncertainty about the short- and long-term future of Ohio State football. 
"Obviously last year wasn't the year we wanted to have," wide receiver Corey Brown said. "Our record is just a credit to what we did in the offseason. All that hard work is now paying off. We know we have a big week coming with Wisconsin. We will grind through this week, and then grind through the next and keep the momentum going."
For a decade under Jim Tressel, Ohio State was the gold standard in the Big Ten, winning seven conference titles, and a national power, capturing the 2002 national championship and appearing in two other championship games.
When he was wiped out in a far-reaching scandal, along with star quarterback Terrelle Pryor, Columbus stood still. Nearly a dozen players would end up facing suspensions during the 2011 season. Interim coach Luke Fickell held the program together as best he could, but Ohio State was saddled by numerous shortcomings.
Less than a year later, the Buckeyes appear to be in better shape than before unprecedented turmoil engulfed the Woody Hayes Athletic Center. 
"It's a great feeling to get through everything we went through and have the chance to possibly go undefeated and win a divisional championship, to take these seniors out in a big way," Smith said. "It's a great feeling."
But even if Ohio State completes the redemption tour 12-0, it will be home for the holidays. That's because once the NCAA completed its investigation into the tattoo-for-memorabilia scandal it banned Ohio State from the 2012 postseason. Fans were outraged after being told for months by confident Ohio State officials that a bowl ban was a long shot. Meyer called it a "sucker punch."
"It's definitely disappointing when you look at it," said cornerback Travis Howard, who had an interception in Ohio State's 52-22 win over Illinois on Saturday. "But, at the same time, the coaches tell us to focus on what we can control, and we can't control that. We just have to go out there and play our hearts out and make the most of our opportunities.
"It sucks we can't play in a bowl game, but we're still able to go out there and continue winning games and do the best for our seniors."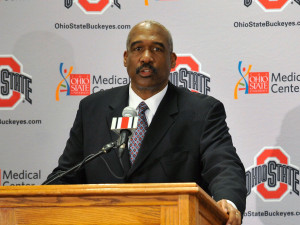 Fellow cornerback Bradley Roby said the Buckeyes had an entire offseason to get in the right mindset for 2012, knowing the postseason wasn't going to be a possibility. But it doesn't make the facts any easier to deal with.
The objective is to take advantage of the opportunities Ohio State has, Roby said. Two games are left on the schedule for the team to show the nation that it is among the elite in college football. The Buckeyes are ranked fifth in the Associated Press top 25, but according to Roby Ohio State is No. 1. 
"Why wouldn't I think we are," he said. "I feel like we can play with any team. We have the players to match up with any team. You can pull up the depth charts – every position, we have players that are better or just as good as any team in the country. Football is a team sport and when you bring teams together, that's when you see how good a team really is. I feel like we can play with anybody."
Meyer is more bullish on his team. He's coached winning teams in each of his 11 seasons as a head coach, several of which have entered the top five. The 2012 Buckeyes are nearing that upper echelon, but there is still plenty of work to be done in the bye week and the final two games of the regular season until national championship aspirations become realistic.
"(Saturday's) performance was a top five," Meyer said. "You'd like to end it a little better instead of a fumble return for a touchdown. But in certain areas, no (we are not a top-five team), but when you can control the line of scrimmage, that's usually a top-five team."
Ohio State's situation isn't as easy as those on the outside might think, however. If Ohio State had self-imposed a bowl ban on the football program a season ago, it wasn't guaranteed to be ineligible this season. In fact, opinions on the matter are split.
The NCAA has refused to comment on the subject, saying the association doesn't deal with hypotheticals. Experts on the inner workings of intercollegiate athletics have said it is nearly impossible to conceive how the NCAA would have ruled.
One part about the case that is often forgotten is Ohio State's status as a repeat violator due to the violations committed under former men's basketball coach Jim O'Brien. Combined with the severity of the football program's violations and a look back at history – Alabama and USC both received multi-year bans – one can make the case for the NCAA giving the Buckeyes a ban in 2012 even with a self-ban in 2011. 
But Smith hasn't second-guessed Ohio State's decision not to self-impose a bowl ban.
"No, I don't have any regrets," he said. "A lot of people want to talk about that, but the reality is you make a decision based upon the information in front of you. We had a lot of smart people (involved). I didn't make that decision on my own. You look at all the previous cases and I think we did the right thing at that particular time.
"Hindsight is always 20/20. It's the easiest thing in life."