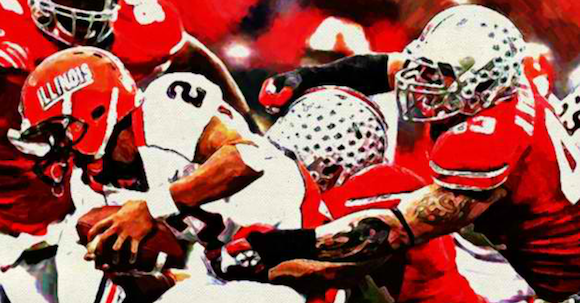 Last week I heard from several people accusing me of employing revisionist history to downplay the success of the Tressel Era in light of Urban Meyer's 9-0 start to his first season. This line from last Tuesday's post was thrown back at me by one emailer:
Football isn't just about integrity or championships; it's also supposed to be fun. 
That back-handed critiqueliment was not consumed quietly. RELEASE THE RHETORICAL HOUNDING QUESTIONS: So you're saying that beating Michigan nine times in a decade wasn't fun? So winning the Big Ten every year wasn't fun? So going to BCS bowls every year wasn't fun?
Nobody disputes the efficacy of Tresselball where unlocking the Big Ten's automatic and/or at-large BCS bids were concerned, and Jim Tressel's radical transformation of the Michigan Wolverines from albatross to bitch ranks with Teflon, hot dogs and vulcanized rubber among Ohio's greatest engineering achievements.
The exceptions to his methods came not after his season tallies were recorded, but during the Saturdays that defined them.
Tressel famously put his offense in shackles, expending plays to center field goals and position punts while draining the football out of football games to achieve those glorious outcomes listed above in italics. And ultimately it worked, like, a ridiculous 80% of the time.
Whether it was Meyer's Gators shredding the Buckeyes in Glendale or Tressel's Buckeyes suffocating the Oregon Ducks in Pasadena (people do still remember that this happened, right?) it's a futile argument to suggest there's only one way to win. 
That wasn't at all what I was suggesting. I just know which journey I would rather expect, root for and watch – and there's no better illustration of this philosophical dichotomy in approach to winning than the two most recent games with those floundering Illini.
Last year the Buckeyes completed one damn pass against Illinois. One.
It came in the fourth quarter in Champaign and it was Braxton Miller's fourth (!) and final (!!) attempt of the game. And yet Ohio State still won, despite telegraphing its tendencies for all 30 of the forgettable minutes that it held onto the ball.
The refugees of Tressel's final Ohio State staff correctly bet on Ron Zook blinking too many times and simply played keep-away. After 228 total yards of offense which included that one completion and a whole lot of blinking from the other sideline, the scoreboard alone told you it was okay to be happy.
Now contrast that to last Saturday, when Miller had more passing yards than Ohio State had total yards in Champaign – and he hit eight different receivers, compared to four total passing attempts. Even with all of that throwing, the Buckeyes still rushed the ball six more times than they did in last year's game – and gained 119 extra yards in the process. 
The punchline? None of that was necessary to win. None of it.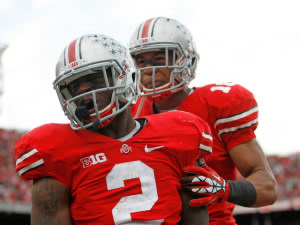 Meyer could have easily played keep-away against the conference's most pitiful team and won the surest way using the exact same recipe that Tressel's refugees cooked up last season. You can kill a fly with your slipper or a cannon. Either way, the fly dies.
The scoreboard's consultation wasn't necessary on Saturday, because football in Columbus is no longer the distraction that takes place in between punts.
Watching the Buckeyes win in Champaign last year – and oftentimes under Tressel when the opponent didn't merit any fireworks – felt like a chore rather than an escape.
That's the difference in methods – and possibly the only one. Nobody disputed the efficacy of Meyer's approach to winning where unlocking the SEC's automatic and/or at-large BCS bids were concerned. He and Tressel have both earned the public's trust on Saturdays.
Ten-game winning streaks don't grow on trees. They're hard to come by against the weakest schedule, let alone Ohio State's (it's now ranked the 51st hardest and about to get tougher). Tressel notched three such streaks in his 10 seasons. 
This is Meyer's fourth. He had one at Utah during his perfect 2004 season and two at Florida. Most of the wins in those streaks can be primitively summed up as his guys scored a ton of points and the other guys didn't.
Tressel's streaks contained a few games like that, sprinkled among those infamous nail-biters against significantly weaker teams – much in the same way that Meyer's current one does.
Except that this team is still doing a second-rate impression of Meyer's philosophical approach toward winning. He's doing this with a roster of beleaguered players that had to be re-recruited just to stay in town. It's still devoid of offensive tackles and linebackers. Jordan Hall has been hurt all year – his subpar Percy Harvin impression will have to wait until next year.
This is what rebuilding looks like.
Illinois was held to just 170 total yards Saturday. That's 115 fewer than they had last year when they were shut out by the Silver Bullets until the waning minutes of the game. Sure, the weary Illini might be getting worse as the losses pile up, but after 10 wins in as many weeks the Buckeye defense has also gotten much better. 
Anyone who doesn't think there is a difference between winning ugly and winning pretty in the beauty pageant that is college football is kidding themselves. Limiting choices to only winning ugly or losing pretty is a choice better left to straw men, or to those too afraid to be critical of an otherwise impeccable coaching record.
And that's all I was saying. Ohio State at 10-0 without the threat of being forced to watch one of those famous shriveled-confidence clock-grinders is invigorating. Because football isn't just about integrity or championships; it's also supposed to be fun.
The best news is that even if you disagree, it's not going to matter anyway. You see, Meyer's track record in this area requires no revisionist history either.