Back in August, I wrote a piece on how Bradley Roby could end up playing on two, and possibly even three sides of the ball for the Buckeyes, serving as a wide receiver and return man in addition to his duties as OSU's lockdown corner.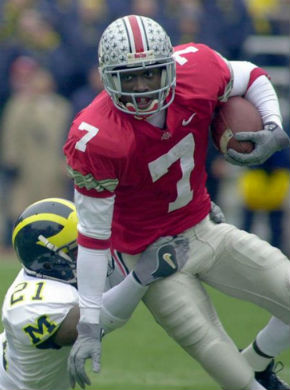 As it turns out, the Ohio State staff did experiment with flipping a player to the other side of the ball, but it wasn't Roby. Rather, fullback Zach Boren made the move to defense at linebacker and has done an outstanding job playing exclusively on that side of the ball in Etienne Sabino's absence.
With the bye week coming up, it appears Sabino will heal up in time for the team's final two games at Wisconsin and home against Michigan. When he returns, Boren will move back to his fullback position, but will still likely see time at linebacker when the Bucks are in three backer sets. If and when that happens, the senior captain will be the first player since Chris Gamble to play on both sides of the ball at Ohio State.
That is certainly saying something, as Gamble was a unique talent in Columbus. The Davie, Florida, native came to OSU in 2001 as a wide receiver, but it became evident rather quickly his athleticism and talents would be wasted by just catching passes. The staff knew there was more the 6-1/195 athlete could do to help the team, and by playing him on both special teams and on defense, he helped the Buckeyes earn a national title in the 2002 season.
In this week's segment of "Where Are They Now" we take a look back at Gamble's illustrious three year career in Columbus, his arrival in the NFL, and where he is today.
Join us after the jump to hear about the last true two-way star at Ohio State, Chris Gamble.
Three-Way Threat
As mentioned above, Gamble arrived at Ohio State out of Dillard High School in Davie, Florida, as a member of Jim Tressel's first recruiting class (John Cooper started recruiting the class, so credit to JHC).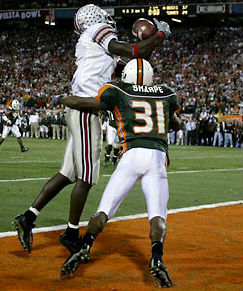 Many thought Gamble would be a contributor at the college level as a pass-catcher and even returning kicks, but in need of help in the secondary, the Ohio State coaches gave Chris practice reps at cornerback, where he locked down the Buckeye receivers and eventually found his way onto the field at the position.
During his three-year career in Columbus, Gamble played in 38 games, starting 30 of them. Twelve of those starts came on defense at corner and 18 came at receiver, with the star earning 5 overlapping starts (both offense and defense) during the 2002 season.
His career stats were good, but don't even tell the whole story of the impact he had while playing for the Scarlet and Gray. Gamble tallied 40 catches for 609 yards through the air, while also rushing 6 times for 68 yards and a score on offense. On special teams he had 467 punt return yards and 384 kick return yards, and on defense he totaled 65 tackles (3 for loss), 7 interceptions, 21 pass deflections, and a touchdown off one of the interceptions.
Those aren't eye-popping, but the accolades earned certainly are. In addition to winning the 2002 national championship and the Fiesta Bowl in 2003, Gamble was named a 3rd team All-America and 1st team All-Big Ten member, earning a reputation as a super athlete and putting himself in position to be able to leave early from college to make way for his career in the NFL.
The NFL Awaits
Gamble's move to leave early from college paid off when the Carolina Panthers made him the 28th overall pick in the first round of the 2004 NFL Draft.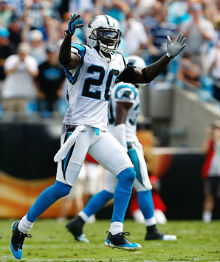 While it was thought Gamble had the talent to possibly play two ways in the NFL to some extent, the league is just a completely different beast as compared to college football and it was decided Gamble's full potential could be reached by just concentrating on one position, cornerback.
In his first season with the Panthers, Gamble became the first defensive rookie in team history to start all 16 regular season games. He was named to the All-Rookie team by Pro Football Weekly after the season and led his team with 6 interceptions, good for third in the NFL, and proving the move to one side of the ball to be a good one.
Showing that his rookie campaign was no fluke, Gamble came back in year two to notch 7 interceptions, ranking first on his team again and fourth in the NFL. Following that he once again led the Panthers with 3 interceptions in 2006, his third year in the league, further cementing himself as a legitimate NFL cornerback and a franchise defensive player for Carolina that would be around for years to come.
Savvy Vet A Mainstay
Now in his ninth NFL season, Gamble is still a mainstay in the Panthers' secondary and is likely one of the most important players in the franchise's history.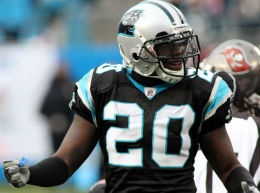 Gamble holds franchise records for interceptions (27) and pass deflections (94), while also tallying 508 tackles, a sack, 4 forced fumbles, 4 recovered fumbles, and 2 touchdowns in his defensive career. To add to those numbers, he also racked up 412 punt return yards while handling those duties during his first three seasons with the team.
The Panthers rewarded Gamble for his contributions to their franchise with a six-year $53 million ($23 million guaranteed) contract before the 2008 season, making him one of the highest paid defensive backs in the league at the time.
In the fifth year of that contract, Gamble is just 29 years old, but will be headed toward the wrong side of 30 come March 2013, usually a sign of going downhill in the NFL.
The complete end likely isn't near, but Gamble's hold as a topnotch corner in the league likely is. This year he has only played in four games due to a shoulder injury and with a decent chunk of money due to him in the final year of his contract next season, there is a chance his time with Carolina may be up after this current season.
Regardless of what happens, Gamble has had an excellent run in the pro ranks and not only has done the Panthers well during his nine years in the league, but also has made Buckeye Nation proud with not only his play, but his demeanor off the field and in the community.
With the Panthers playing on Monday Night Football at home on November 26, there is certainly a chance Gamble makes it to the Michigan game on the 24th to get honored as a member of the 2002 national championship team. Buckeye fans will certainly hope he can make it so they can cheer a great ambassador of The Ohio State University.