What was once thought only as a possibility has become a reality. Ohio State enters its bye week undefeated with Wisconsin and Michigan standing in the way of a perfect season.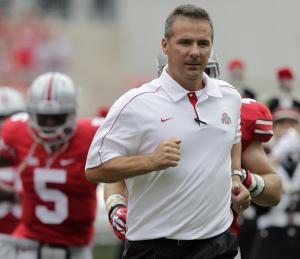 The Buckeyes finally played a full game on Saturday, knocking off Illinois, 52-22, in a game that featured the offense clicking on all cylinders, the defense playing, perhaps, its best game of the season and special teams being involved.
"I think this is our first complete game in all three phases," safety CJ Barnett said. "We were able to stay fresh because of the long offensive drives. It's the best we've done defensively in keeping Illinois under 200 yards."
Quarterback Braxton Miller did nothing to hurt his Heisman campaign, accounting for 299 total yards on offense and three touchdowns. Miller finally did some damage with his arm, abusing the Fighting Illini defense with 12 completions for 226 yards and two scores.
Carlos Hyde and the offensive line also had their time in the limelight, gashing an Illinois defense that ranks low on the totem pole in most statistical categories. In three quarters of work, Hyde had 137 yards and three touchdowns.
Meanwhile, Illinois was limited to 170 yards. Quarterback Nathan Scheelhaase completed 19 passes for 96 yards, a number that is nearly impossible to reach.
Still, Meyer kept his 10-0 Buckeyes grounded as they enter the bye week.
"The area we're not efficient enough is the drop-back pass," he said. "It's not acceptable. And the guys around him, we have to continue to get better. The offense, I'm really disappointed in that."
The criticism of Miller came after Meyer was made aware of comments made by Troy Smith, saying Miller has the opportunity to be one of the best quarterbacks in school history.
But Miller didn't exactly back away from his coach's comments.
"I'd agree with him," he said. "I have to get better at that aspect of the game.

"I felt pretty good about myself throwing the ball. Last week, I was rushing things and my feet were jittery and I was elongating my step. But I was compact the whole week, and I could tell when the ball came out of my hands it was going to be a good throw."
Corey Brown said Miller and every other member of the team will have a hard time living up to the lofty expectations of Meyer.
"No one will ever be able to satisfy Coach Meyer," Brown said. "He holds us to such high standards – and he should."
The area Meyer lauded was the offensive line. The unit continues to be the surprise of the 2012 season. Offensive line coach Ed Warinner has worked miracles in putting together a ragtag group that is all of a sudden a strength.
"What I liked best about (the offense is) when you control the line of scrimmage," Meyer said. "That offensive line, I keep talking about them. Just where they've come from. Think about it. It's almost overwhelming if you think where they were first week of spring practice to where they are now."
Hyde, the guy who runs behind and past them, gave a spiel that showed his toughness.
"I'm a big back," Hyde said. "I'm not a little scat guy who loves running away from contact – I'm running to contact. I'm going to try to make guys get out of my way. I run with passion, aggression and attitude. I feel like I can't be brought down."
Three weeks ago, the defense left Indiana, in its own words, "embarrassed." Times sure have changed since then. After a meeting of the minds, the Ohio State D is well on its way to being the unit it was thought to be at the beginning of the season, injuries and all.
"We had to show we could play Silver Bullet football," cornerback Travis Howard said. "After the Michigan State game, we slacked off and fell apart. The coaches told us, 'That's not Silver Bullet football.' They wanted us to go out and compete and show what we're capable of doing. Today, I think we did that."
"After the Indiana game, we focused on the fundamentals - tackling better, leveraging the ball and keeping them in front of us." Barnett said. "Coach Meyer really challenged us and put pressure on us to be better. We've done a good job of answering the call."
"Indiana was a setback and we really took it to heart," defensive end John Simon said. "As a defense, we rededicated ourselves in practice and have been doing everything we can to be prepared for game days. So far it's been paying off, so we have to keep it up over the next three weeks."
"The defense is getting better because of all of the criticism we have been receiving," linebacker Ryan Shazier said. "We are trying and succeeding, slowly but surely, at becoming a better football team."
Complete Game Coverage
Corey Brown delivered one of the most exciting plays of the day catching a short pass and then sprinting some 35 yards the rest of the way to the end zone. Six different Illinois players had an opportunity to tackle Brown, but he used his elusiveness to avoid would-be tacklers.
It drew laughs from Brown, Miller and Meyer because the head coach chided Brown for having 12 catches but less than 90 yards receiving at Michigan State.
"I just went to the sideline, looked at Coach (Meyer) and just smiled," Brown said. "I just kept walking to see what he would say. But obviously he's a serious person, so he really didn't do anything back."
As Ohio State enters the bye week, it will likely be a top-five team the next time it takes the field at Wisconsin. The Buckeyes are flawed, but if you win all your games, there's not much to keep you away.
"I've been fortunate to have a couple of top five teams," Meyer said. "This one probably has more holes than those other ones. However, there's also some great performances, so we are going to do dwell on the weaknesses because those weaknesses get exposed when you play two good teams like we have to finish the season."
Illinois head coach Tim Beckman was the second coach in as many weeks that lobbed compliments Miller's way. But it was hard not to after his performance.
"Braxton Miller is a fantastic football player," Beckman said. "He fuels this Ohio State team with his ability to make guys miss and that is how he hurt us today. He also made big plays with his arm and exposed some coverage issues in our secondary."
"I've played against him before in high school, and he was just as slippery then as he is now," Illinois kick returner/defensive back Terry Hawthorne said. "He is the same exact guy, but he has more control of the ball now."