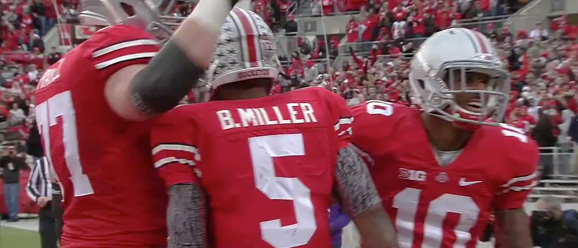 Warning: This page is bandwidth intensive. If you're on a cellular network or slow connection, turn back! Turn back!
From Rod Smith's wheel route hotness, to your weekly Braxton Miller Xbox highlight and Philly Brown turning on the jets, we have you covered with all of the GIFs you could want and more from Ohio State's 52-22 win over Illinois.
Q2|5:19 After lining up in a two-back set alongside Carlos Hyde, Rod Smith runs a wheel route, blowing past Illinois free safety Supo Sanni. Braxton Miller does his part, hitting Smith in stride for a 51-yard touchdown to put the Buckeyes up 24-6.
Here's a view of the play from the pocket.
After scoring, Smith goes in for the vaunted midair chest bump with Evan Spencer. We give them an 8/10.
Q2|1:59 With just under two minutes remaining in the first half, Ohio State took over at the 50, thanks to an 18-yard punt. Five plays later, Carlos Hyde takes it in untouched from the three to put cap a 24-point 2nd quarter and move the score to 31-6.
Q3|6:52 XBrax does it again, stepping up into the pocket before bouncing it out and around the end to cover 23 yards on a two-yard touchdown run.
Look at right tackle Reid Fragel staying with his man to provide just the nudge Miller needed to get to the corner. We're kidding. Braxton can get any corner he wants, but Fragel should still be commended for his 4 to 6 seconds of relentless pursuit and effort.
Q4|12:48 In their final action before reserves are brought in, Braxton Miller finds Philly Brown for a five-yard hitch.
Brown took it from there, feigning a split of Illini defenders Ralph Cooper (42) and Ashante Williams (25) so hard they collided, juking Earnest Thomas (9) into a spinning top, and then avoiding two more defenders on the way to the end zone.
[Not shown: Kenny Guiton's fumbled option that turned into one of the easier defensive touchdowns you'll ever see.]
Complete Game Coverage