For the Ohio State defense, it's been the tale of two seasons. The first half, plus the seventh game, included more points than the Buckeyes were accustomed to giving up, as well several plays of 30-plus yards.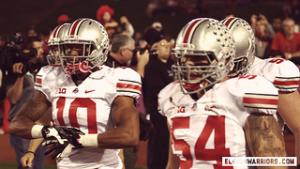 But ever since, the Silver Bullets have hunkered down and gotten back to its reputation.
On Saturday, in a 52-22 win over Illinois, the Buckeyes held the Illini to 170 yards of total offense, less than 100 rushing and passing, while they converted just two of 14 third downs. The Illinois defense had 77 yards on a fumble return, more than 45 percent of the offense's total output.
"Indiana was a setback and we really took it to heart," defensive end John Simon said. "As a defense, we rededicated ourselves in practice and have been doing everything we can to be prepared for game days. So far it's been paying off, so we have to keep it up over the next two weeks."
Illinois quarterback Nathan Scheelhaase completed 19 passes, but it was more quantity than quality – he only had 96 yards passing. Simon only finished with one tackle – a 10-yard sack – but he spent the better part of three quarters chasing Scheelhaase.
A week after not allowing Penn State to score a touchdown until the fourth quarter, the Buckeyes limited Illinois to one offensive touchdown. Four Illinois possessions ended in three-and-outs.
"We really interrupted their schedule," said linebacker Ryan Shazier, who finished with a team-high 14 tackles and a career-high 11 solo tackles. "We made them rip up the pages in their playbook. We did things they weren't expecting us to do. We got them in 2nd-and-long and 3rd-and-long, and we would get our defensive linemen in and get our nose running into the quarterback."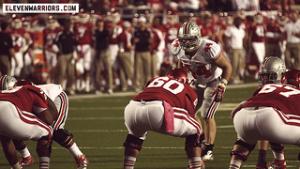 Give Me A Break
Few teams have dealt with the number of injuries Ohio State has had to through the first 10 weeks of the season. Offense, defense, special teams – each unit has been hit hard by the injury bug.
Needless to say, the Buckeyes are happy the bye week is upon them.
"Everybody's beat down," quarterback Braxton Miller said. "It's a struggle. You've just got to fight through it."
Miller has battled bumps and bruises all season. He's come out of multiple games, including the Purdue game when he suffered a neck injury that sent him to the hospital. Backup Kenny Guiton rallied the Buckeyes in a miracle finish.
Ohio State has some time off in the coming week. But Meyer made sure to let his team know they earned it by performing on Saturday.
"The bye week, there's no rights around here," Meyer said. "That's earned time. If we didn't play well we would have been in tomorrow working and going all week like a normal workweek. But those guys earned it. I'm proud of them."
The analyzing of bye weeks is a favorite pastime in sports. Is it at the right time or not, or do they not even matter at all?
Cornerback Bradley Roby said it's too late in the season and that he believes Ohio State needs to play every week to maximize its respect. But others welcome the off week, especially with the two biggest games of the season looming. 
"I think it will give a lot of guys who have been hurt or injured a chance to rest and hopefully we will get a lot of guys back for Wisconsin," Shazier said.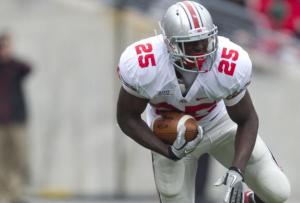 Fuel Reserves 
For weeks Ohio State head coach Urban Meyer has lamented the fact that Ohio State hasn't been able to get its backups in the game. That changed on Saturday.
The Buckeyes' second- and third-stringers got in a full quarter's worth of work.
Running back Bri'onte Dunn had not received a carry since the Central Florida game. But he showed little rust against Illinois, rushing for 73 yards on 13 carries. Dunn scored on a three-yeard touchdown run late in the fourth quarter on a drive that was literally all Bri'onte Dunn.
He carried the ball on all seven plays for 44 yards. Dunn had carries of seven, nine, five, 11, four, five and three yards.
Dunn entered the season as a regular in the running back rotation. But the reliability of Carlos Hyde and emergence of Rod Smith pushed him to the background.
Complete Game Coverage
In the season-opening win over Miami (Ohio), Dunn had 31 yards and a touchdown on seven carries. The next week against UCF, he had 29 yards on five carries. But he only saw offensive snaps in one game since.
"You try to get one or two of those (backups) early in the year, but we were so lousy it was hard to do that," Meyer said. "I'm glad to see because there's no way you can simulate that in practice. That Bri'onte Dunn, he's a little looser with the ball, but I thought he ran very hard."