A week ago, Braxton Miller's health seemed to threaten Ohio State's undefeated season. But the quarterback showed no ill effects from a neck injury the previous week against Purdue and played spectacularly at Penn State.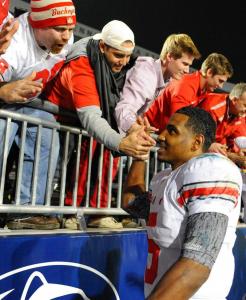 In doing so, Urban Meyer finally purchased stock in Miller's Heisman campaign. Now with the Illinois Fighting Illini coming to town, Miller and the offense are salivating. In its first season under former Ohio State assistant Tim Beckman, Illinois has slogged its way to a 2-6 record and no Big Ten wins.
The Illinois defense has been gouged for large chunks of yardage on the ground and through the air and has also given up points by the bushel. But it's not just the defense that has been a problem for the Illini. The offense also has had its share of rough times.
Quarterback Nathan Scheelhaase, who had such a promising 19 games to start his career, still hasn't recovered from last year's second-half swoon. He's completed 61 percent of his passes, but only thrown for four touchdowns compared to five interceptions. Health has been part of Scheelhaase's setbacks, as is the lack of a big-play receiver and productive running back.
It's been months since Ohio State had a layup, which is appropriate with basketball season upon us. The Buckeyes enter Saturday as a 27-point favorites, but Meyer has reminded his team about Illinois' success in Columbus.
"Illinois has had more draft picks than Ohio State the last few years, certainly more first-rounders," Meyer said. "They've won seven of 11 in Ohio Stadium. So there is no issue getting these guys ready. Lot of respect for Illinois."
Scheelhaase is the main concern offensively, Meyer said, because he's a playmaker. The Illinois offensive struggles have not been due to a shortage of talent, according to Meyer.
Cornerback Bradley Roby said Scheelhaase is able to create a lot with his feet and does a good job with what he has to work with on offense.
Miller had some goofy slides at Penn State. Meyer said offensive coordinator Tom Herman is in charge of helping Braxton, though Miller said there really isn't too much focus on it in practice.
Even though Ohio State is undefeated entering November, Meyer said there isn't any more pressure on the team. He said the team just goes into each Saturday with the goal of winning.
If Ohio State wins Saturday and Penn State loses, the Buckeyes wrap up at least a share of the Leaders Division championship, but Meyer said it hasn't been mentioned this week.
Meyer said the main question is "how good are we?" He said sometimes they can be really good, others times not so much.
Roby said there is inside pressure, just in the sense that OSU set out to be undefeated and still has that goal to accomplish. But he said no outside forces have added any pressure.
A big call in last Saturday's game at Penn State was the holding call against Penn State on a punt. Meyer said Bryce Haynes' ability to get down the field so quick created that penalty.
Miller said the biggest thing he needs to improve in his passing game is his footwork.
After taking a beating all season, he said he is welcoming the bye week. But that wasn't the consensus on the team.
Roby said the bye week is coming too late in the season. He said the Buckeyes need to be on the national radar every week and that won't be the case next week.
With the Heisman race heating up, Miller said it's an honor to be mentioned for the award.
Roby originally committed to Vanderbilt to be a wide receiver. Every time he sees Vandy highlights on ESPN he said he thinks about what would have happened had he gone there.
Illinois' wide receivers haven't been stellar so far, but Roby said they are young and talented and should not be taken lightly.
Ohio State has had a lot of close games with less talented teams this season. Roby said it's a mental issue. He said the topic has been addressed this week and that the team needs to always play at a high level.
Roby said the defensive improvements the past week have been partly due to a simplified approach. Roby believes the defense is on the right path. He said no defense plays perfect.
Zach Boren has been a leader on defense since he moved over, according to Roby. There are no worries about him executing his job.
Defensive lineman Noah Spence said he has been studying the playbook more lately.
College football has been a tough transition as he expected. He said his welcome to college football moment came on the first day of practice when contact drills took place.
Spence, like Roby, believes the schemes Ohio State has run on defense the past few games fits the personnel better. He believes it has added extra pressure on the quarterbacks.