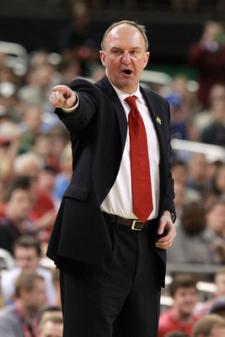 In the midst of a 9-0 football campaign in Columbus, the basketball season begins. It's only an exhibition game against Walsh, but coming off a season that resulted in a Final Four berth has reason for excitement.
The Buckeyes aren't likely to look like a team that's ready to make another Final Four run tonight, despite their lofty No. 4 ranking – Lenzelle Smith Jr. said as much on Monday. Improving day-by-day and developing together as a team is the main early-season goal.
Several storylines surround the team as the season opener versus Marquette approaches. The top thing on everyone's mind is the starting lineup. Ohio State didn't just lose two starters from last season's team, it must replace two of the program's all-time greats in Jared Sullinger and William Buford.
The duo leaves behind 32 points and 14 rebounds per game. They've given way to a faster, more up-tempo offense.
At this point, the starting lineup appears to be Aaron Craft, Smith, Sam Thompson, Deshaun Thomas and Amir Williams. Evan Ravenel, Shannon Scott and LaQuinton Ross should also be a regular part of the rotation. The competition between Thompson and Ross, and Williams and Ravenel for those final two starting spots is an area to keep an eye on.
Thompson worked extensively on his offensive game during the offseason, developing a reliable jump shot, while Ross' offensive prowess is already well known. But the Mississippi native must concentrate on defense and learning the overall system at Ohio State.
Williams gained 30 pounds in the offseason to become a bigger defensive threat in the rugged Big Ten. He worked on defending down low and fine-tuned an already impressive shot-blocking technique. As a freshman, he swatted away 23 shots.
| # | Name | YR | HT/WT | PTS | REB | ASST | P | # | Name | YR | HT/WT | PTS | REB | ASST |
| --- | --- | --- | --- | --- | --- | --- | --- | --- | --- | --- | --- | --- | --- | --- |
| 4 | A. Craft | JR | 6-2/195 | 8.8 | 3.2 | 4.6 | G | 11 | B. DuPont | JR | 6-0/195 | 9.2 | 4.7 | 7.5 |
| 32 | L. Smith Jr. | JR | 6-4/210 | 6.8 | 4.6 | 2.0 | G | 1 | R. Burrell | SO | 6-3/185 | 13.9 | 3.5 | 2.5 |
| 1 | D. Thomas | JR | 6-7/215 | 15.9 | 5.4 | 0.9 | F | 3 | D. Beard | SO | 6-2/180 | 5.2 | 1.8 | 1.6 |
| 12 | S. Thompson | SO | 6-7/200 | 2.1 | 1.1 | 0.7 | F | 33 | K. Kornowski | SR | 6-9/235 | 18.6 | 8.8 | 1.0 |
| 23 | A. Williams | SO | 6-11/250 | 1.7 | 2.1 | 0.1 | C | 30 | H. Vucic | JR | 7-1/245 | 1.5 | 1.7 | 0.1 |
Opponent
Walsh, a highly successful Division III program, is continuing its transition into a Division II school this season. The Cavaliers are coming off a 26-win season and eighth straight conference title.
Head coach Jeff Young's eight seasons at Walsh read something like Matta's eight seasons in Columbus. Walsh has a 224-44 record, national championship and national runner-up finish.
Walsh returns three starters but must replace two 1,000-point scorers. Point guard Brad DuPont returns, the team's leading assist man with 7.5 per game. DuPont doesn't just distribute the basketball, however; he can also score. He became the second Walsh player in program history to record a triple-double.
Rian Burrell, a guard, also returns. As a freshman last season, Burrell averaged 14 points per game and shot better than 50 percent from the field and 41 percent from behind the arc.
Senior forward Kenny Kornowski is coming off a season-ending knee injury last December. Before he was sidelined, Kornowski was averaging 18.6 points per game and nine rebounds. He scored a career-high 36 points in one game and put up 28 points against Dayton in an exhibition game. He'll be paired down low with 7-foot-1 Valparaiso transfer Hrvoje Vucic.
Another transfer, Davonte Beard from Siena, will be the fifth starter. Beard, an Akron St. Vincent-St. Mary product, averaged five points in 10 games at Siena before transferring to Walsh in December. He possesses all-around guard skills.
Buckeye Breakdown
Yes, Ohio State wants to win against Walsh – the Buckeyes have already been down that road before, losing an exhibition game to Findlay. But, unlike a regular season game, exhibitions are used to tinker with lineups and gauge what a team has to work with.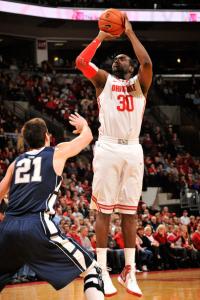 In practice, Matta has noticed several pair of players play well with each other: Aaron Craft-Lenzelle Smith, Deshaun Thomas-Amir Williams and Shannon Scott-Sam Thompson.
The dawn of each season brings something new to a team and locker room. For the 2012-13 Ohio State Buckeyes, cohesion with a starting five is No. 1 on the agenda. But not far down the list of importance is developing a reliable bench rotation.
Matta is questioned about it every year and the answer rarely varies. According to Matta, and one glance at the roster reinforces his thoughts, the Buckeyes are as deep as they've been in several years. Whether the rotation grows to seven, eight or nine remains to be seen.
"I'm kind of interested to see how everyone plays," Matta said on Monday.
The top candidates to come off the bench are Ravenel, Scott, Ross, Trey McDonald and Amadeo Della Valle. To do so, though, each must be equipped to get up and down the floor as fast as possible.
Smith said the Buckeyes spent more time on the track than the basketball court over the summer to prepare for the amount of running they would encounter during the season.
"We've been doing marathons," he said.
The first three players off the bench are known quantities, though Smith said Ravenel had the best practices of his career last week. Still, McDonald and Della Valle are unknowns.
McDonald only averaged three minutes in 13 games last season. He came to Ohio State as a lanky 6-foot-8 center, but he's since added weight to his frame and is up to 240. Making him a candidate to see minutes is his ability to get up and down the floor. McDonald's athleticism also allows him to have a more well-rounded offensive game. He can extend his shot to the 10-to-12-foot range.
Della Valle is the Buckeyes' lone freshman on the team. The Italian attended national juggernaut Findlay Prep in Henderson, Nev. A three-point specialist, Della Valle has been compared to Jon Diebler. In 2011, he led Italy with 15 points per game in the U-18 European Championships. He then broke the single-season three-point record at Findlay Prep with 66.
It remains to be seen how much playing time Della Valle receives, but one of Ohio State's biggest problems a season ago was its lack of a three-point threat. That alone makes him a viable option.
"I think we've got more depth," Matta said.
Etc
Charlie Danis and former Buckeye Neshaun Coleman have the call on BTN.com. 
Deshaun Thomas was named a preseason All-American by the Associated Press.
Former walk-on Alex Rogers earned a scholarship in August.