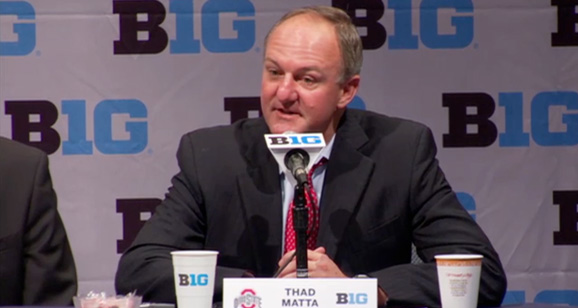 With the stretch run of the Big Ten football season approaching, attention is also turning to the hardwood. Practice began two weeks ago and games begin on November 9. Ohio State will play Marquette that night in Charleston, S.C., in the Carrier Classic. The game will played aboard the USS Yorktown. 
The Buckeyes, coming off a Final Four appearance a season ago, lost Jared Sullinger and William Buford. But that hasn't changed expectations in Columbus.
Head coach Thad Matta is entering his ninth season at the helm of the Buckeyes. In eight seasons, Matta has turned Ohio State into the gold standard of the Big Ten and one of the top programs in the country. Two Final Fours, five regular-season conference championships, three Big Ten tournament titles and six NCAA Tournament appearances tend to attract top recruits.
And Matta has had no shortage.
Eight players have been drafted under Matta, seven of which have been first-round picks. Matta has also coached three All-Americans, including 2010 national player of the year Evan Turner.
Point guard Aaron Craft and talented forward Deshaun Thomas are among a crop of Buckeyes who hope to add to that impressive list. The duo return to a team that is ranked fourth in the Coaches Poll and were picked to finish third in a deep Big Ten by the conference media.
Craft and Thomas were each named to the Big Ten's preseason all-conference team.
Three of the top five teams in the country are from the Big Ten, including No. 1 Indiana. Michigan is fifth in the initial poll and was tabbed to finish second in the league.
At Big Ten media day in Chicago on Thursday, Matta said the key to the Big Ten's success has been great programs and great coaches. He also commented on how difficult it is to win on the road, calling it one of the toughest tasks in college basketball. In his eight seasons, Matta said the level of players has increased.
Through two weeks of practice, Matta said he is very pleased with his team's off-season work and likes their demeanor. The outlook is high despite losing two starts off a Final Four team, and Matta said his team is aware of the challenge that lies ahead.
Matta specifically mentioned the team's three big men – Amir Williams, Evan Ravenel and Trey McDonald – when talking about players who have improved. LaQuinton Ross is a guy Matta said is learning the "meat and potatoes" of Ohio State's system.
Thomas is a popular preseason All-American pick after his showing in last season's postseason tournaments. Matta said Thomas has a great understanding of the game. He knows how to affect the game shooting, rebounding and on defense. Matta also said Thomas' body has changed again. He is slimmer.
Ohio State's bench – or lack thereof – is a popular topic at the start of each season. Matta is known for not substituting a great deal. But that could change this season. He said he believes the Buckeyes will have more depth and interchangeable pieces than in years past. Ohio State has speed and athleticism all over the court, and Matta wants to play as fast as possible.
The Buckeyes have one freshman this year: Italian sharpshooter Amadeo Della Valle. Matta likes what he sees so far, saying Della Valle understands the game as well as anyone he's ever coached.
Matta said Craft was the most college-ready freshman he's ever had.