When Braxton Miller went down on a hard tackle at the end of a 37-yard run, it didn't look good.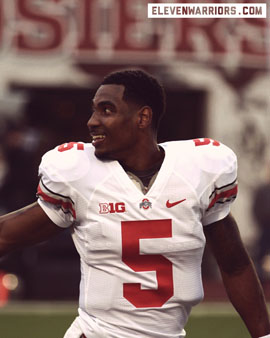 When he remained on the field motionless, it looked even worse.
And then when he was loaded onto an ambulance for a trip to the hospital, Buckeye fans everywhere began to write off the season.
Luckily, Kenny Guiton found a way to save the day on the field.
In even better news, Ohio State just announced that Miller, it appears, is going to be just fine.
He was taken to the university medical center because of concussion concerns. Once there, his head, neck and shoulder was examined and he was cleared by the medical staff after coming up symptom-free.
The full statement from Ohio State:
Ohio State quarterback Braxton Miller left the game against Purdue late in the third quarter. He was taken to the Wexner Medical Center, on the campus of The Ohio State University, because of concerns of a possible concussion. He was examined – head, shoulders and neck – and he has been cleared. He is symptom free of all ailments and he is doing fine. He is in the process of being released from the hospital.
Fan-tas-tic.
Even though he's getting released from the hospital, it's probably still a bit early to speculate about his status for next week's game against Penn State.
We'll have more information Monday with our coverage of Urban Meyer's weekly press conference.