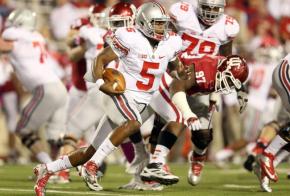 | | | | | | |
| --- | --- | --- | --- | --- | --- |
| | 10 | 14 | 14 | 14 | 52 |
| | 7 | 7 | 13 | 22 | 49 |
Call it the sequel.
For the second consecutive week with a horseshoe-shaped stadium framed by nightfall, the Ohio State Buckeyes continued its quest to secure an Associated Press national championship. But instead of "NU" across the field, it was "IU."
Urban Meyer worried about a letdown after consecutive wins over ranked opponents, and for a while, his fears had merit. Ohio State only led by 10 at halftime and 31-24 in the third quarter, but the Buckeyes pulled away late in the third quarter and midway through the fourth.
Then Indiana began its comeback. With less than eight minutes left in the game, the Hoosiers trailed 52-34 before things got very interesting. Indiana scored 15 points in the final two minutes to cut the lead to 52-49. But one final desperation onside kick came up short.
Ohio State's 52-49 victory makes the Buckeyes 7-0. But the 49 points are another blemish for a defense that gave up 38 points a week ago to Nebraska. Travis Howard called the defensive performance "embarrassing," while fellow cornerback Bradley Roby chose "ridiculous" to describe the Hoosiers' six touchdowns.
It's the most points Ohio State has given up since a 63-14 loss to Penn State in 1994.
"We are not good in certain areas, and we were exposed," Meyer said. "Spread offenses right now are really exposing us. We have got to get something fixed. I don't want to take anything away. We are 7-0 and we ran the ball for 350 yards and had two guys really haul it running the ball. We have got to get back to work. We go back 7-0, and we have got to find a way to get better as Purdue rolls in Ohio State next week."
Braxton Miller still managed to be magnificent. On a day when Heisman Trophy front-runner Geno Smith, the quarterback at West Virginia, dealt with a blowout loss, Miller did his best to seize momentum as Heisman talk continues to heat up.
He rushed for 149 yards and a touchdown and threw for 211 yards, two more scores and an interception. Miller accounted for 360 of the Buckeyes' season-high 582 total yards.
Passing
|   | Cmp/Att | Pct | Yds | TD | Int | Rat |
| --- | --- | --- | --- | --- | --- | --- |
| Braxton Miller | 13/24 | 54.2 | 211 | 2 | 1 | 147.2 |
| Kenny Guiton | 1/1 | 100.0 | 14 | 1 | 0 | 547.6 |
Rushing
|   | Att | Yds | Avg | Lng | TD | Fum |
| --- | --- | --- | --- | --- | --- | --- |
| Carlos Hyde | 22 | 156 | 7.1 | 28 | 1 | 0 |
| Braxton Miller | 23 | 149 | 6.5 | 67 | 1 | 0 |
| Rod Smith | 6 | 40 | 6.7 | 15 | 0 | 0 |
| Corey Brown | 1 | 12 | 12.0 | 12 | 1 | 0 |
Receiving
|   | Rec | Yds | Avg | Lng | TD | Fum |
| --- | --- | --- | --- | --- | --- | --- |
| Devin Smith | 2 | 106 | 53.0 | 60 | 2 | 0 |
| Corey Brown | 6 | 51 | 8.5 | 10 | 0 | 0 |
| Jake Stoneburner | 4 | 41 | 10.3 | 13 | 0 | 0 |
| Carlos Hyde | 2 | 27 | 13.5 | 14 | 1 | 0 |
"He's a great quarterback, great athlete," Indiana defensive back Greg Heban said. "All week we talked about how we needed to treat him as a running back and not much of a quarterback. When he gets the ball outside the perimeter, even inside the line, he breaks free and he runs. He's a great running quarterback, and we just didn't do a great job stopping him tonight."
The Indiana defense's Achilles' heel all season has been stopping the run, and Ohio State made them pay. Along with Miller's robust output, Carlos Hyde totaled 156 yards and one touchdown on the ground, and Rod Smith added 40 yards. All told, Ohio State rushed for 353 yards.
It looked like it might be the typical Ohio State-Indiana game of the past 20 years after the game's opening minutes – a rout, so to speak. The Buckeyes took the opening kickoff and went 75 yards in nine plays to put the first points on the board. As soon as Miller tossed Corey Brown the football on a perfectly executed triple-option from 12 yards out, Buckeye fans thought the game was in hand.
But like a week ago – and every game this season – Ohio State had a lull. It came during stretches of the first and second quarters in the first half, before the fourth-quarter swoon. With Ohio State leading 7-0 in the first quarter, Miller had Devin Smith wide open 37 yards downfield at the goal line, but Smith, Miller's big-play target, dropped the ball. The Buckeyes settled for a field goal, and the drop seemed to change the demeanor of the offense.
Still, the Buckeyes led 10-0 and, up to that point, Indiana had not even gained a first down. True to form, the piranha kick coverage unit downed the Hoosiers at their own 13-yard line on the ensuing kick. But three consecutive completions from Cameron Coffman put Indiana near midfield, before running back Stephen Houston went through the teeth of the Buckeye defense. It's far easier, though, when a blocker is engaged with those Silver Bullets. Houston went 59 yards untouched for the touchdown.
The first big momentum shift occurred on Ohio State's next possession, when Indiana forced a three-and-out and then blocked Ben Buchanan's punt. Three plays later, Houston again had a clear path to the end zone from seven yards out to take a 14-10 lead.
Buchanan has now had four punts blocked in the past 21 games. Three of them have resulted in touchdowns for the opponent. 
The good vibes continued for Indiana, even as Ohio State moved the ball. A 35-yard field goal attempt from Drew Basil on the Buckeyes' next possession sailed wide left. But the "Freak Show" came up big by blocking an Indiana punt deep in its own territory. The ball bounced into the end zone and Roby fell on it for a touchdown and a 17-14 lead. 
A three-and-out on Indiana's next possession gave Ohio State an opportunity to add to its advantage before halftime. And Meyer, always wanting to put his foot on the throat of opponents, opted for the jugular. Miller, who was underthrowing most of his long passes in the first half, finally lofted one to Smith that was on the money. The 60-yard strike gave Ohio State a 10-point halftime lead.
Needing to quell the recent Ohio State surge, Kevin Wilson's troops came out of the locker room with an impressive seven-play drive that resulted in a 22-yard field goal to cut the deficit to seven points. But just when the Hoosiers felt like they were in the ballgame, Miller had his weekly Heisman highlight. This week it was in the form of a 67-yard touchdown run on the Buckeyes' first offensive play of the second half. It provided a backbreaking blow to the Indiana defense, giving Ohio State a 31-17 lead.
As soon as it looked like Ohio State would put the game out of reach, though, driving to the Indiana four-yard line, Miller had an un-super star-like interception in the end zone. The turnover loomed much larger three plays later when Coffman connected with Cleveland Glenville product Shane Wynn for a 76-yard touchdown.
The following possession left Hoosier fans with a bad taste in their mouths. With momentum back on the home team's side, Ohio State silenced the 48,000-plus in attendance with a eight-play, 75-yard drive that ended with a 14-yard touchdown run from Hyde. But two questionable 15-yard penalties on the drive left Wilson and Crimson and Cream-clad fans kicking and screaming.
The bad mood didn't last long, however. Indiana had the best kickoff return against Ohio State all season – a 60-yarder to the Ohio State 40. But they didn't fully take advantage, having to instead settle for a field goal.
Then the fourth quarter arrived, and the teams combined to score 36 points.
"It was a real exciting game," Wilson said. "It was a little tough. We just came up short there. They have a really good team. The way (Ohio State) practices and plays are tough to do. They made a bunch of plays on us. They had some points, but we battled.
"I have a lot of respect for our kids. We kept fighting. It's just disappointing to be short again. That is a good football team we played. I think they do things in great ways."
Backup quarterback Nate Sudfeld led the Hoosiers' two late scoring drives. The first came with 1:40 remaining on a 12-yard pass play. The onside kick that followed was executed perfectly by Indiana's kicker and coverage unit.
A 25-yard touchdown pass and successful two-point conversion made it a three-point game with 1:05 left. But after Ohio State recovered Indiana's second onside kick, the Buckeyes ran out the clock.
Miller's gaudy stats will attract most of the attention, but Ohio State had Grade A performances from other offensive players. Hyde, who had a career-high 140 yards last week versus Nebraska, bested it by 16 yards Saturday night. He also had a touchdown.
Smith hauled in two catches – both touchdowns – for 106 yards and two touchdowns, while the recently invisible Jake Stoneburner had four catches for 41 yards.
Complete Game Coverage
"Ohio State is doing a great job running the ball," Wilson said. "Their pass game comes off of play action, so it's high percentage and the clock is going to move."
The number for the Ohio State defense could result in a sleepless night for Luke Fickell and Everett Withers. Indiana tallied 481 yards on offense, with the passing game again giving Ohio State fits. The Hoosiers had 352 yards through the air.
Houston had 96 yards rushing and two touchdowns and 37 yards receiving and a score.
"I have to get more involved and find out what the issues are," Meyer said. "I have got to find out. I am going to increase my involvement with the defense."