One year ago, the Ohio State men's basketball team was coming off one of the program's most successful seasons. Despite a Sweet 16 exit from the NCAA Tournament and the loss of two starters and three seniors – Jon Diebler, David Lighty and Dallas Lauderdale – expectations were at a level usually reserved for their football brethren.
One year later, the 2012-13 Buckeyes enter their campaign under a similar cloud, though it's partly sunny. Ohio State, which starts practice today, is missing two starters – Jared Sullinger, 65-11 in two seasons, and William Buford, the third-leading scorer in program history – and even though a Final Four appearance is nothing to sulk over, blowing a 13-point first-half lead and nine-point halftime advantage to Kansas – the second biggest deficit overcome in a national semifinal – gives the Buckeyes added incentive.
"We have to move on," junior point guard Aaron Craft said. "But that's always motivation. Just like after we lost to Kentucky. It was great going (to the Final Four) and having that experience. But you don't just want to play in Final Fours. The goal for everyone is to play in national championship games. That's the ultimate prize for anyone in college basketball.
"I like the group of guys we have. We have a good group of leaders and a good group of followers. That's what's going to help make us great this year."
This year's team, like that from a year ago, will have an opportunity to create and seize early momentum. The Buckeyes open the season against Marquette in the Carrier Classic in Charleston, S.C., before embarking on a rather daunting non-conference schedule – the Hall of Fame Tipoff in Uncasville, Conn., a road game at Duke and a home game versus Kansas. 
A brutal early-season schedule was tamed last year – wins over top-10 opponents Florida and Duke – before a gritty loss at Kansas without Sullinger. Then the Buckeyes entered a mid-season malaise that threatened a once-promising season.
But when the season needed a second jumpstart, head coach Thad Matta was able to conjure up the right message. In a do-or-die final week of the regular season, Ohio State won back-to-back road games, including overcoming a double-digit deficit at Michigan State to win a share of the Big Ten championship.
Ohio State sustained that momentum and advanced to the program's first Final Four in five seasons and 11th overall.
The Buckeyes are a team in transition this season – both literally and figuratively. With an athletic starting lineup – likely Craft, Deshaun Thomas, Lenzelle Smith Jr., LaQuinton Ross and either Evan Ravenel or Amir Williams – Ohio State will play at a quick tempo.
"It's a lot more fun when you can run up and down the floor," Craft said. "We have a good group of guys who can do that. At every position we have a guy who can run. Putting pressure on the defense more times than not, and I'm not sure teams in the Big Ten are used to playing at that pace. Michigan State has had success at it. I'm excited to see where we can go with it."
Said Matta: "I told them the other day, I'm going to start the five best defenders."
The loss of Sullinger and Buford makes for transition inside the locker room, as well. But that won't dictate this team's prospects.
"The expectations don't change," Craft said.
But Big Ten titles and Final Fours aren't on anyone's agendas at the moment – not even Kentucky's. With Halloween and exhibition games still weeks away, competent practices and developing a cohesive rotation is the objective for coaches and players from 347 schools throughout the country. 
"There are no great teams in October," Craft said. "Everyone has to start off at square one. That's where we are and we're excited and we're ready for practice to start."
Thad Matta begins his ninth season at Ohio State, a program he's helped usher into the giants of college basketball. He's won five regular-season Big Ten titles, three conference tournaments and advanced to two Final Fours. Matta's never won fewer than 20 games and has rattled off victories at a 77.5 percent clip. Three times he's won more than 30 games in a season. To win a fourth consecutive conference championship this season, Matta will need to pull off one of his best coaching jobs yet.
With Amedeo Della Valle being the lone recruit, the Buckeyes will be relying on players already inside the program to replace Sullinger and Buford's on-court production. The duo averaged 32 points, 14 rebounds and 64 of a possible 100 minutes per game.
"This is going to be a role-dominant team," Matta said. "Guys are going to have to understand what they have to do every single time they step on the floor. If they do that, I think the pieces of the puzzle will come together.
"We need to have a core group of things we do every time we take the floor in order for this team to be successful. We don't need a superstar."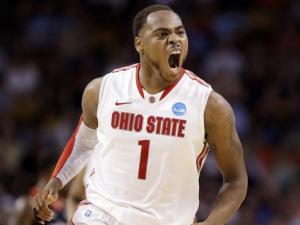 Despite his lack of playing time last year, Ross is a known quantity. Reports out of summer open gyms sound like the same hype that accompanied him to Ohio State – twice – last season: spectacular shooting and supreme athleticism.
"I'm just going to go out there and do what I have to do to help my team," said Ross, downplaying the publicity surrounding him. "I don't pay attention to any of that. I'm worrying about playing basketball."
Shannon Scott will be a backcourt presence and Sam Thompson could turn into a defensive specialist that can also contribute on offense.
"I think he can be one of the best defenders in college basketball," Matta said of Thompson.
Unheralded possible starters Smith, Ravenel and Williams will also be called upon on both ends of the floor. Smith rose to the occasion in multiple big games a season ago, scoring 28 points at Indiana, 17 against Michigan and 18 in the Elite Eight versus Syracuse. He is also one of the Buckeyes' best three-point shooters, an area that plagued them all of last season and will be a concern again this season.
Ravenel provided Ohio State with valuable production late in the season. His best game as a Buckeye came at Michigan State in the regular-season finale when he replaced a foul-prone Sullinger.
The 6-foot-11 Williams played spot duty much of the year. He worked on conditioning and improved his defensive skills in the offseason. He said he's up to 250 pounds from 220 when he arrived on campus a year ago. Thirty extra pounds of muscle should serve Williams well in the always-physical Big Ten. Several players raved about Williams' shot-blocking ability and low-post defense.
Still, the team will revolve around Thomas and Craft.
Thomas, a preseason All-American, arrived at Ohio State as one of the all-time greats in Indiana high school basketball history, a major accomplishment. His freshman season was good but not great. He found his rhythm, though, in Year 2. Instead of leaving for NBA riches, Thomas said unfinished business prompted his stay, like Sullinger the previous year.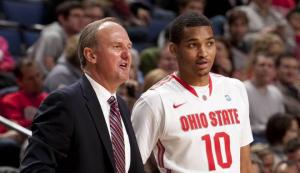 "I thought another year would be good for my game," Thomas said. "But I want to win a national championship and win the Big Ten. That's the reason I came back."
Thomas averaged 16 points and 5.5 rebounds per game, becoming a reliable offensive weapon. Thomas also had the highest shooting percentage of any starter. On the biggest stage – the NCAA Tournament – he averaged a team-high 19 points. His ability to grab offensive rebounds was an asset to the Ohio State offense, as was his lack of turnovers.
Thomas was able to achieve a great deal of his success due to Sullinger's presence. Now that he's in Boston playing for the Celtics, Thomas becomes the No. 1 scoring option for the Buckeyes and the opponents' first target on defense. Matta said the coaching staff wants to make Thomas even more of an inside-out player and get him to the free throw line.
"We've got a lot of tools," Thomas said.
The person responsible for getting him the ball in a position to put it in the hoop is Craft. He averaged 4.6 assists per game and improved on his freshman scoring numbers, averaging nine points and converting one-third of his three-point attempts a year ago. Craft rebounded well for a small point guard, pulling down more than three rebounds while also getting to the free throw line at a high rate.
Craft's weak point was turnovers. He had two per game and they came at inopportune moments. Defense, though, is Craft's forte.
He set the school record for steals a year ago and is a bona fide national defensive player of the year candidate. Whether it's steals – he had 2.5 per game a season ago – charges taken or simply affecting the opponents' offense, Craft's defensive prowess is like artwork – and clockwork. It's sure to make an appearance every game.
"It doesn't change my mindset too much," Craft said of the attention he's received. "There were always people saying I was going to do well and always people saying I wasn't going to do well.
"In order for our team to be the best it can be right now, I need to prepare to be the best player I can."