Nineteen years ago, the Auburn Tigers entered the 1993 season coming off more than a year of turmoil and without its legendary head coach, Pat Dye.
During Dye's final two seasons as coach, scandal gripped the Auburn football program. Former player Eric Ramsey accused Dye, several assistant coaches and a booster of orchestrating a vast and calculated payment plan for Auburn players.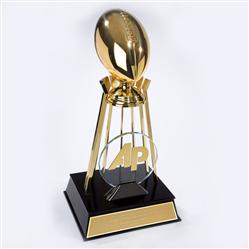 The allegations received widespread national media attention, including a segment on 60 Minutes. When the dust settled, Dye resigned as head coach and athletics director and the football program was hit with severe sanctions, the worst of which being a two-year postseason ban and one-year TV ban.
Dye coached 12 seasons at Auburn, finishing with 99 wins – 70 percent – four SEC titles, five top-10 finishes and a 6-6 record versus arch-rival Alabama.
During 1991 and '92, the seasons the scandal was ongoing, a once-proud football program dipped to 5-6 and 5-5-1, respectively. The Tigers lost to Alabama in Dye's final three seasons at the helm.
With a fan base anxious for an instant return to prominence, Auburn hired Terry Bowden, at that time more famous for being the son of Florida State head coach Bobby Bowden than winning football games. But the younger Bowden had already achieved a great deal of success at lower-division schools Salem College and Samford.
And in his first season on the Plains, Bowden led the Tigers to a perfect 11-0 season and No. 4 ranking in the final AP Poll. It remains one of the most famous seasons in college football history.
Auburn followed it up by winning its first nine games in 1994 before tying the 10th and losing Game No. 11 – the season finale – to Alabama. Bowden began his career by winning 20 consecutive games and being unbeaten in his first 21.
If that story sounds familiar, it's because Ohio State is in the midst of a near carbon copy.
The 2011 season was doomed before it even began because of an unprecedented scandal. A legendary head coach was dismissed, there was plenty of media coverage, including a Sports Illustrated expose, the final record was an underwhelming 6-7 and a seven-year stranglehold on Michigan came to an end.
Tressel, like Dye, had won numerous conference championships, even a national title, and experienced a high level of success against his rival. But his Ramsey turned out to be quarterback Terrelle Pryor.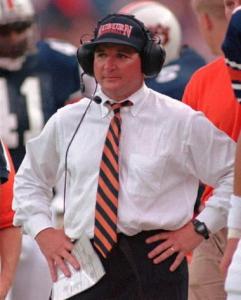 After a miserable 2011 regular season ended with three straight losses, Ohio State hired two-time national championship winner Urban Meyer as head coach, and Buckeye Nation rejoiced.
Shortly after Meyer took the job, Ohio State was handed a stiff set of penalties by the NCAA, the worst of which included a one-year postseason ban. At that moment, murmurs of an AP national championship began.
But it wasn't until the past two victories, both over ranked opponents, that the vision became so clear. At 6-0 – one of 16 remaining undefeated teams – the Buckeyes will likely be favored in their final six games – heavily so in the next four. It's college football, though, a sport where upsets happen frequently.
Ohio State sits at eighth in the most recent AP Poll, up four spots from last week and 10 from the season opener. Soft opponents the next four games, however, will make it hard for the Buckeyes to rise without teams ahead of them losing. They will know where they rank at the beginning of each week.
"We're not shy," Meyer said. "We have state of the union every week with the players and they know. We're not hiding it. That's a top 10 football team, and the stakes are real high.
"The thing is, they're going to talk about it when they go home, when they walk to class. Why not say, 'Here's really where we're at?'"
It's a differing approach than most coaches' take. Shielding players from expectations and lowering the pressure is generally the route taken. Meyer doesn't necessarily add pressure, but he wants them to be aware of their surroundings.
"These players are just playing football, and they have a right to know where they stand on a national level," he said. "You come to Ohio State, and that's why we're all here. You should have those discussions in the middle of October."
The win-loss ledger reads "6-0" and the ranking says "8," but Ohio State understands it has many areas to work on. The Buckeyes did allow 38 points and 437 yards of offense to Nebraska, the third time this season they've surrendered 400 or more yards. No team has been held below 300 yards, and there are major depth problems at linebacker now that senior captain Etienne Sabino will miss the better part of a month with a broken fibula.
"We expect to play better on defense," Meyer said.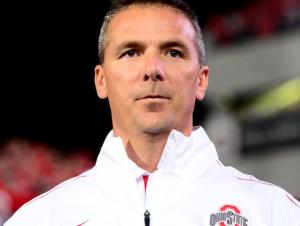 "My biggest concern is you're starting, like every team in America, to deal with physical games. Our last two games were really physical and we lost some players. Are the backups ready? Do they want to be ready? That is the challenge I have. There are some guys I'm very concerned about as backups. So that is the challenge right now."
So much so that the younger players had a 25-minute scrimmage on Sunday. As the upper classmen celebrated the Nebraska win with the traditional "Victory Meal," Meyer did his best to develop depth.
Due to scholarship limits imposed on the Buckeyes by the NCAA, Ohio State has less to work with than most teams. And if the freshmen aren't getting into games, it's even more challenging to have them ready to play when their moment arrives. One thing Meyer won't do throughout the season is sit Braxton Miller down in practice.
"He absolutely will not miss a moment of practice," Meyer said. "He can't and won't want to. Now we don't hit him.
"The reason those five (offensive) linemen are getting better, they get to block (Johnathan) Hankins every day on Tuesday because we go against each other. I mean, hard, violent practice. So we do back down, but that's why they've gotten better."
The play of the offensive line, a unit that has been criticized by fans since the loss in the national championship game to Florida in January 2007, appears to have finally turned the corner. It's one reason why an undefeated season is being talked about, especially after the line made 63 points possible Saturday night against Nebraska. Games are won in the trenches, and Ohio State has a line on each side of the ball that is likely better than the one it will face in each of the final six games.
One of those linemen – center Corey Linsley – is closely watching the Buckeyes' progression up the rankings. 
"It's what we play for," he said. "We play for these polls, we play to be No. 1 in the country."
Even defensive end John Simon, someone who carefully crafts his message to the media, didn't shy away from making the team's aspirations known, veering away from usually tempered approach that contains coachspeek.
"You try to get as (highly ranked) as you can, so there's definitely something there," he said. "We're trying to get to No. 1 if at all possible. We're doing everything we can."
But then he delivered that message that has become oh-so-familiar over the years.
"We just have to make sure we're taking it one week at a time."