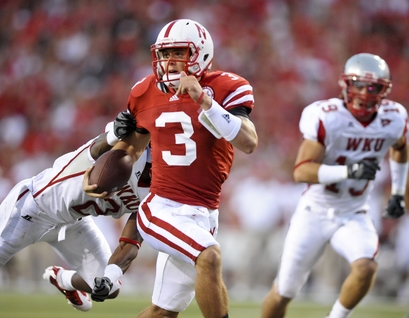 We're back for another edition of the Eleven Warriors RoundTable, featuring our ever-popular Dubster Analysts.
This week, we welcome back Jason, Jeff and Ross to discuss the upcoming game with Nebraska and shed a bit of light on last week's win over Michigan State.
As this is another magical moment, let's get it started or as Marvin Gaye used to say, "Let's get it on".
The Buckeyes really proved quite a bit with the win at Michigan State. What was one thing that you noticed the Buckeyes really improved on in East Lansing compared to past weeks?
Jason: Two things, really, and they worked in concert. First was the scheme. Urban went out of his way to congratulate his defensive coaches for the plan they put together to beat Michigan State. Sure, there were a few breakdowns on the field, but the scheme worked to perfection as they limited Michigan State to just 34 yards on the ground.
On top of this, the defensive front turned in their most physical game of the young season. Simon, Hankins, Williams et al were a force early and often and the score and game stats reflect this.
Jeff: I think it's been hammered home again and again, but the play of the offensive line late in the game was incredibly impressive. The line had given up 6 sacks on the season against inferior competition. Then they go up against one of the best defenses in the nation and only give up one. Let's hope that trend continues.
Ross: Soundness in defensive scheme and execution. The Buckeye defensive coaching staff finally seemed to settle on an identity—playing matchup cover 4 on 1st and 2nd down, and then bringing pressure and playing man coverage on third down. Perhaps because they had a defined plan, the defensive players seemed to execute far better. The linebackers and secondary pursued and played their assignments, forcing Le'Veon Bell to run sideways. And then the Buckeyes tackled. Of course, it doesn't hurt to have Johnathan Hankins being unblockable.
Let's talk Braxton Miller. Do you think the staff will be calling his number as much against Nebraska as they did versus MSU?
Jason: Yes, at this point, I think we have to assume that Miller will get 20-odd rushes per game, with the majority of them being designed runs. It's a night game and he seems to come out at night (the first half of the Nebraska game last year, the Wisconsin game...), so I don't think it's a stretch to expect a really big game out of Miller Saturday night.
Ross: Yes. Braxton Miller is going to have the same amount of 'opportunities' (called runs + reads + scrambles) every week. And no I don't understand why this is a weekly question. Meyer's offense is designed for the QB to run the football. As long as Meyer is the coach at OSU the QB will run the football. Then on top of that, Miller is the Buckeyes' best runner. It reduces Miller's effectiveness and contribution to the offense if he does not run at least 15 times. 
As I discussed this week, this offense is limited in its playmakers and the areas it can succeed. But within those defined areas it does very well. One such tranche is Braxton Miller running the football. He is the one OSU player who can create an explosive play at any time, particularly when he gets to the edge. The OSU offense needs Miller as a run threat. That being said, as Meyer said this week, if Miller simply read some of the read plays correctly he would have had 8 less carries. Sometimes he makes his mind up pre-snap, rather than actually reading the play. So if he improves at that it will limit his carries. But I expect him to have 15-25 carries every game.
Jeff: I think they still have to. Simply put, he's the best player in the stadium (no offense Taylor Martinez). He has the ability to take it to the painted grass on every play and Meyer knows it. Last week's injury scare(s) might make Urban hesitant in the early quarters, but if the Buckeyes find themselves down late, you'll see a heavy dose of #5.
What was your favorite part of the MSU game? Least favorite?
Jeff: Favorite part: That last TD pass OHHHHHH that last TD pass! What a beaut. I honestly believe it was the best looking throw of Braxton's career. It didn't have the excitement factor of last year's Wisconsin game (or did it?) but his mechanics and accuracy on that throw were a thing to behold.
Least Favorite Part: Whatever the Buckeye D was trying to do to Keith Mumphery on that TD run in the third quarter. Note to Buckeyes: throwing your body into someone using the Popeye dive technique is not effective. Utilize the two things you've got hanging off your trunk ("arms" in layman's terms) to wrap the offensive player.
Jason: The bomb to Smith is going to be hard to top. It came less than two minutes after Michigan State had seized momentum with Keith Mumphery's touchdown catch and run through Turnstile City and was absolutely huge from an emotional standpoint.
As for a least favorite, watching Miller extend his knee made me queasy, but Mumphrey running through four sets of arms was the low point of the game for me. At the time, I was thinking that Meyer should just put that play on loop for film sessions if the Spartans held on for the win. Thankfully, Miller to Smith happened.
Ross: I found it to be a satisfying victory. Other than the turnovers, OSU played soundly in every aspect of the game. Any time you win on the road against that caliber team you have to be satisfied. And this group is shaping up to be a plucky team, which I think is why Meyer is so happy. So other than my least favorite part—the turnovers...and Braxton looking injured—it's hard to complain too much.
How do the Buckeyes contain Nebraska QB Taylor Martinez and RB Rex Burkhead?
Jason: It's a tall order, that's for sure. In Martinez and Burkhead, the Ohio State defense will face their most potent offense of the year. Although his throwing motion still elicits cackles, Martinez really has improved his passing game, so the Ohio State secondary won't be able to creep Christian Bryant up into the box all night as they'll have to respect the middle of the field.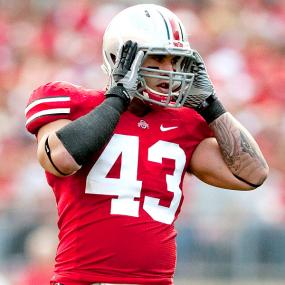 Burkhead gashed Ohio State last season to the tune of 119 yards and one touchdown on the ground and he's off to an amazing start in the three games he's played this season, averaging a mind-boggling 9.4 yards per attempt, so he will be another weapon to keep the Silver Bullets honest.
To win this game, OSU must tackle better than they have tackled in any game this season. A tall order, I know, but I'm hoping the sickening memories of last season's collapse will help on the motivation front.
Jeff: I know Martinez has had success throwing the ball thus far, but I think you still need to stack the box, forcing Martinez to throw and closing potential lanes for Burkhead. This is the game the Buckeye secondary is going to have to shine. The Bucks crowded the line last week against a lesser QB (although if his receivers could catch we might not be saying that). This week they'll be forced to bring more than 4 against a guy who has proven he can sling it around a bit. Howard, Roby and Bryant better bring their lunch pails.
Ross: As I said in my defensive breakdown, continue what the defense did Saturday. Execute an aggressive cover-4 like OSU did on Saturday, with the defensive backs coming up in force support on the edge. That will keep eyes in the backfield for Martinez scrambling. The defense can then pattern match from that and force Martinez to work the ball into tight spots. I do not worry so much about Burkhead—Martinez is the big play threat. So OSU needs to keep him in front of them.
What do you expect the Ohio Stadium crowd to be like? Do you think it will compare to OSU/Michigan in '06 or USC in '09?
Jason: It will most certainly be loud -- Urbtopia, right? -- but I'm not sure it will approach USC '09 level loudness. I'd love to be proven wrong, though.
Jeff: I was there for USC in '09 and I'll be there again this weekend! If it's anything like '09, Nebraska is going to be in for a long night. That game was absolutely deafening. Let's hope it's that wild. Urban's first night game in the Shoe. If the crowd can't get up for that then they should be watching at home. Get. Loud. Columbus.
Ross: Eh, not quite to the same level. Those environments were electric for two OSU teams that fans believed were potential national championship teams against huge opponents. But I do think that fans will be excited that they do not have to watch another non-conference game at noon.
Who is one player that has been quiet for OSU that will have a big game against Nebraska?
Ross: I suppose it depends upon your definition of quiet. I think the Ohio State offensive and defensive lines will be the stars of the games.
Jeff: John Simon. It's his last night game in the Shoe and he'll want to make it count. He's been a force to be reckoned with in the trenches but hasn't made much noise on the stat sheet. I think he gets one or two sacks this weekend.
Jason: Jake Stoneburner. He's been invisible the last two weeks with no receptions and nary even a target, but I expect him to come up big for Ohio State Saturday night when they most need him. Remember, he had that sweet bubble for a 32-yard touchdown last year, so I'm counting on something similar Saturday night.
How many points will OSU score this Saturday and why?
Ross: 31. OSU should have scored that many against Michigan State last Saturday but for turnovers. More substantively, I think that Nebraska will have difficulty accounting for Braxton Miller in the run game with their pattern matching and 2-gap scheme, leading to him ripping off a big day running, with a few big runs in passing downs.
Jeff: I'm predicting 24. Braxton is good for one or two every week and I think the receivers are gaining confidence. Add in a steady dose of Carlos Hyde at the goal line and I think 24 is reasonable. Let's just hope the turnover bug doesn't bite again Saturday night.
Do you think Ohio State is currently the best team in the Big Ten?
Jason: It's tough to say right now. Ohio State hasn't faced a Notre Dame or Alabama like a few of of the other teams in the league have, but there's something to be said for being 5-0. Can you ask me again in a week?
Ross: Yes. Most talent, no losses. I think they are the best overall team regardless of what happens.
Jeff: I think they can beat anyone on any given day in the Big Ten, so I guess that means they're the best team. With that said, this team still has a ton of wrinkles to work out. Luckily they've got one of the best in the biz steering the ship. I've never felt more confident about the direction of a Buckeye team. They're young, they're winning and they've got more talent coming down the pipeline. What more could you ask for? (Maybe bowl eligibility)
Bonus: What are you most looking forward to about Eat Too, Brutus?
Jason: The guaranteed win that follows the tailgate. Eat Too, Brutus is 2-0 against ranked opponents all-time.
Jeff: Finally meeting all of these people I write a blog with. It'll be like meeting a long-lost cousin who you've heard a lot about but never actually seen in person because they were sent off to a Malaysian boarding school to be disciplined Anyone? Just me?...ok.
And the answer of the week:
Ross: Counting how many bar fights Ramzy can perform before he starts drunk dialing Jim Bollman.
---
Next week, we break down the Indiana game. If you have any questions about that game, feel free to shoot them my way.