After catching up with Ben Hartsock, Dustin Fox, and Maurice Hall, you here in the 11W community have gotten a glimpse into what it was like to be an important piece to the special 2002 team that brought the national championship back to Columbus.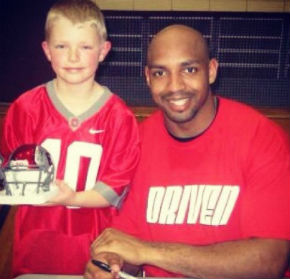 This week, we once again get to chat with a member of that 2002 team who didn't have the impact the aforementioned players did that year, but is someone fresh in the minds of Buckeye fans everywhere: Roy Hall.
The national championship season was the first for Hall in Columbus, but the Lyndhurst (OH) Brush product spent that year with a redshirt on. Just because he couldn't play didn't mean the 6-3/210 freshman receiver didn't have anything to do with the team's success that year, and in fact Hall was an important part of OSU's 14-0 mark, running with the scout team to get the first unit prepared for their games week in and week out.
Hall did go on to have a nice career at Ohio State, racking up 46 receptions for 511 yards and 3 touchdowns despite battling injured throughout his time in Columbus. Also included in his career were some clutch moments, more specifically a big touchdown catch in the 2006 Ohio State-Michigan game that many consider the greatest in college football history.
It wasn't all football that Hall learned at OSU though, as now that his playing days are over he is giving back to the community, or as Woody would put it, "paying forward". Hall is the CEO of a non-profit organization called The DRIVEN Foundation, whose purpose is to provide a continuum of educational programs, along with support services to underserved communities throughout Central Ohio and surrounding cities.
Hall has built the organization from the ground up and has even gotten help from some of his former Buckeye friends. He's invested in using the community to help the community and you may have seen or heard of their work, as Hall, Antonio Smith, and Maurice Clarett are at 222 Lane Avenue (corner of Lane and Neil) for every OSU home game, fundraising to help DRIVEN, as well as to sign autographs and hang out with fans.
Join us after the jump to learn more about Hall's journey from football to service, his memories from his time in Columbus, his thoughts on this year's Buckeye team, and more.
Everyone is still relatively familiar with your career at Ohio State, but what have you been doing since leaving Columbus?
It has been a heck of a journey for me. I obviously finished my final season on a bad note with a devastating loss to Florida in the national championship game in January 2007. When that game ended, I knew there was nothing we could do to change what had happened, but there was still a lot of built-up frustration inside me because of the outcome. I channeled all of that into my workouts for the NFL Draft, which eventually paid off.
I didn't get an invite to the NFL Combine, but I still worked out like I was going there and finally got to perform at our OSU Pro Day. I had a great showing there, running a 4.35 and 4.32 in the 40-yard dash, doing well on the bench press, catching all my balls, and jumping well in the vertical. Teams took notice and I got selected in the fifth round of the draft by the Indianapolis Colts, which was great. I never wished this upon him and was not happy about it, but it was crazy that I got drafted before someone like Troy Smith, although I took it more as a testament to how hard I worked and how that paid off.
I played for the Colts for three seasons. In my first year, I played in a few games, but then had a collision on special teams with Cedric Killings of the Houston Texans. I hurt my shoulder and was out for the year, and Killings hurt his neck, but luckily he ended up being OK. My second year, I needed surgery and missed half the year, but came back for the second half of the year. In my third year, I needed microfracture surgery, which ultimately ended my playing days there, although I was able to be a part of the Super Bowl team that beat New Orleans.
After the Colts, I got a shot with the Saints, but got cut and signed with the Omaha Nighthawks of the UFL, where I played for a season. I got picked up by the Lions in 2010, but was waived and signed with the Nighthawks again last season when the lockout happened and no teams were showing much interest. I got injured again last year and pretty much decided I was done playing football.
During my whole career, I had been developing DRIVEN and have decided to make a life and full-time career out of giving back to the community through goods, services, and events.
So now you run DRIVEN. Tell us a little bit about the organization and what you are hoping to accomplish?
I'll start with a quote: "Anybody can be great because everybody can serve."
Serving means you are putting yourself behind others. If people realize life is about giving to others, they will realize the more you give, the more you get. DRIVEN is able to help people on a daily basis and allows us to be great because of this.
We hold many events and run programs that empower families, kids, and young people on how to achieve their goals and dreams. We assist with hunger in Central Ohio and last year donated 100,000 pounds of food to families in need in December. During that time, people talk about giving gifts and other things like that, but people overlook those suffering from hunger and what giving food to those in need can do.
We've also done things like we did in September when we gave 1,000 free book bags filled with supplies to children in need to start the school year. We have a mentoring program, and also have victory parties to help children at hospitals to give them support and celebrate them making it through rough times.
We want to get as many people as possible to serve and help be a part of what the foundation is doing. I want DRIVEN to be around for many years to come and be able to help those who need our help in this community.
I have found that as professional athletes and former Buckeyes that we can really make an impact. Life is just not about catching touchdowns or beating Michigan, but more so about serving and making a difference.
Have you been able to go back to Ohio State and use the connections you have there as a way to help grow DRIVEN?
Absolutely. We're in the process of growing that area as we speak. Ohio State has allowed me to lean on former teammates and players like Maurice Clarett, Maurice Hall, Craig Krenzel, Brandon Joe, Antonio Smith, and others. They help me with outreach, public speaking, attending events, and more. This is the first year I am not in pads playing football so it has given me a chance to fully embed myself back into Ohio State and it has given me a chance to get involved with various alumni that want to help make a difference.
How can Buckeye fans help contribute to DRIVEN?
There are three ways OSU fans can help our efforts.
The first is by volunteering. I'm not just talking about showing up to help, but any service that they can provide to help in any way is welcomed. If you're a graphic designer or a event planner or a musician, etc. you can help us in one way or another by using your expertise to bring something to DRIVEN.
Next, they can donate at drivenfoundation.org. Any donations are welcome, but you can become a member of our "offensive line" and for just $20/month help make a difference throughout the year. Just like a quarterback is protected by his offensive line, we protect families in need.
Finally, the last way Buckeye fans can help is through social media and spreading the word about the great things we are doing. You can promote our Facebook page, Twitter account, or even my own personal Twitter account to help create awareness. The more people in Buckeye Nation we can make aware of what we are doing, the better.
This is the 10 year anniversary of the 2002 National Championship team. Are you going to be attending the ceremony at the Michigan game?
Yes, I have to. That was the best year ever and you have to be there. I was a redshirt freshman that year, but we worked our tails off on scout team. I remember in preparing for the championship game we had Troy Smith as Ken Dorsey, Santonio Holmes as Andre Johnson, and me as Kellen Winslow. There were some good memories from that year and it will be great to see all the guys from that team.
Do you think Coach Tressel will be in attendance?
I'm not sure if Coach Tressel will go. I'm sure if he doesn't go, whatever his reason is, it's a pretty good one. No matter what happened, I feel that the impact he had on OSU and every player who he coached is unquestioned. Even if he's not there, all those players will represent him. His spirit and his ability as a leader will definitely be present if he can't be.
In addition to the 2002 team, you also had the opportunity to be a part of a special 2006 team that went undefeated in the regular season, but lost to Florida in the championship. How were those teams similar and how were they different?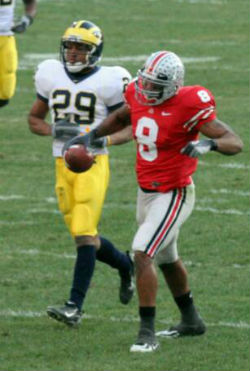 The similarities came in how we attacked and won each game. Both teams maximized talent, used the run game as a base, were proficient in the passing game, had excellent special teams, limited mistakes, won big games (in the regular season), and stayed within our personality.
The differences came in team structure and offensive system. In 2006, we had more talent on that roster from top to bottom and ran more of an open, spread offense. That 2006 team was also an "all for the team" in their mentality and nobody was out for themselves or personal gain. That fact made it all the more devastating when we lost the championship game.
Do you feel incomplete that a national title is missing from the 2006 season? Do you feel that team is owed more respect from the fans or media for what you accomplished prior to that night in Glendale?
I personally don't feel incomplete because I left Columbus with a championship in 2002 so I know what it feels like to be a part of that experience. I obviously would have loved to bookend my career with national titles, but I didn't and it is what it is.
I don't feel we are owed anything. At Ohio State it is beat Michigan and win national championships. We accomplished the first part, but didn't get the title. That's on us and we didn't get the job done that day so we don't deserve any credit or special mention. There are plenty of teams that had one-loss seasons at Ohio State and we are just stacked in with those teams now.
What exactly went wrong in Glendale that year?
I just think they were the better team that day. There were a lot of rumors and speculation about things that happened before the game, but we just flat out got beat and lost.
Florida had a great game plan and great scheme. There is a reason Urban Meyer is coaching at Ohio State now and it's because he beat us and earned a national title. They had a great staff and did a great job preparing for and executing that day.
We started to turn things around in the second half a bit, but it was too little too late. We worked just as hard as they did and were just as focused, but they just out-executed us during the game.
Who are you still close with from your playing days at Ohio State?
Rob Sims, Maurice Clarett, Troy Smith, Santonio Holmes, Nate Salley, David Patterson, and Antonio Smith are the guys I talk to regularly.
Now that Coach Meyer is at Ohio State, what was your initial reaction being that the 2007 BCS Championship left such a sour taste in your mouth?
I was ecstatic. Anytime you have a coach that has won two national titles and has done the things he has done at Bowling Green, Utah, and Florida, that's tremendous. He's not there to be Coach Tressel, he's there to be Coach Meyer. He has similarities to Tress, but he also has differences and we all need to accept that. At the end of the da,y Coach Tress was all about winning and you know Coach Meyer is going to win.
Have you been watching the Buckeyes this season? What do you think so far? [Editor's note: asked before MSU game]
I've watched all the games and I think it's just a matter of putting everything together. I'm very patient and am focused on making sure the players are fundamentally sound. Fans expect 50-point games and blowouts and I do think that will come in time. Right now though, the guys are thinking too much and not going out there and playing.
They're trying to make the big hit or do too much and they just need to pull it together. There are a lot of inconsistencies like the units not being in synch and other things, but I think with the Big Ten season coming the focus will be there.
What do you think of the fact the team can't play in a bowl this year?
Obviously you always want to play in a bowl, but I think this is good and bad.
It's good because there's less pressure on the team this year during a time of transition and it allows them to work on some things. Also, Michigan has no chance this year because that game is for all the marbles.
It is bad because it will be difficult for the staff to keep the players motivated, as they know they are not playing for any real prize.
You've spent some time in the NFL. What was the biggest difference between high school to college and college to the NFL?
High school to college was the speed of the game, athleticism, and size of the players. From 18-21, the way your body changes is unbelievable. You are a baby coming out of high school and are used to relying on raw athletic ability, but you get to college and you're not the best athlete anymore and need to train your body and mind to be prepared each week. There's also not as much focus on film study in high school, but it is so important in college.
From college to the NFL it is a similar jump in terms of the differences like speed of the game and athleticism, but the main difference I saw was the financial side of things. You are introduced to that as a professional and the instability of things for most players. In college you had a four or five year guaranteed scholarship. In the NFL you can get cut any day, so realizing that was hard.
You don't think about it, but any play could be your last one and any game could be your last one so you have to give it your all on every down. Ninety-nine percent of people don't realize that their last play was going to be their last play and I was someone who had to go through that.
What was it like playing with Peyton Manning?
It was awesome. Peyton taught you how to be a professional and how to be a perfectionist. Those two "p"s in professional football are so important.
Being a professional is doing what you're supposed to do and getting it done. Perfection helps you strive to be the best professional you can be. Peyton was very precise and very aggressive in teaching young players how to practice, play, and conduct yourself. He was an on-field coach and at times was irritating, but wanted us to be perfect and thus, make the team perfect. We did whatever he told us to do because we knew it would yield results.
Are you completely done with football or would you want to get involved in some capacity again one day?
I am done playing for sure. I may want to get involved coaching high school one day if anything. College athletics are awesome, but the time commitment is large. I am a family man and want to have more freedom to spend time with my family. DRIVEN allows me to stay involved in football a bit too, as in the summer we run high school and youth football camps and I get to run around and teach kids through those programs.
If you can say one thing to Buckeye Nation, what would it be?
I already spoke about DRIVEN and what fans can do to help so I'll say something else. For the rest of your lives, when That Team Up North week comes around, avoid all things maize or yellow for that entire week. I'm talking highlighters, cheeseburgers, nacho cheese, whatever it is. If you have to avoid going to the bathroom, do that because you can't wear anything maize or yellow during that week when we play that team.
Special thanks to Roy Hall for giving us his time. Once again you can follow Roy on Twitter at @Roy_Hall and DRIVEN on Twitter at @DRIVEN_ and Facebook as well. For more information on DRIVEN, please visit their website.