Fifteen years ago, I learned firsthand what many in Big Ten country know to be true: nothing beats a football Saturday in the Midwest.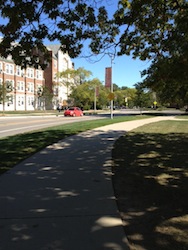 Unlike most Buckeye fans, however, the first Ohio State game I attended wasn't in the iconic Horseshoe on the banks of the Olentangy. Instead, it was in East Lansing, Michigan, when the 1997 team entered Spartan Stadium to take on Michigan State.
It was not an ideal fall day; the crisp, clean air and colorful foliage were marred by the overcast, rainy conditions that November afternoon. But it hardly mattered how soaked I was because I finally understood the allure of watching Ohio State football in person, a 37-13 victory at that. 
The game itself wasn't particularly noteworthy. For my mom and me, though, it was a fun, memorable day, and every time since then that the Buckeyes have made a trip to Spartan Stadium, we've been there as well.  
One game can't tell us everything we need to know about a team, but looking back, the contests in East Lansing have been a bellwether of sorts for Ohio State teams over these last fifteen years. Although we don't yet have the 20/20 benefit of hindsight for this season, we may find out later that this past Saturday was a microcosm of the 2012 Buckeyes.
1997
When I think of this game, one name sticks out in my mind: Gary Berry. Right in front of me, he picked off Michigan State's quarterback, Todd Schultz, and took it all the way to the end zone for six. Minutes later, the defensive back would add another score when he scooped up a blocked punt for a touchdown.
While Berry was not a headline-grabbing name like Andy Katzenmoyer or David Boston, the sophomore was a solid player capable of producing big plays, a description that could fit that year's team overall. They were a talented bunch, albeit one lacking much veteran presence, and their inexperience showed from time to time. Nevertheless, as they proved the following season with an 11-1 record, they had all the makings for a great team.
1999
Ohio State opened what turned into a winless November with a 23-7 loss to Michigan State. It was such a forgettable game that I don't actually recall anything that happened on the field1, and a look at the box score informs me why: the Buckeyes managed just four first downs, put up a net total of zero rushing yards, and threw for only 79 yards.
The struggles on offense were a large part of why the '99 squad finished 6-6 and failed to earn a bowl bid for the first time in 11 seasons. The next season would be John Cooper's final year as head coach.
2004
Returning to East Lansing after a five-year absence, Ohio State jumped out early, fell behind and rallied for the win. In a way, that mirrored a streaky season that saw them start 3-0, then lose three consecutive games, and follow that with three straight victories, all on their way to an 8-4 record.
Beating the Spartans by the score of 32-19, the Buckeyes showed off their playmaking ability, most notably in the lightning-quick form of Ted Ginn Jr., who appeared to possess superman speed in person. The freshman receiver scored three TDs—on a reverse, punt return, and reception—and proved to have good chemistry with his high school teammate, Troy Smith, who by then had taken over as starting QB. Down 19-17, their 58-yard connection with 1:37 remaining ended up as the game-winning touchdown. 
Although they would lose the next week at Purdue, this game showed a lot of promise for a team that was gelling after a rocky patch earlier in the season. They were young and had just scratched the surface of what they could accomplish. 
2006
By now, Smith and Ginn were veterans and Ohio State was ranked #1 in the country. They came into East Lansing with a 6-0 record and won easily, 38-7, looking every bit the part of the dominant team they would be until early January.
Once again, the duo from Glenville were thorns in the side of teams from Michigan. Ginn returned yet another punt for a score and Smith threw for two touchdowns, including a nifty 7-yard strike to Brian Robiskie after the QB had escaped a tackle. That was the moment when I turned to my mom and said, "He's definitely winning the Heisman this year."2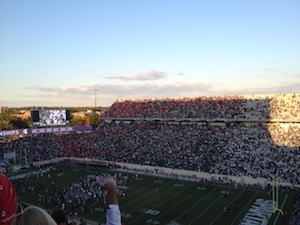 To that end, I was right, and while a national championship was not in the cards, the team more or less cruised through the regular season just as they had that October day in Spartan Stadium.  
2008
Known for his athleticism and not his passing skills, freshman Terrelle Pryor had taken over for Todd Boeckman as starting QB earlier in the season. He displayed his preternatural talent in the first quarter, gliding like a gazelle down the sideline in front of me for the game's first touchdown. Minutes later, he would find Robiske in the same end zone, his only TD pass on the day.
Ohio State controlled the entire game, defeating the 20th-ranked Spartans, 45-7. Beanie Wells rushed for 140 yards and two TDs while Pryor added 72 yards on the ground and the aforementioned rushing score.
Although the offense wasn't always so competent that year, they owned a formidable running game and a tough (but not necessarily elite) defense, one that forced five turnovers against the Spartans.  
2012
So what can we glean from Saturday's one-point victory about the identity of this team? Since September just ended3, it might be premature to conclude anything definitively, but that doesn't mean we can't try.
Some of what we witnessed on the field on Saturday had already been established: Braxton Miller is, perhaps dangerously, almost the entire offense, and his connection with Devin Smith is the stuff game-winners are made of.
But, what Urban Meyer referred to as "a gutsy effort by our quarterback" could apply to the entire team. The defense stepped up to the challenge of stopping one of the nation's top running backs and after multiple penalties at inopportune times, clamped down with the game on the line. Meanwhile when Michigan State pulled ahead in the third quarter, the offense immediately responded to regain the lead and later put together clock-eating drives to nail down the victory.
Just like their QB, who turned the ball over three times, the Buckeyes committed their share of errors, which were largely overshadowed by their ability to come up big when it mattered most.
We've seen it before in previous games: this team is far from perfect yet knows how to come through in the clutch. But making crucial plays to finish a game against the likes of Cal and UAB at home is much different than doing so on the road against a ranked team that boasts a stout defense.
At some point, it's entirely possible that an opponent will make them pay for their mistakes. So far, though, they've proven to be a determined, confident team that's beginning to show signs of improvement.
If that continues to be the case, the 2012 Buckeyes could evolve into a scarily good team by the end of the season, and an elite one in 2013.
And it will have all started to come together on a fall Saturday in East Lansing.
1 Nick Saban said, "I know it was probably a boring game to watch" and he also kicked a field goal with four seconds left and his team up by double digits, so some things never change. ↑
2 The way I wrote that made it sound like I was totally cool and matter-of-fact about it, when really I was jumping up and down like a spaz and yelling, "Heisman!" ↑
3 Wake up, Green Day. ↑