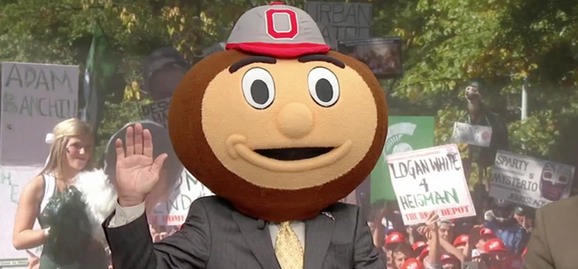 Braxton tried to do his best Denard impression on a few drives, but as we all know, no one can out Denard Denard. You watched a huge Buckeye win, and you're better for it. This is your Michigan State Debriefing.
Water Cooler Prep (Everything you need to know...in one paragraph)
This one started off as good as any Buckeye fan could have expected: a balanced 75-yard drive for 6. Sparty countered with a three and the two teams traded punts until Braxton decided to throw a ball into double coverage, resulting in a pick. The defense held, rendering the turnover fruitless. The two teams continued to alternate punts until MSU's Dan Conroy nailed a 50-yarder to bring the game within one. OSU countered with a 66-yard drive of their own ending in three to make it 10-6. That's when the tackling demons of games past decided to revisit the Scarlet and Gray. At OSU's 29, Andrew Maxwell dumped a short pass to WR Keith Mumphery who broke approximately 15,000 tackles and dragged 5 more defenders into the end zone on his way to a score. Braxton Miller decided to step up on the next drive and throw one of the prettiest passes of his career: a 63-yard bomb down the sideline to Devin Smith for a TD. The OSU offense started off the fourth quarter with a promising drive before an OMG NO PLEASE NO! moment in which Miller hyperextended his knee (it looked a lot worse) and fumbled. The Spartans took advantage, picking up three on a Conroy 48-yarder to narrow it to 17-16. However, with the game on the line Fickell dialed up the right plays to get out of East Lansing with a victory. Take a deep breath. 5-0. Big win.
Heard at the tailgate (The talk before the game)
"Shutting down Le'Veon Bell will be the key. If we hold him to 2-3 yards per carry we leave that hellhole with a W."
"Andrew Maxwell…more like Andrew Maxterrible, ya know what I'm sayin?"
"The MSU D freaks me out. A win in this game is huge."
Heard at the afterparty (The Deets at the end of the game)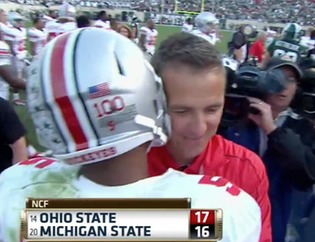 "The D took a huge step today. Holding Bell to 2.6 yards per carry is unreal."
"Did you see Meyer's emotion during and after the game on the sideline? I love this new head coach!"
"Still pretty worried about this secondary…" (this is your pessimistic friend).
Give that man a buckeye leaf (Player of the game)
Braxton Miller was 16-23 for 179 yards with 1 TD and 1 INT through the air and 23 carries for 136 yards on the ground, totaling 315 total yards. For those counting at home, that's 82% of the team's total yardage: enough for me to forgive the three turnovers.
(Editor's note: This section of the column has been pretty easy to write week-to-week. Copy, paste, success.)
Weekly snot knocker (Biggest Hit)
Urban Meyer plays players like Carlos Hyde on special teams. This strategy occasionally sees returns. Penalty or not (it certainly wasn't a fair catch) Hyde's slobberwilly on punt returner Nick Hill was disgusting. You saw it and screamed "OHHHH!" at the top of your lungs, scaring everyone in the room.
Did you see that?! (Play of the game)
Seriously…did you?
Quite possibly one of the better throws of Braxton's young (can you believe he's still a true sophomore?) career.
When you sank into your chair (The moment buckeye football disgraced your family)
I count 7 (or 8) missed tackles on this play. With a little over four minutes left in the third quarter, MSU's Keith Mumphery found the painted grass with 300 Buckeye defenders hanging from his hips.
Jim Tressel's Least Favorite Moment of the game
Hard to pin down a JT LFM in this one, but it's been said after each and every one of Miller's turnovers Tressel adjusted the rabbit ears on his 1982 Panasonic and screamed "WHAT THE HELL'S WRONG WITH THIS THING?!?!" as he kicked a Reader's Digest across the mint green linoleum floor of his den.
What you texted your friend at the end of each quarter
First Quarter: What a first drive…#BRAXTONYES
Second Quarter: Turnovers. Looking like Michigan out here.
Third Quarter: Defensive backs of this team…woof.
Fourth Quarter: BIG WIN!!! OH-
Complete Game Coverage
It was over when
This one wasn't over 'til it was over. The Buckeyes needed a Carlos Hyde 5-yard rush on 3rd and 4 from the MSU 49 late in the fourth quarter to ice it for good. 
Bonus Tweet
Ohio State has only lost once in East Lansing since Ronald Reagan left office.

— Ramzy Nasrallah (@ramzy) September 29, 2012
This has been your Michigan State Debriefing...end transmission.