The concerns on defense began as California sliced through Ohio State's proud unit during the second half of the Buckeyes' 35-28 win on Saturday. Missed tackles were an eyesore to the farthest reaches of D-deck, high above Ohio Stadium.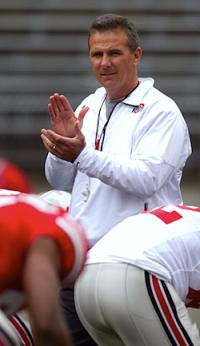 It left the coaches, players and fans frustrated. Luke Fickell, Ohio State's co-defensive coordinator, couldn't fall asleep Saturday night. The visions of Cal running back Brendan Bigelow were enough to make Fickell wake up with cold sweats.  But it gave the defensive staff a weakness to define – all too easily, actually – and correct.
Alabama-Birmingham doesn't possess a run game like the Golden Bears brought form the West Coast. But they do bring a Southern style passing game that is big on the deep ball.
One week after Cal's Keenan Allen, a probable top-10 draft pick, ventured into the Ohio State secondary, the Buckeyes will be introduced to Jackie Williams, UAB's biggest offensive threat.
Through two games this season, Williams is averaging over 100 yards receiving per game. He's gained his yardage on just 11 catches, averaging 18.4 yards a reception. The deep ball is a go-to play for the Blazers. Surprisingly, he has zero touchdowns, though UAB has also scored four on the season.
After Wednesday's practice, Urban Meyer said Bradley Roby and Christian Bryant have been limited in practice due to injuries. Both are on track to play Saturday, but that is an area to keep an eye on.
Michael Bennett and Carlos Hyde will not play.
John Simon will play, but he's had minimal participation in practice.
Meyer said he is "positive" Nathan Williams will play Saturday.
Jordan Hall is not 100 percent yet, but Meyer said he is much better physically than he was a week ago.
Camren Williams, Kharim Williams and Josh Perry had their black stripes removed.
The Buckeyes have worked on tackling throughout the week. Meyer said you won't know whether any progress has been made until Saturday, though.
The defensive line didn't have much rotation against Cal. Meyer said he likes having seven or eight guys to rotate. He said depth has been affected by Bennett's injury and Adam Bellamy leaving the program.
Meyer said you also have to keep in mind Noah Spence, Adolphus Washington and Tommy Schutt are still freshmen.
If the freshmen D-Linemen or anyone else that is a backup was better, they would play, Meyer said. He did say he believes Washington is going to be a special player, especially at rushing the passer.
Offensive coordinator/quarterbacks coach Tom Herman's smarts are well-documented and widely known. Meyer said during the interview process he had Herman look over a play sheet and that he'd be back in a few minutes. When Meyer returned, Herman had memorized the entire thing. Herman said he still does that on Saturdays to prepare.
Meyer called Herman "a great coach and very intelligent."
Ohio State's term for Friday is "Best Friday Nights in College Football." Meyer allows the team to relax, so they get plenty of rest.
At lights out, Meyer goes around and talks individually to each player.
Braxton Miller said he has no answer as to why Ohio State hasn't been able to put a solid four quarters together yet.
One key to the offense is consistency. Miller said he and the rest of the O need to do a better/quicker job at adjusting to the opposing defense.
There is the perception (some would say reality) that UAB isn't very good. Still, Miller said there is no looking ahead to Michigan State.
Miller said he goes into each game with the same mindset. It doesn't change based on the opponent.
Each week Ohio State puts in a couple new plays, according to Miller.
Devin Smith said UAB reminds him of Central Florida. He said both teams have a lot of athletes.
To fare better in all four quarters, Smith said Ohio State needs to attack and execute its game plan.
The Buckeyes had 11 penalties, including five personal fouls, last week against Cal. Smith said everyone has to stay focused and not pay attention to outside factors.
Smith said you can play with passion and still not have dumb penalties. You just have to channel and control that passion.
Williams said his knee feels strong. He said people can stop worrying about him.
Because of the surgery, he can't do some of the things he used to be able to do.
Williams is very limited in practice, so he said the game acts as his practice and game reps at the same time.
The lack of practice affects his game performance tremendously, Williams said.
Williams played 63 snaps against Cal, though he said he wasn't tired and it didn't seem like too many.
Former defensive coordinator Jim Heacock liked rotating guys, Williams said, but Mike Vrabel has a different line of thinking. Vrabel likes playing the best guys available. Williams said that is how NFL defenses operate.
Johnathan Hankins said playing 70-plus plays last week did not bother him. He said he never got tired in the fourth quarter like some Cal players said.
On improving the defensive play after giving up 512 yards, Hankins said it's all about executing the game plan and the scheme.
The freshmen should get more playing time this week, Hankins said. They've been taking a lot of reps in practice this week.
Ryan Shazier said a lot of the missed tackles were pure laziness.
Etienne Sabino said tackling has been emphasized from the coaches, especially 1-on-1 in the open field.
It all comes down to using the proper technique, Sabino said.
One positive from the game, Sabino said, was playing so poorly and still winning.
We all know about Bloody Tuesday. Sabino said Wednesday is titled "Working Wednesday."