Southwest Florida might be one of the last places you would think to look if searching for talented hockey players was the objective. The Fountain of Youth, maybe. But hockey players, not so much.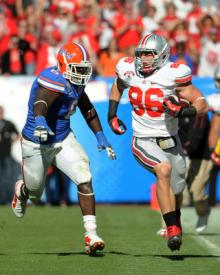 For a young Jeff Heuerman, though, the decision was easy. Hockey was the sport he loved, so he was going to participate – even if it was 80 degrees on New Year's Day and a pond in Naples, Fla., had never frozen over.
"Growing up playing hockey, I wouldn't do it any other way," the sophomore tight end said. "I know a lot of these guys grew up playing football their whole life. I think hockey taught me a lot that translated to football, a lot of discipline."
Heuerman is joined by Joey O'Connor and Doran Grant as current Buckeyes who played hockey as youngsters.
As an accomplished junior player, Heuerman was offered the opportunity of a lifetime: a spot on the nationally acclaimed Detroit Compuware team. He accepted.
The team was founded by Carolina Hurricanes owner and Compuware executive chairman Peter Karmanos Jr. It's produced such stars as Eric Lindros and current Columbus Blue Jacket Jack Johnson. Heuerman's roommate on the team, Austin Watson, was drafted 18th overall by the Nashville Predators in the 2010 NHL Draft. 
Heuerman was a center and forward before moving to right wing for Compuware. A career in professional hockey may have been on the horizon had Heuerman stuck with the sport.
Hoisting Stanley Cups for the Detroit Red Wings, rather than crystal footballs for the Ohio State Buckeyes, was Heuerman's dream. Instead of emulating Archie Griffin, Cris Carter and Andy Katzenmoyer, he was skating in ice rinks with visions of Brendan Shanahan, Steve Yzerman and Mike Modano.
"After that year (in Michigan), I came home and decided I didn't want to spend the rest of my high school years away from family," Heuerman said. "I had two younger brothers. I told my dad I didn't want to play anymore and he said, 'You aren't going to do nothing, so try out for the football team.' They had the sign-up sheets for football and – I literally knew nothing about football – I signed up for cornerback. The coach was like, 'Huh?' So they stuck me out at receiver and it went from there."
He eventually developed into one of the most coveted tight ends in the nation for the 2011 recruiting class. An all-state, all-area and all-district selection as a senior, Heuerman had a pick of the litter for his college destination, ultimately signing with Ohio State and then-head coach Jim Tressel.
Heuerman had one catch last season, coming in the Gator Bowl against his home-state Florida Gators. He has two catches for 18 yards in 2012. One of his receptions came this past weekend against California in Ohio State's 35-28 win. Heuerman was one of four Buckeyes to grade out a champion on offense. His athletic skillset makes him a desirable target for quarterback Braxton Miller, but Heuerman is also a superb blocker.
"Heuerman is a guy that's starting to earn more playing time," Meyer said. "He's been injured in spring and in the fall, so now you can expect him to play some more."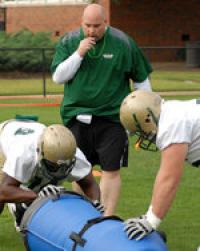 Welcome Home
Coaching big-time college football is a pretty good gig if you can get it. Handsome salary, good benefits, perks out the wazoo, use of a private jet for recruiting. It's more Trump than Theresa.
But it's not all glamour. There are the long hours at the office, days on the road, time spent away from family and, worst of all, the responsibility of telling people they no longer have a job. 
When new coaching staffs come in, many of the old pieces are not brought onboard. Instead, they are forced to uproot families and venture out on the long and winding road of collegiate coaching.
"That's one of the hardest decisions in coaching," Meyer said. "You have to make those decisions."
That situation arose last November when Meyer was hired by Ohio State. Stan Drayton (coached alongside Meyer at Florida), Luke Fickell and Mike Vrabel were the only coaches kept on staff.
One of those former staff members will be back in Ohio Stadium on Saturday coaching against the Buckeyes. Former tight ends coach and recruiting coordinator John Peterson is now the offensive line coach for Alabama-Birmingham.
"That's better than a good guy, that's a great guy," Meyer said. "I was here (as a graduate assistant) when John was playing, so I know John. He's a great coach, great guy. 
"But I wanted to hire guys that had spread offense experience because I got stuck before where I hired guys that don't have the same alignment, same philosophy. You're in there beating your face against the wall instead of all for one, and one for all. I'm not saying John wouldn't have done that. In that situation, it has absolutely nothing to do with the quality of the coach and quality of the person."
Heuerman can attest to that firsthand – Peterson recruited him to Ohio State and coached him during his freshman season.
"He was awesome. I love Coach Pete," Heuerman said. "He recruited me, and we had a great year here together. Coach Pete's an awesome guy. He's a great coach. He's coaching the O-Line (at UAB), so that's probably a change for him. I'm excited to see him. I'll talk to him after game. Last time I talked to him was Father's Day, but I'm looking forward to seeing him, and I know the rest of the guys are, too."
Peterson, a native of Middletown, Ohio, played on the offensive line at Ohio State from 1987-90 and was a graduate assistant under John Cooper in 1993 and '94 prior to his eight-year stint under Tressel. Fickell was a part of those staffs.
"I don't get out there a whole lot before the game," said Fickell, when asked if he would talk to Peterson on Saturday. "I'm not a social person, but I know my wife and his wife stay in contact. I have the utmost respect for John and his family. It'll be interesting for him (being on the opposite sideline)."
It's something Fickell has already experienced. Following a playing career at Ohio State that included a school-record 50 consecutive starts, including the 1997 Rose Bowl with a torn pectoral muscle, Fickell went on to the NFL. But a torn ACL in his rookie season with the New Orleans Saints ended Fickell's hopes of continuing his playing career.
So he came to the place he spent the rest of his life: Columbus, Ohio. Fickell was hired as a graduate assistant and spent the 1999 season on Cooper's staff. Then, in 2000, Fickell was hired at Akron to be the Zips' defensive line coach. In 2001, he stepped foot in Ohio Stadium as a member of the opposing team, when Akron played Ohio State in Jim Tressel's debut.
One season later, Tressel hired Fickell and he's been at Ohio State ever since.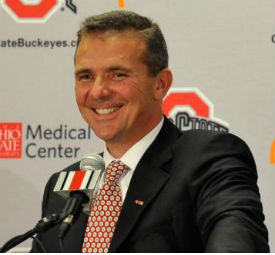 Comedy Hour
Much has been written and spoken about John Simon's stirring postgame speech following Ohio State's win over Cal. On Monday, Meyer talked to his Incredible Hulk of a defender about that shoulder injury.
"John is a guy that won't tell you," Meyer said. "(I saw him today). 'How's it going?' 'Great, going good.' Then I turn around and watch him walk down the hallway and he looks not good. He says he feels a lot better. To be honest, he said, 'I feel a lot better than I did a week ago.' I said, 'you did not tell me that a week ago, John.' He said, 'my shoulder is a long way from my heart.' 
Meyer quipped back, "I got you, Braveheart," referencing the movie by the same name. "Just tell us so we can get you treated and get you right."
Moments later Meyer was asked about the status of fellow defensive lineman Michael Bennett, who has not played this season due to a groin injury.
"I don't know," Meyer said. "He's got to play some time. So I don't know how far that groin is away from the heart."
The room then exploded into laughter, Meyer included. After a brief delay, he continued his remarks.   
"That probably didn't sound right," Meyer said. "I apologize. He is hurt by the way. I love Mike. Mike's got a serious injury."
An update on Bennett should be available after Wednesday's practice, but whether he plays or not likely won't be decided until warmups on Saturday.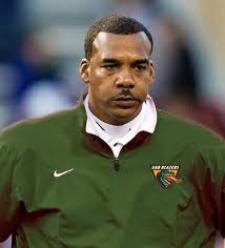 Blazing Saddles
The UAB Blazers face their second straight ranked opponent this week when they travel to Columbus. UAB lost, 49-6, last Saturday at then-No. 8 South Carolina. The Blazers are 0-2 and are heavy underdogs in their first meeting with No. 16 Ohio State.
Despite the Buckeyes' 3-0 mark, Meyer isn't taking anything for granted.
"We have to find a way to get to win No. 4," he said. "We're an average team right now. At times we're playing fairly well. I like our guys. I like our team. I like the fact that we faced adversity. I'm ready to have some non-adversity games. Doesn't seem like that's going to happen very often at this point in our development and our journey."
"But we have to find a way to get to 4-0. That has to happen."
UAB is also in the midst of a season with a new head coach. Garrick McGee went to Birmingham after leading high-powered offenses at Northwestern and Arkansas as an assistant. He helped orchestrate a win over Ohio State, in 2004, his first season at Northwestern. It was the Wildcats' first win over the Buckeyes in 33 years.
But it's been downhill since for McGee, who sports a 1-4 record against Ohio State and a 0-2 mark in the Horseshoe.
The Buckeyes outscored Northwestern 160-24 the next three years and then beat Arkansas 31-26 in the dramatic 2011 Sugar Bowl.
McGee was 0-2 against Meyer's Florida Gators, losing to two Tim Tebow-led teams.
"It's another one of those programs that has the top talented players in the country," McGee said about Ohio State. "Obviously, at quarterback they have a kid that's dynamic, the type of quarterback that Coach Meyer played with throughout his career. So he probably feels comfortable calling the plays with that kid because he brings some of the same elements that Tim Tebow brought to the table, that Alex Smith brought to the table at Utah and the kid he had at Bowling Green, he was the lead rusher on the field."