Coming off the heels of a 35-28 win against an inferior Cal team, Ohio State has a lot to work on over the next two weeks before their tilt in East Lansing with Michigan State on September 29.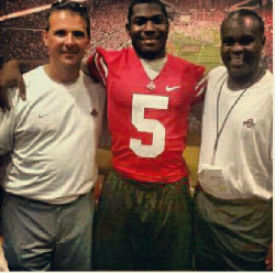 Before then, the Buckeyes take on the University of Alabama-Birmingham in what should be a game that provides fans the chance to breathe easy, as well as give the staff the chance to showcase some dominance to high school recruits across the nation who will be watching.
Speaking of showcasing, one prospect that did just that this past weekend was Thomas Tyner of Aloha High School in Oregon.
The future Duck, who runs a 4.38 second 40-yard dash, put up "above video game numbers", totaling 643 yards and 10 touchdowns on 38 carries in his team's 84-63 win over Lakeridge (OR). 
I've seen some pretty absurd numbers put up in high school games before (including witnessing Knowshon Moreno blitz my high school for about 200 yards and 4 TDs in just one half), but the stats Tyner churned out last week are absolutely mind-boggling. 
But enough of the weapons Chip Kelly is adding. Time to talk Ohio State prospects, and you can do so by joining us after the jump to get the latest news in this edition of the 11W Recruiting Notebook.
The Buzz
The Buzz is back this week and there is plenty of news to go around when it comes to Ohio State recruiting.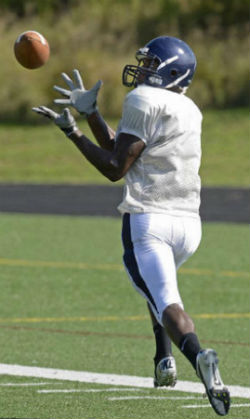 We start with Tarboro (NC) LB/DE Tyquan Lewis, who is set to make his decision tomorrow at 4 PM EST. The finalists for Lewis are Ohio State, UNC, and LSU, with the Bucks and Tar Heels the likely main two in the mix.
We've told you before that we expect Lewis to pick the Buckeyes and from what we have heard that isn't changing before tomorrow. Be on the lookout for the gray box on 11W whenever the announcement comes, and we'll be sure to get in touch with Lewis if he does indeed go through with selecting OSU as expected.
Last week we talked about the enigma that is Shelton Gibson and told you the Cleveland Heights standout was planning a weekend trip to Columbus.
Gibson didn't make it to OSU's win against Cal, but he did end up getting to Columbus on Saturday to spend some time with former teammate Kyle Dodson and speak with the staff. Gibson told us the trip down I-71 went "great" and he is expected to be back on campus for an unofficial visit to the Nebraska game on October 6 (also the date of Eat Too, Brutus) and for his official visit for the Michigan game on November 24. 
Speaking of the Nebraska game, last week Dorian Johnson informed us that he will be making the trip to Columbus with his mother and aunt when the Buckeyes square off against the Cornhuskers. Johnson also said he would use his official visit to return for an additional game, meaning Urban Meyer has two cracks to lure one of the nation's top offensive linemen to Ohio State.
Johnson favors Pittsburgh right now with the Buckeyes currently sitting at number two. The Belle Vernon (PA) Area star was at Heinz Field last weekend visiting the Panthers and had to like what he saw, as Paul Chryst's team pulled off an upset win over his third favorite, Virginia Tech.
MarQuez North of Charlotte (NC) Mallard Creek is a player Ohio State was hot in pursuit of early in the recruiting process, but the four-star's name has not been mentioned recently when it comes to the Buckeyes.
That changed last week, when North's father made it known that one of his son's official visits will be to Columbus, although specifics have not been worked out yet. Ohio State would definitely like to land one more receiver in the 2013 class, and the 6-4/215 North, who is rated as one of the country's top 10 receivers, would be a great catch.
Another name not heard of in a while is Youngstown (OH) Cardinal Mooney's Courtney Love. At one point we were told Love was a silent verbal to the Buckeyes, but a spring trip to Lincoln, Nebraska, and a chat with coach Bo Pelini about the depth chart there had the 6-1/215 linebacker thinking and he committed to the Cornhuskers shortly after.
That is notable because Love was seen on the sidelines this past weekend at Ohio State before the Bucks took on the Golden Bears. Love told Derek after the game that he was impressed with the atmosphere in Ohio Stadium and that he thought that both OSU and Cal played well, but that he was still a Husker.
It later came out, via 247 Sports, that Love and Mooney teammate Marcus McWilson were actually there as guests of California, as one of McWilson's relatives works for the Bears. Looks like for now, there's nothing to see with one of Ohio's best 2013 linebackers being in Columbus last weekend, but it is interesting that he was in the Horseshoe last week.
OSU may not fret too much when it comes to Love, as they likely will land Tyquan Lewis tomorrow and also still have a great shot to land Mike Mitchell. Mitchell is pretty quiet when it comes to recruiting, but his father recently came out and said a trip to Columbus is definitely in the cards for this year.
We're hearing that trip is likely to happen either for the Nebraska or Michigan games and that when it is planned, the red carpet will be rolled out for the Mitchells. It is a great sign that the star linebacker from Plano, Texas, has the Bucks at the top of his list with Oklahoma when he hasn't visited the former, but has been to the latter.
Oregon is also a player in this and may get a visit, but from what we're hearing, Mitchell could very well be in scarlet and gray soon after the visit takes place.
Last, but not least, many people on this site have gone back and forth about Corn Elder. Some feel the competition he plays is weak, while others feel he is a stud in the making, especially in Meyer's offense. We checked in with a couple sources who would know and both had the same feeling about Elder: the kid is the real deal.
Elder is extremely gifted athletically and is capable of playing running back, wide receiver, or even defensive back, in addition to being a return man, at the college level. He is the type of athlete Meyer would ideally love to have running this offense and there are endless ways the staff can envision using the Tennessee product.
Rumor has it Vanderbilt is the team to beat at this point, but Elder maintains he wants to take a visit to Columbus. If that happens, keep a close eye on this one, as I can see him falling in love with what the university and coaching staff have to offer.
High School Football Recap
There was plenty going on in the high school football world last week, and per usual, we have the updates for you when it comes to Buckeye commits and prospects.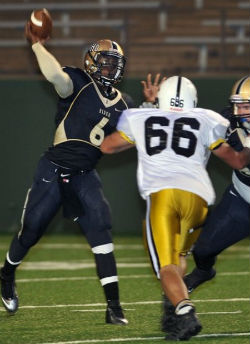 JT Barrett continues to live up to the hype, this time leading his Wichita Falls (TX) Rider team to a late 26-17 victory over Amarillo. Barrett was 15/27 passing for 206 yards with a touchdown, while also running 22 times for 119 yards in the contest.
Jalin Marshall may be headed for wide receiver at Ohio State, but for now the Middletown star is getting it done behind center. Marshall led the Middies to a victory this weekend after carrying the ball 10 times for 91 yards and 2 scores and completing 7 of 15 passes for 40 yards and another touchdown.
Darron Lee is another future Buckeye who will not play quarterback in college, but he did a good job of it this past week, as New Albany won 53-33 over Olentangy Orange. Lee had 9 carries for 136 yards and 4 scores on the ground and also completed 3 of 6 passes for 93 yards and two touchdowns through the air.
Ezekiel Elliott continues his tear through Missouri football, this time helping his team to a win over Lutheran North. Elliott had 11 carries for 224 yards and 4 rushing touchdowns in the game. He also returned a punt for a score for the cherry on top.
Check out Elliott's high school highlights prior to last weekend's game:
Taivon Jacobs and Suitland (MD) won 41-0 over Parksdale (MD). Jacobs had 3 rushes for 47 yards and one score on the ground and added 3 catches for around 75 yards and another touchdown through the air.
On the defensive side of the ball, Tracy Sprinkle had himself a nice game in recording 6 tackles, a sack, and 4 quarterback hurries, as Elyria rebounded to a 41-14 win over Strongsville.
Billy Price and Austintown (OH) Fitch rolled to a 45-0 win over Barberton. The future Buckeye defensive lineman had 4 stops in the game, including a sack.
In what was the national game of the week televised by ESPN2, Joey Bosa and Fort Lauderdale (FL) St. Thomas Aquinas fell to Ramsey (NJ) Don Bosco Prep by a score of 20-10 on Friday night. The Raiders had multiple punts blocked and botched a punt snap, ultimately leading to the loss, but Bosa shined in front of a national audience.
Despite facing double teams all night, Joey manages to churn out 6 tackles in the game and was disruptive throughout the contest, frequently putting pressure on the quarterback. He certainly looks to be the real deal and will be an exciting player to watch next year in Columbus.
More Bosa:
As for 2013 prospects not committed to Ohio State, the aforementioned Elder led his Ensworth team to a 42-17 win over Chattanooga (TN) Baylor. Elder had 296 yards and 4 scores in the victory.
Another option at wide receiver for 2013, Ryan Timmons led his team to a win, totaling 8 touches for 351 yards and 6 touchdowns, stats courtesy of Timmons' number one fan, Waycraken.
When it comes to 2014, Caleb Henderson's team lost, but the quarterback had a big day. Henderson was 21/27 passing for 252 yards and 3 touchdowns in the loss.
Drew Barker one-upped Henderson, not only getting a win, but throwing for 373 yards and 3 scores in his game. It would be ideal for Ohio State to be able to take Barker and Henderson, but right now they can only take one of the two and Barker may have the edge thus far.
Jalen Hurd has been an absolute beast this year and the 2014 running back did it again last week. In his team's 27-20 win over Mount Juliet (TN), Hurd had 299 yards and 2 scores, en route to earning his fifth star from 247 Sports. Hurd lists Alabama and Ohio State as the top two on his list, in order, so it will be interesting to see how this one plays out.
One of the top receivers in the 2014 class, Josh Malone of Gallatin (TN) Station Camp, helped his team to a 41-7 win over Gallatin (TN). He had 3 receptions for 61 yards on offense, but had an even bigger day on defense with an interception and a fumble recovery. Oh yeah, he did it on special teams too, returning a punt 83 yards for a touchdown.
On defense, the top player in the nation, Da'Shawn Hand had himself a game. The man-child totaled 19 tackles (6 for loss) and 3 sacks in his team's contest (despite losing 7-6), showing why he holds the honor of being 2014's best.
Finally, Raekwon McMillan wasn't too far behind Hand and is a top 10 player himself in 2014. McMillan had 14 tackles (3 for loss) and a sack in his team's contest last weekend. McMillan continues to have an impressive junior year and the good news for OSU fans is the Bucks sit atop his list.
Week 5 Games to take note of include:
Cleveland St. Ignatius at Eerie (PA) McDowell (Jimmy Byrne)
Youngstown (OH) Ursuline at Lakewood (OH) St. Edward (Solomon Warfield)
North Royalton at Elyria (Tracy Sprinkle)
Youngstown (OH) Boardman at Austintown (OH) Fitch (Billy Price)
Weekend Visitors
The Cal game brought in some quality talent, including the likes of Mikel Horton, Thaddeus Snodgrass, Dominique Booth, Devon Rogers, Zach Yousey, Steven Moss, and others.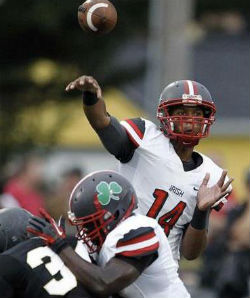 The UAB game is probably the least desirable of all eight Ohio State home games, but there are still expected to be a number of important prospects in the building.
The Toledo Central Catholic combination of DeShone Kizer and Jayme Thompson will likely take in the game this coming Saturday and both are eager to return to Columbus.
Kizer is one of a handful of quarterbacks the Buckeyes are considering in the 2014 class, and it is good that he will have his teammate and current Buckeye commit, Thompson, along for the trip with him. An offer is not likely to go out to Kizer this weekend, but you can bet that Thompson will be in his ear all day about the Buckeyes.
Another standout quarterback for 2014 that is expected to be in Columbus is William Crest of Baltimore (MD) Dunbar. Crest is rated 53rd overall in 247's rankings and is the #4 pro-style quarterback.
At 6-3/170, Crest is certainly among the group being considered by the OSU staff, and while he claims an offer from the Buckeyes, it is thought to be of the non-committable variety. This visit could be a big win for the signal caller, who says Ohio State leads at this point.
Devon Rogers of Hilliard Darby says he wants to come back to Columbus for the second straight week after raving about his visit for the Cal game. Rogers is definitely someone the Bucks are looking at for defensive back in their 2014 class, but does not have an offer to date. It is unquestioned that Rogers is very interested in the Buckeyes and I wouldn't be surprised to see him at a few more games this season.
Finally, the weekly visitor, Cam Burrows, will be in town yet again to see his future teammates take on UAB. Burrows has been a mainstay at Ohio State games this fall and says he plans on attending every home game this year. He continues to be a great ambassador for the program and will certainly help recruit the prospects on hand this weekend to come to Columbus for their college football.