It wasn't pretty as Ohio State overcame 11 penalties, at least that many missed tackles, a turnover and over 500 yards of Cal offense before prevailing, 35-28, yesterday afternoon on a picture perfect day for football in the Horseshoe. 
Braxton Miller had an up and down afternoon completing just 16/30 through the air - engineering five three-and-outs in six possessions at one point - but bookended that rough patch with 249 yards passing and four TD with another 75 on the ground and a TD. Throw in a two-point conversion and the true sophomore accounted for 32 of Ohio State's 35 points and 324 of their 412 yards.
And he still has room to improve? Dude is ridiculous. 
Despite the sieve defense and the hail of miscues on both sides of the ball, the Buckeyes are still locks to be 4-0 ahead of the trip to East Lansing which was the goal. 
The seven-point win against a Cal team Ohio State was favored to beat by 17 cost them four spots in the AP poll but the bottom line is that even though Urban and staff have a multitude of things to fix, those errors didn't cause a defeat. 
While the team goes back to the drawing board, let's take a look at this week's Five Things. 
SACKS ALIVE
Struggling to generate a consistent pass rush in the first two games, Luke Fickell dialed up an increased number of blitzes to aid the rotating front four and the result was a season-high six sacks after registering just three combined in wins over Miami and UCF.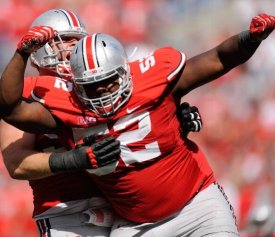 The sacks were split evenly as the blitzers picked up three (Shazier, Sabino, Roby) while the guys up front combined for three of their own via Big Hank, John Simon and Garrett Goebel.
The added pressure helped build a 20-7 lead at the half as the Buckeyes picked up four sacks, six TFL and held the Bears to 1.8 yards per rush.
Two sacks on Cal's opening possession for a total of -21 yards helped force a punt after the Bears reached midfield. On Cal's last possession of the half, Shazier brought down Zach Maynard on a 3rd and 10 snap to stall the drive after the Bears had crept to the Buckeye 47-yard line.
Early in the 3rd quarter, Simon got loose via a speed rush off the edge for a seven-yard sack on 3rd and 10, against thwarting a drive as Cal had moved to the OSU 48, trailing by only six at the time.
Hank had what looked like a huge sack at the time as he bull rushed Jordan Rigsbee on 2nd and 10 to set up 3rd and 20 on Cal's final possession. Clinging to the 35-28 lead, Hank's sack pushed Cal back to their own 15 but a weak PI call on a woefully struggling C.J. Barnett gave Cal an automatic first down before Christian Bryant's INT effectively ended the game four plays later.
Of course, bringing pressure can also be risky and at times Cal burned Fickell's Bullets, using the blitz to create mismatches in the open field.
Cal's first TD came on a 3rd and 3 blitz in which Tedford used a jailbreak screen to Chris Harper after the blitzing Buckeyes basically vacated the middle of the field.
Leading 20-7 midway through the 2nd quarter, the Buckeyes were burnt again on the blitz but got lucky as a holding call wiped out what would've been a 47-yard TD toss on 3rd and 7. Nathan Williams lined up at LB as the Buckeyes sent five to the QB but Sabino got scorched at the line as his man took a short toss for the would-be score.
All in all, the increased blitzing and a more determined front four did generate more pressure but at times, it also left the Buckeyes vulnerable. Those plays really illustrate why it's important to be able to get pressure without the aid of a blitz. If the Buckeyes have to rely on it, they'll be forced to do it more often, creating opportunities for the opponent to make big plays.
LINEBACKER U OR LINEBACKER WHO?
It's no secret the Buckeyes have struggled to put elite playmakers on the field at linebacker over the last handful of years, something the Buckeye faithful aren't accustomed to in Columbus. This year is starting to resemble those since 2008 where one guy might have the juice but the rest of the corps is lacking.
Last year was a real struggle with both Sweat and Klein proving to be too slow to be elite. Brian Rolle was a beast in 2010 but while mates Ross Homan and Andrew Sweat were decent, they weren't great.
The 2009 trio of Rolle, Homan and Austin Spitler was less effective than the '10 version. Rolle was coming into his own, Homan was serviceable and Spitler was at times a disaster.
Fast forward to 2012 and while I certainly don't wish to imply the position is currently void of talent, there is no question this crop has flaws – some of it (hopefully) the product of youth, and some of it the product of simply not being fundamentally sound.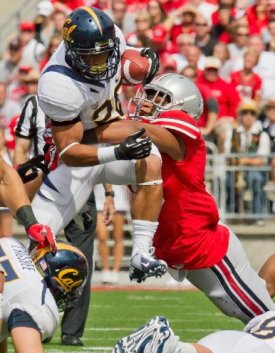 Ryan Shazier looks to be the lone physically elite linebacker and as a true sophomore, I still believe he has an all-conference performer ceiling.
Yesterday, he led the squad with 13 stops while adding two TFL, a sack and a forced fumble. Solid numbers to be sure, but to be a great Ohio State linebacker, he's still got work to do when it comes to pursuit angles and, most important, wrapping up.
Sometimes overly eager to make the big hit, he approaches ball carriers with his arms inside. This has never been more evident than when he became the 3rd and final would-be tackler to fail in bringing down Brendan Bigelow before the kid broke off an 81-yard run, cutting the OSU lead to 20-14 in the 3rd quarter.  Shazier was also victimized by Bigelow on his 59-yard jaunt, tying the game at 28 midway through the 4th.
Don't get me wrong. I'm not down on Shazier but considering who he lines up with, Ohio State must be able to count on him to basically never miss a tackle, which brings me to Etienne Sabino and Curtis Grant.
Sabino, a 5th year senior, managed seven tackles and a sack yesterday so it wasn't all bad news but even though I love the kid for his commitment to being a graduate and an outstanding representative of the program, he has failed to live up to the on-field expectations.
After struggling to understand the defense his first few years in Columbus, Sabino has had consistency issues since landing a starting spot. He's capable of bringing the big hit but just as susceptible to a missed tackle or getting roasted in coverage.
As noted, he was the guy responsible for the 47-yard TD that was luckily called back by a phantom holding call. Standing at the line of scrimmage, he shuffled outside the tackle box to pick up C.J. Anderson but just as he engaged the receiver, he got his feet too close together and fell down on his own, allowing Anderson to make the grab and race untouched to the endzone.
You can argue schematically it makes no sense to ask Sabino to cover a guy like Anderson one-on-one but at the same time, he's shown issues with defending receivers whether it be zone or man, often getting sucked up when in zone allowing QBs to hit TEs over the top and failing to beat his receiver to the spot when in man. Flat out, the Buckeyes need him to be better.
Essentially handed the starting Mike spot, Curtis Grant was barely visible as the Buckeyes often took him off the field in favor of a nickel/star the first two weeks. Yesterday, Grant's participation was more apparent but for mostly the wrong reasons.
He made a nice stop on Cal's 2nd possession of the afternoon, a 2nd and 5 play in which he stopped Isi Sofele short of a first down leading to a punt, but things then went south.
On the first play of Cal's 3rd possession, Grant plugged the middle and had a handle on Sofele but inexplicably let him slip away from the scrum, allowing him to scamper 26 yards to the OSU 49.
Two plays later, Grant didn't pick up Allen in his zone fast enough, timidly shuffling to his left, allowing a short pass to evolve into an 18-yard pickup. Again, you don't want Grant on Allen there but Grant has to more quickly diagnose what's happening and aggressively attack the point of reception. He was too slow to react and offered a one-handed wave at Allen as he knifed through the secondary. Storm Klein took his spot on the ensuing possession.
Again, no hate on these guys but Ohio State needs improved consistency from the corps. I have to believe they think the same.
mr. hanky
The field resembled the United Nations complex far too often yesterday with flags littering the landscape. 
The Buckeyes racked up 11 penalties for 101 yards, many of the stupid variety, giving Ohio State 21 total penalties for 180 yards in the last two weeks.
The infractions included a handful of personal fouls, a couple of illegal formations, two false starts with an illegal block, an offsides and a facemask thrown in for good measure. At least one of the personal foul calls was soft (Williams on the push of Sofele) and the PI call on Barnett was a joke.
Still, a few of the penalties were very costly or could've been.
Corey Linsley, after playing great football the first two weeks, put OSU in 2nd and long with two different penalties on 1st down. He's a cerebral kid so it was kind of shocking to see him flagged a couple of times.
Adolphus Washington had a big offsides penalty on the drive that gave Cal a 21-20 lead. Washington lined up in the neutral zone on 3rd and 8, putting Cal in a more manageable 3rd and 3 which they promptly converted via a four-yard pass to Allen. Cal scored the go-ahead TD three plays later.
Reid Fragel racked up 15 yards in penalties including a false start on 2nd and goal from the one-yard line with OSU trailing, 21-20, midway through the final quarter. Luckily for Reid, Braxton and Stoney bailed him out with a TD two plays later via the old Tebow jump pass play. 
I have a feeling Bloody Tuesday might focus on the penalty situation in hopes of cleaning things up.
a few good men
I really try to avoid overreaction following a loss or tighter than expected victory because I do recognize that a win is a win and no team will be perfect, especially a team so young adjusting to a new coaching staff.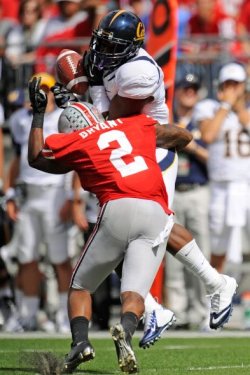 That said, a handful of guys on defense really had outstanding days against Cal. That's saying something when you consider the Bears racked up over 500 yards of total offense.
We all read and heard how Simon played hurt and gave an impassioned speech in the postgame locker room. I could write about his heart each week so I'll skip talking at length about #54 because it's a given he's the heart and soul of this team.
His partner up front, Johnathan Hankins, doesn't get quite as much love sometimes because of Simon's performance/reputation and sometimes simply because linemen don't always get the love they deserve as it's harder to see what they're actually doing amongst the collection of hogs in the trenches.
Yesterday, Big Hank was a beast. The future top 10 pick was 2nd on the team with 10 stops including a sack for -10 yards. He was eating up offensive linemen with straight up bull rushes and when he didn't reach the backfield, often times he was double teamed, freeing up lanes for teammates.
Beyond that, I thought he was much more demonstrative than usual yesterday, both encouraging and imploring the defense to step up. I was truly impressed with the effort he brought on a day when OSU needed everything he could provide.
The secondary has taken some heat so far this season, though I still contend they've been collectively stronger than the DL or LB groups through three games. They've given up some big plays but have also made some big plays of their own, often at crucial times.
Yesterday, both Bradley Roby and Christian Bryant had pretty solid performances. They both had a negative blip or two but the positives they offered were huge.
Roby put forth an inspired effort and overcame a shoulder injury that forced him to miss some 2nd half action finishing with nine stops, two TFL, one sack and two pass breakups. Bryant said after the game Roby tipped him off to the route that was coming, helping Bryant grab the INT that preserved the victory.
Speaking of Bryant, a big hitter who's had some ups and downs during his three years in Columbus, he overcame a few hiccups of his own on the way to five stops, two breakups and the noted interception that sealed the deal.
The key interception was his first as a Buckeye but it wasn't his only big play. With Ohio State nursing a 20-14 lead late in the 3rd quarter, Bryant brought the wood on back-to-back plays, forcing Cal to try a field goal on their 4th possession of the 2nd half. On 2nd and 5 from the OSU 25, Bryant blew up Spencer Hagan on an incompletion, forcing him off the field on a cart. On the next snap, Bryant was at it again, popping Anderson in the chest just as the ball arrived for another incompletion. Both were truly big-time plays.
charitable guests
Ohio State players weren't the only ones in a giving mood as Cal penalties and miscues helped the Buckeyes fend off the upset bid.
Trailing 20-7 in the 2nd quarter, the Bears were flagged four times on one possession. A holding penalty on Jacob Wark wiped out a 47-yard TD toss on 3rd and 7, instead resulting in a 28-yard gain to the OSU 29.
Two plays later, on 2nd and goal from the OSU 12, a holding call on Jordan Rigsbee wiped out a 10-yard carry to the OSU 3 by Maynard, backing the Bears up to the 22-yard line.
Complete Game Coverage
After a five-yard completion made it 3rd and goal from the 17, Maynard found Wark for a completion to the OSU 8 but a personal foul on Chris Adcock for a dirty helmet to helmet hit on Sabino backed the Bears up to the 23. On cue, Vincenzo D'Amato pulled the FGA wide left.
As it turned out, D'Amato was just getting warmed up. He pulled a 42-yarder late in the 3rd quarter that would've trimmed OSU's lead to 20-17 and midway through the 4th, he pulled another 42-yarder that would've given Cal a 31-28 lead.
Three plays later, with the Buckeyes looking at 3rd and 7 from their own 28, Marc Anthony and Alex Logan inexplicably "got nosy" cheating up on Philly's short route, allowing Devin Smith to get behind them for the game-winning 72-yard scoring strike.  Braxton did make a move toward the line of scrimmage to get their attention but the mental mistakes certainly helped Ohio State cash in for the decisive six.