He'll be fine. That's the message Urban Meyer received throughout the week about John Simon.
Battling a shoulder injury, Simon was a game-time decision. But keeping the senior co-captain off the field was going to be a tall task for the coaching staff. 
"He almost didn't play," Meyer said. "I didn't know that because they told me all week he should be fine. He didn't practice much because of his sore shoulder. No ligament damage or something like that. When you say sore, for most human beings they're probably laid up in the Ohio State Medical Center, because that's how tough he is. He goes so hard."
He may have only finished with one tackle – a sack – but Simon's heart and leadership was more important than his on-field production in Ohio State's 35-28 victory over California.
"For the players to trust me and go out there and for the coaches to give me that opportunity means the world," Simon said. "Coach (Luke) Fickell called me out and really appreciated my effort, and then I said something to the team."
Following the game, Simon took it one step further by addressing his teammates in the locker room. In a rousing speech filled with emotion, Simon had tears in his eyes.
"Boy, he just lost it in the locker room, as far as just sharing, opening up his soul for this team," Meyer said. "If we have another child I want to name him Urban John Simon Meyer or something like that. That's how much I love that guy. I'm not ashamed to say I love him. Love that guy. Man."
Carpe Diem
Braxton Miller said they seized the moment. The "they" he was referring to was, who else, but wide receiver Devin Smith. And the moment was the 72-yard game-winning touchdown pass that occurred less than an hour before.
Once again, the Miller-to-Smith combination rescued Ohio State from possible misery. Last fall it came against Wisconsin on a play that will be shown for as long as football is played in Columbus.
On Saturday, the Buckeyes were tied late in the fourth quarter, but the anxiousness in Ohio Stadium told the story. Ohio State was coming off one of its worst quarters of play on both sides of the ball, so the confidence level was not overwhelming.
But when Miller needed more late-game magic, the guy he partnered with was Smith. Streaking open without a guy in the same zip code, Smith caught a perfectly thrown ball from Miller and eased his way into the end zone to provide the final score of 35-28 over California.
"You've got to have chemistry," Miller said. "You also practice things like that throughout the week. It happened."
Yes, it did. It also happened in the season-opening win over Miami (Ohio) when Smith made what is perhaps the catch of the year in college football. In the first quarter versus Cal, Smith had another eye-popping touchdown reception when Miller forced him to adjust to the ball in the air.
"It feels great to know that I made a play for my team and won the game for them," Smith said. "That feels good. When you know you can rely on somebody to make a play, it feels great."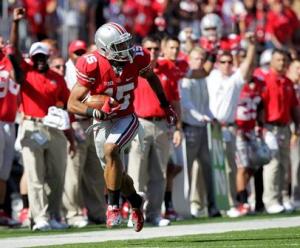 Smith was a known quantity and performed well the first two weeks of the 2012 season, but he had some uncharacteristic drops in the first half against the Golden Bears. He made up for it in a big way with his fourth-quarter touchdown.
With Corey "Philly" Brown's emergence as a legitimate playmaker, Smith's added consistency could go a long way in the passing game becoming a force for Ohio State. 
"The kid has got a long way to go to be considered an elite receiver in this conference," offensive coordinator Tom Herman said. "But he continues to get better."
DUNN DEAL
Bri'onte Dunn was listed as the starting running back at the beginning of the week. But head coach Urban Meyer cautioned people not to look into that. The decision would be made based on the production in practice, and it would be announced on Saturday.
The message was delivered loud and clear. Senior captain Jordan Hall is the starter. It's a position he would have occupied the first two weeks had he not sustained a freak injury in June that left him with torn tendons in his foot.
In his season debut, Hall finished with 87 yards on 17 carries.
"It felt good being back out there at practice with the guys, my brothers," Hall said. "I just want to get back to work. I had a little rust, and I just want to get back to work and get better."
Rust or not, Meyer saw all he needed in practice and the game to settle on Hall not only as the primary running back but the only running back. Meyer said part of his reasoning was trust in Hall and the youth and inexperience of Dunn and Rod Smith.
"When you say don't have faith, they're just young and still learning the game," Meyer said. "When that game got tight you want your dudes in there, your guys. And to say Rod Smith and Bri'onte Dunn, I don't have faith in them, that's too harsh. Because I do."
Complete Game Coverage
Hall was able to take carries away from Miller, something Meyer was desperate for. After averaging 22 carries the first two games, Miller had 12 for 75 yards and a touchdown against Cal.
"I thought there were some runs that I kept my footing," Hall said. "Had I had a little more practice, I could have come out on the other side. I practiced Wednesday and Thursday against scout team, but they're a little bit slower. It took a while to get back up to game speed."
With another tune-up next Saturday against Alabama-Birmingham, Hall should ready and raring to go for the conference opener in East Lansing, Mich., against the highly-ranked Michigan State Spartans.
CALM AFTER THE STORM
Storm Klein thought Saturday might never happen again – him running around the Ohio Stadium turf wearing Scarlet and Gray.
In July, Klein was dismissed from the Ohio State football team after being charged with assault and domestic violence. But Meyer welcomed Klein back to the team after the charges were reduced.
On Saturday, he split time with middle linebacker Curtis Grant, finishing with two tackles.
"It was surreal coming back into the stadium," Klein said. "I picked up where I left off, just trying to get win and help the younger guys get better."
Klein said he continued to lift weights and workout during the time he was not a member of the football team. Because of that, he stayed in football shape and didn't skip a beat once he returned to the practice field.
It's realistic to assume Klein has a shot at the starting middle linebacker spot after Grant's struggles against Cal. The sophomore won the starting job in the spring. He played sparingly the first two week due to the opposing offenses. He finally got decent playing time Saturday and did not make the most of it.