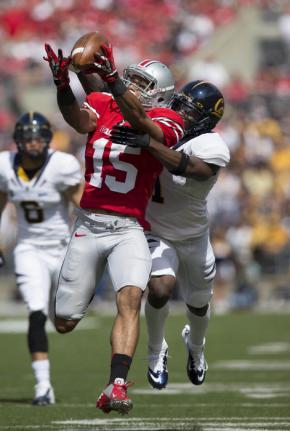 | | | | | | |
| --- | --- | --- | --- | --- | --- |
| | 13 | 7 | 0 | 15 | 35 |
| | 7 | 0 | 7 | 14 | 28 |
This isn't supposed to happen. Not at Ohio Stadium. Not against 17-point underdogs.
But Ohio State found itself tied at 28 with unranked California late in the fourth quarter. The outlook wasn't good, either. Cal had dominated the second half, holding Ohio State to barely more than 100 yards of offense after the Buckeyes racked up 234 first-half yards and a 20-7 halftime lead.
When Braxton Miller trotted out on the field with four minutes, 20 seconds on the game clock and Ohio State's season possibly hanging in the balance, he was as confident as ever.
"Let's go!" Miller shouted in the huddle.
On the previous possession, with the game tied, Miller threw an ill-advised interception in front of the Cal bench. The pass was wobbly and missed its desired target by almost five yards. The Ohio State defense held serve, though, and forced Golden Bears' placekicker Vince D'Amato into his third missed field goal of the afternoon.
There was still a nervous anxiety in the Horseshoe as Miller exhorted his teammates to rally together. Sure, he had struggled in the second half, and for large portions of the game, but this was still the wunderkind who led a miraculous game-winning drive against Wisconsin last season. And the guy who put Ohio State in position to win at Purdue until an extra point was blocked.
First down: Miller threw an incomplete pass to tight end Nick Vannett.
Second down: Running back Jordan Hall – playing in his first game of 2012 – gained three yards.
Third down: Now Ohio Stadium was at a fever pitch of nervousness. Some were thinking overtime, others feared the worst – Ohio State might lose this game in regulation.
Fear not. On 3rd-and-7 with 3:26 left, Miller found Devin Smith – who else? – wide open down the Buckeye sideline. There wasn't a Cal defender within 10 yards of him. Miller's pass was on the money, and Smith did the rest. Seventy-two yards later, the banks of the Olentangy were shaking and Ohio State was on top, 35-28.
Passing
|   | Cmp/Att | Pct | Yds | TD | Int | Rat |
| --- | --- | --- | --- | --- | --- | --- |
| Braxton Miller | 16/30 | 53.3 | 249 | 4 | 1 | 160.4 |
Rushing
|   | Att | Yds | Avg | Lng | TD | Fum |
| --- | --- | --- | --- | --- | --- | --- |
| Jordan Hall | 17 | 87 | 5.1 | 15 | 0 | 0 |
| Braxton Miller | 12 | 75 | 6.3 | 55 | 1 | 0 |
| Corey Brown | 1 | 5 | 5.0 | 5 | 0 | 0 |
Receiving
|   | Rec | Yds | Avg | Lng | TD | Fum |
| --- | --- | --- | --- | --- | --- | --- |
| Devin Smith | 5 | 145 | 29.0 | 72 | 2 | 0 |
| Jake Stoneburner | 3 | 44 | 14.7 | 40 | 2 | 0 |
| Corey Brown | 3 | 31 | 10.3 | 21 | 0 | 0 |
| Evan Spencer | 1 | 10 | 10.0 | 10 | 0 | 0 |
| Jeff Heuerman | 1 | 9 | 9.0 | 9 | 0 | 0 |
| Nick Vannett | 2 | 6 | 3.0 | 5 | 0 | 0 |
| Zach Boren | 1 | 4 | 4.0 | 4 | 0 | 0 |
"When you see somebody open like that you at least have to put some air under it so they can run under it and get position," said Miller, who marveled at how wide open Smith was. "You have to be careful with those type of throws."
Corey "Philly" Brown was the primary target, and the Bears knew it. That's why their entire secondary zoned in on him. That allowed Smith to sneak away unnoticed until it was too late.
"I have been in games before where I thought we were going to lose, where I just kept waiting. I thought someone would make a play, I really did," head coach Urban Meyer said. "And to see Devin Smith, having an athletic quarterback to get you out of trouble sometimes, sometimes gets you in trouble."
Cal's hopes were finally erased when Christian Bryant intercepted a Zach Maynard pass with 1:22 left in the game.
Miller finished 16-for-30 with 249 yards, four touchdowns and an interception. He rushed a season-low 12 times for 75 yards and a touchdown.
The late-game heroics are to be remembered, but the main storyline of the day revolved around the Buckeyes escaping. Cal had 512 yards, the most an Ohio State defense has given up since the 2005 Minnesota game. Time and again, the Bears gashed the Silver Bullets for big gains.
Entering the game, Ohio State had three sacks in two games. It was a sore subject with Meyer and the defense. On Monday, Meyer said the Buckeye defensive coaches were considering blitzing more.
They weren't lying.
Ohio State ran an assortment of packages that put heat on Maynard all afternoon. He was sacked six times and knocked down a handful of others.
But it turned out to be a double-edged sword, as the Bears took advantage by throwing numerous screens that resulted in momentum for the Cal offense.
Maynard finished 26-of-37 with 280 yards, one touchdown and one interception. Wide receiver Keenan Allen had nine receptions for 80 yards.
Three missed fields and a touchdown that was called back after a questionable penalty prevented Cal from pulling off one of the season's biggest upsets. There was also a head-shaking coaching decision by head coach Jeff Tedford.
Facing 4th-and-1 from the OSU-25 with 4:25 remaining, Tedford chose to kick a field goal, despite D'Amato having already misfired on two attempts earlier in the game. Not only that, but he wasted a timeout to discuss the options. D'Amato missed and three plays later, Cal was down seven.
"When it's 28-28 on the scoreboard and there are four minutes left to play, we are going to go for (points)," Tedford said. "We wanted to put some points on the board."
At halftime, not many of the 105,232 in attendance, even the Blue and Gold-clad Cal fans, would have believed such a scenario would have played out. Ohio State led by 13 and didn't show any signs of letting up.
For long stretches of the first half, it looked like the Braxton Miller Show was airing for the third consecutive week. He kick-started the scoring by running 55 yards untouched down the Buckeyes sideline. Cal took the lead, 7-6, because Basil missed his extra point. But Miller came right back with a touchdown pass to Smith and Jake Stoneburner.
"Braxton is a hard guy to contain because he is so big and physical," Tedford said. "For most of the day he made great decisions and threw some great passes. When he threw that long ball down the left side of the field, it was a perfect pass. He is fast, accurate and a great athlete."
Complete Game Coverage
The second-half adjustments were all made in the visitors' locker room, however. Cal running back Brendan Bigelow scored on the first play of the Bears' second possession of the half to cut the lead to six. The 81-yard run was the longest against Ohio State at home in program history. Maynard then kept the ball on a sneak at the one-yard line to push the Bears ahead early in the fourth quarter.
"We just kept executing and using the playbook," Tedford said. "That's why we went for it on 4th-and-1 (in the third quarter). In the fourth quarter we were looking to tie the football game and just go ahead because we were playing fairly well and doing a good job running the clock."
The Buckeyes put together their best drive of the season on their next possession. Miller guided them 75 yards in 11 plays, finding Stoneburner in the end zone for his second touchdown of the game. The play and pass was reminiscent of Tim Tebow's famed jump pass at Florida.
"(Cal) came up, really good execution by Jake Stoneburner, blocking and releasing in the back of the end zone," Meyer said. "That's if you're pounding the quarterback, that's a hard one to stop."
After Ohio State converted a two-point conversion it led, 28-21, and it looked like the typical game where the favorite wears down the underdog.
Not so fast.
Bigelow scorned the Buckeyes again. In two plays – both Bigelow runs – Cal went 75 yards to tie the game with 8:10 remaining.
Bigelow finished with four carries for 160 yards.
The Cal defense contained Miller for the entire game other than his early 55-yard scamper. Miller had 20 yards on 11 carries the rest of the game.  But his receivers turned in big performances when Miller needed them. Smith had 145 yards and two touchdowns and Stoneburner finished with 44 yards and two touchdowns.
Like the previous week, Meyer didn't want to spend too much time discussing the negatives.
"The best thing about 3-0 is a chance to go 4-0," he said. "And that's about it. We've enjoyed a win against a very quality opponent."