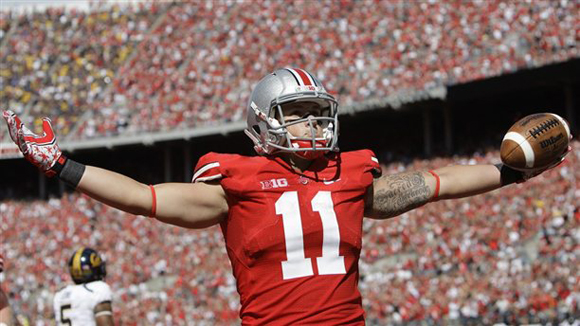 It's Sunday. Yesterday you laughed, you cried, then laughed some more. You had your Saturday jollies, but now it's time to come to terms with the fact you've got to go to work tomorrow. With that said, you're gonna need something to fill the first three hours on Monday. You know, those hours from nine to lunch you spend G-chatting with friends and co-workers instead of creating Excel pivot tables. That's why you came here, and we've got you covered. This is your Cal debriefing.
WATER COOLER PREP (EVERYTHING YOU NEED TO KNOW…IN ONE PARAGRAPH)
An electrifying 55-yard shake and bake by Braxton Miller for a score set the tone early, but the missed extra point was a sign of things to come. After a 1-yard pass from Miller to Jake (all I do is catch TDs) Stoneburner in the second quarter to put the Bucks up, 20-7, things started to fall apart. The offense completely stalled in the third and Cal HB Brendan Bigelow decided to take the opportunity to go HAM. An 81-yard razzle dazzle scamper by the back for six (the longest rush by an opponent in Ohio Stadium history) brought the lead within striking distance, and a QB sneak by Zach Maynard early in the fourth put the Golden Bears ahead. Urban dialed up a Tebowesque floater from Miller to Stoneburner for a TD, but the Bears simply would not go away. On the ensuing drive , Bigelow reached into his bag of tricks again, finding the end zone on a 59-yard run to knot the game at 28. Luckily a blown coverage by Cal's secondary with 3 minutes left in the fourth put the Bucks ahead, and a Christian Bryant INT during Cal's last gasp effort put the tilt on ice for good. The defense got a lot more pressure in this one, notching six sacks, but giving up 28 points to Cal is troubling at best.
HEARD AT THE TAILGATE (THE TALK BEFORE THE GAME)  
"Keenan Allen is a beast, and Maynard isn't terrible. OSU's secondary is going to have their hands full. Have you heard about this defense Cal runs? A Bear 46? Sounds a little gimmicky. Do you think they'll change the name to Bear 56 after Braxton drops 8 TDs?"
HEARD AT THE AFTERPARTY (THE DEETS AT THE END OF THE GAME) 
"Ummmm has anyone instructed our DBs on how to wrap up? I never thought I'd be more concerned about the defense than the offense one game away from Big Ten play. Sacks were great but woof. Braxton though...*Swoon*"
GIVE THAT MAN A BUCKEYE LEAF (PLAYER OF THE GAME)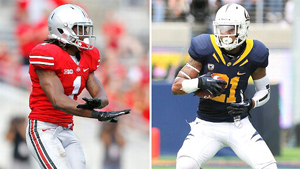 Christian Bryant had some wallops and an INT, but the clear-cut player of the game is once again Braxton Miller. If this keeps up, I'm just going to start copying and pasting this section week to week. Braxton accounted for 78% of the offense's total yardage. His 16/30 stat line should have been better, but a few of his receivers came down with a chronic case of the dropsies. Still, 249 yards, an 8.3 yard average and 4 TDs through the air coupled with 12 rushes for 75 yards and 1 TD on the ground is a strong outing. At this rate, Braxton is going to have 3 million total yards and 24,000 TDs by season's end.
WEEKLY SNOT KNOCKER (BIGGEST HIT)
This.
That's Maynard on the ground. Got Simon/Williams sandwich. He's up now and walking off slowly.

— Bill Rabinowitz (@brdispatch) September 15, 2012
Dropping back to pass in the first quarter, Cal QB Zach Maynard had John Simon smashing into him from the front, while Nate Williams simultaneously laid a devastating hit on him from the back. The play left Maynard on the turf for a few minutes, and all restaurants in the greater Columbus area immediately went to work thinking up a creative name for a Simon/Williams sandwich.
DID YOU SEE THAT?! (PLAY OF THE GAME)
Okie. Doke. Freakshow.
I can't even do this in a video game.
WHEN YOU SANK INTO YOUR CHAIR (THE MOMENT BUCKEYE FOOTBALL DISGRACED YOUR FAMILY)
Cal halfback Brendan Bigelow seemingly spun out of 15 tackles en route to an 81-yard TD. You threw your TV remote out the window en route to an embarrasing walk out the back door to retrieve it.
Complete Game Coverage
JIM TRESSEL'S LEAST FAVORITE MOMENT OF THE GAME
Drew Basil missed the extra point after the Buckeyes' first score.
Tressel was listening on a radio headset while aggresively raking leaves and screamed "FUNDAMENTALS!!!!!!" at a neighbor's dog.
WHAT YOU TEXTED YOUR FRIEND AT THE END OF EACH QUARTER 
First Quarter: "WE'RE FINALLY GETTING PRESSURE!!!! Braxton is the shiftiest player in college football."
Second Quarter: "Four sacks in one half...ahhhh that's more like it."
Third Quarter: "This offense is a junker."
Fourth Quarter: "A win is a win. Excited for this offense next year. This year..........*crickets*."
IT WAS OVER WHEN
Christian Bryant nabbed his first INT of the season with 1:09 left on the clock, simultaneously killing Cal's game-tying drive and your intent to go to bed at 3:30 in the afternoon.