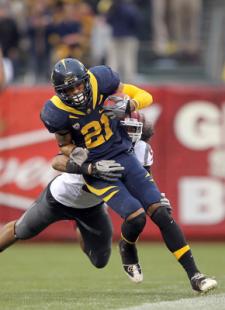 When the contract for the Ohio State-California series was signed, both schools were in the midst of continuous winning seasons. The Buckeyes had won a national championship and didn't appear to be going anywhere anytime soon, and after varying degrees of success the previous decade, Jeff Tedford was hired by Cal in 2002 and immediately turned the program into one of the best on the West Coast.
In Tedford's 10 seasons at Cal, the Golden Bears have finished with one losing record, two double-digit wins seasons, a conference championship, a 7-3 record against arch-rival Stanford and a 5-3 record in bowl games.
The teams will play Saturday with no Tressel and Tedford possibly on the hotseat, depending on how the rest of the season plays out. The game will be televised nationally on ABC, but much of the perceived luster is gone.
Cal lost at home to Nevada in the season opener and then barely beat FCS program Southern Utah in Week 2. Ohio State also hasn't been at its best the first two weeks of the season.
Still, intersectional matchups between two BCS programs rarely happen, so fans should embrace the game. Luckily for Ohio State fans, the Buckeyes partake in these types of games on a regular basis. Next year they'll have an excuse to traverse to beautiful Berkeley, Calif., for the return trip.
A storyline throughout the week has been the friendship between Meyer and Tedford. The two have known each other since Meyer's first head coaching job at Bowling Green, when he got a lesson in passing concepts.
Tedford has become known for the quarterbacks he's coached and mentored throughout his career that have had high levels of success in college and the NFL.
As quarterbacks coach and offensive coordinator at Fresno State, Tedford coached Trent Dilfer, Lane Kiffin, David Carr and Billy Volek. During a stint as offensive coordinator at Oregon, quarterbacks that played under Tedford included Jay Feeley, Akili Smith and Joey Harrington.  Kyle Boller and Aaron Rodgers were two of Tedford's starting quarterbacks at Cal.
Meyer has built a similar stable of quarterbacks to his name in 10 seasons as a head coach, so it's easy to see why the two mesh.
"He's one of my great friends," Meyer said of Tedford. "I've known Jeff for a long time. Studied football with him back when I was at Bowling Green and still to this day utilize some of his pass concepts. We were at the St. Louis Rams together for three or four days just studying football and we spent a lot of time together. And he's part of that Nike group. So every year we spend a lot of time together. A great man, great wife, great family, and I have a lot of respect for him as a coach."
OPPONENT
Cal may be walking into Ohio Stadium 1-1 and a decisive underdog, but the Bears possess two things that could give Ohio State fits: Keenan Allen and a unique defense.
Allen is one of the best wide receivers in the country, rated as a top 10 draft pick by many draft analysts. He caught 98 passes for 1,343 yards and six touchdowns a season ago. His 6-foot-2, 210-pound frame combined with sure hands and speed gives him the total package for a wideout. Allen is also a threat on special teams.
It's not a one-man show, though. Quarterback Zach Maynard also relies on Chris Harper and Bryce Treggs, a five-star recruit. Both receivers are freshmen and Harper actually has more receptions than Allen through two games.
Maynard, the half brother of Allen, transferred from Buffalo and has performed well in Tedford's pro-style offense. He threw for 2,990 yards, 17 touchdowns and 12 interceptions last year. He's completed 57 percent of his passes the past two seasons and has been on target more than 64 percent of the time in 2012.
"They have a very accurate quarterback," Meyer said. 
A potentially big problem for the Bears – and Maynard – is the loss of right tackle Matt Summers-Gavin. Because Maynard is left-handed, Summers-Gavin protects the quarterback's blindside. But the lineman sustained a knee injury and will not be available on Saturday.
Tedford is known for his quarterback production, but Cal has also produced an assembly line of 1,000-yard rushers. 2009 is the lone season the Bears haven't had a running back reach the 1,000-yard plateau during the Tedford Era. The list includes some impressive names: JJ Arrington, Marshawn Lynch, Justin Forsett, Jahvid Best and Shane Vereen.
Current start Isi Sofele, a 5-foot-8, 200-pound bowling ball, ran for more than 1,300 yards last year, and he has a change of pace back, CJ Anderson, who can gash defenses for yardage.
On the other side of the ball, there is that weird defense Cal runs. It's called the Bear 46, and it's a version of the 4-3, just more aggressive. It's supposed to confuse offenses and put pressure on the quarterback.
There are three defensive linemen and a nose tackle lined up across from the center. In short, the D-Line is shifted to the weak side. This allows the secondary to play more freely and aggressive.
"It's not unsound at all," Meyer said of the Cal defense. "But it's just not normal. It's an unorthodox style of defense. Our guys right now were put in a new system. We made errors against a very traditional defense last week, very traditional.
"That's my concern is making sure we have a tight enough package because sometimes there's a lot of rule breakers, so we have to really tighten it down. If you have a big veteran group that's done this for three or four years, go. But this is not that kind of group."
Meyer has termed the Cal defense as "feast or famine." They've been one of the top units in the Pac-12 for several seasons, but they are also susceptible to big plays, a common theme out west where offense is valued more than defense.
The Bears' defense is underrated in the sense of how many athletes they have. It starts up front with the line and Deandre Coleman, a Hendricks Award watch list member. Coleman, a defensive end, has 14 tackles and two tackles for loss in two games this season. Aaron Tipoti and Kendrick Payne are two more stalwarts on the D-Line. Backup Mustafa Jalil returned from an injury last week, and Viliami Moali also provides depth.
At linebacker, Robert Mullins leads the team with 20 tackles and is among the top statistical leaders in the country in multiple defensive categories. Keeping pace with Mullins is fellow backer Brennan Scarlett, who has 16 tackles. JP Hurrell has also been disruptive, tallying three sacks.
Josh Hill (20) and Steve Williams (18) are also among the team's leading tacklers. But they are defensive backs, so that could be looked at as a bad thing for the Bears – and good for Ohio State quarterback Braxton Miller.
Marc Anthony – no, not that Marc Anthony – is Cal's best player in the secondary. Like Allen, he's projected as a high draft pick. An area where the Bears could be vulnerable is the spot patrolled by Alex Logan, a first-year starter.
buckeye breakdown
Ohio State already knows Jordan Hall will make his 2012 season debut. To what extent is still unknown. With a black hole at running back, a steady dose of Hall will help ease the uncertainty around Bri'onte Dunn, Rod Smith and Zach Boren, and take carries away from Miller, who's already carried the ball 44 times in two games.
It could be a big day in the progression of Miller as a passer. He'll see his receivers in 1-on-1 coverage much of the day. Miller has completed two-thirds of his passes, but most of them have not been too far downfield. He's also shown that he's a better passer when he's flushed from the pocket and is trying to create something out of nothing. Devin Smith said the Buckeyes practiced a lot of passing plays this week and mentioned that Corey "Philly" Brown has taken on a bigger role in the offense.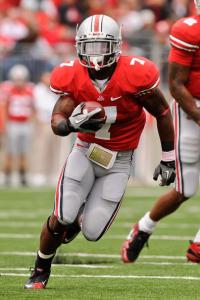 Cal faced a dual-threat quarterback against Nevada and did not fare well. The Wolf Pack's Cody Fajardo threw for 230 yards and rushed for 97. The Bears rank 94th in pass efficiency defense. If Miller is pressured, getting the happy feet and running forward should be tempered. Instead, he should keep his eyes downfield.
Bradley Roby and Travis Howard will have their hands full with Allen and Co. Roby said it will be a test of his "manhood."  The secondary already has five interceptions this season, three coming from Howard. If the defensive line can get the pressure they've been searching for, Maynard could be forced into multiple turnovers.
The front seven will also have an eye on the Cal backfield, where a 1,000-yard rusher occupies spaces. The OSU defense is among the best in the country so far against the run, giving up 51 yards per game. But there is that weakness at pass rush.
"We need to identify our pass rushers and get some more pressure on the quarterback, which correlates perfectly with pass defense," Meyer said. "We are just not very productive in those areas right now."
Prediction
Saturday's game is the first in a near impossible task for the Bears: facing Ohio State and USC on the road in back-to-back weeks.
"It can really be a turning point for us," Hill said.
That's a correct statement, but it could be positive or negative. Cal has many things working against them. The Buckeyes are the better team, Cal is traveling across the country and Ohio Stadium isn't the site of too many upsets.
Ohio State has won 72 consecutive home games against unranked non-conference opponents. To compensate for what the Bears will encounter when they walk into the Horseshoe, Tedford used artificial noise in practice this week.
"I think everybody's going to be a little overwhelmed," Coleman said. "I think we'll be good, though. Once we get in the game, people forget about all that. Time to play football."
The cross-country travel hasn't been too much of a problem for Cal during the Tedford era. It has a 5-1 record in games starting before Noon Pacific, and the Bears have a winning record in Big Ten stadiums dating to 1990.
Cal traveled to Columbus on Thursday to help get used to the time change.
It will take a near perfect game to defeat Ohio State. Errors will need to be at a minimum and there cannot be another slow start in the first quarter, something that has plagued the Bears in their first two games.
The Maynard-Allen connection will need to fire on all cylinders. There is reason to believe the duo will have success after what Miami (Ohio) quarterback Zac Dysert did in Week 1.
While Cal has their unique defense, there isn't much evidence that will fluster Miller, especially after the Nevada game.
Meyer believes the test drive against the Wolf Pack could play in the Bears' favor.
"Nevada, really well-coached team, good players, but they do run similar schemes and so we are learning from that," he said. "We also studied Oregon the last few years. One year (Cal) defended really good, I think it was 15-13, something like that, they won, so we're really studying that.
"But all that is correct. When you see a team have success running similar type plays, now you have to kind of get ahead of their defensive coach and say, what adjustments will they make. Nevada did execute a very high level, and with a little lesser personnel than Cal had."
Miller may not have 20 carries or 160 yards, but expect more of the same, and while Hall might not see the field a considerable amount, his ability to break big plays will keep the defense honest. 
The Ohio State defense, with the services of Nathan Williams, is expected to supply the pressure this week. After two games that left Meyer flummoxed, you can bet the defensive coaches and players got the message loud and clear.
Ohio State 38, Cal 17