Ed: This week, I'm filling in for Alex because Ben Hartsock was kind enough to talk with me about his playing days at Ohio State, that magical national championship season, and life in the NFL. Special thanks to him for taking time out of his schedule for the following interview.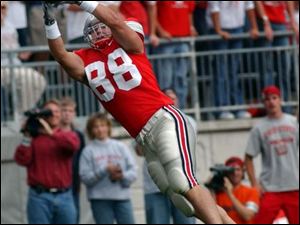 In Jim Tressel's decade as the head coach of Ohio State, one of the common criticisms waged against him was his use of the tight end. Rarely a threat in the passing game, the tight end in a Tressel offense was almost exclusively utilized as a blocker.
If there was ever an exception to that rule, though, first-team All-Big Ten selection Ben Hartsock was it.
During his career at Ohio State, Hartsock was well known for his outstanding blocking skills, but he also became increasingly involved as a receiver and was targeted regularly in his last two seasons. In 2002, the year the Buckeyes took home the BCS national title, he was third on the team in receptions. The following season, his senior year, he trailed only Michael Jenkins in total catches.
Nevertheless, it was his talent as a blocker that impressed the NFL. As Hartsock said:
"I remember when I was finishing up my college career and I was meeting with different agents to help represent me and one of the agents said something that I remember to this day. He said, 'Don't try to be something you're not', and that was being a blocking tight end."
In 2004, the Indianapolis Colts drafted him in the third round. Today, he is with the Carolina Panthers. When their season kicked off yesterday, Hartsock began his ninth year in the pros.
Asked if he thought he'd last as long as he has in the NFL, Hartsock revealed:
"No, I really didn't. It was really a surprise to me that I was even going to get the opportunity to even try to play in the NFL. Going into my senior year at Ohio State, I was a biology major and I was prepared to take the MCATs, the medical school application test, and was actually contacted by coaches and teammates saying, 'Hey, you need to start getting your stuff lined up to take a shot at the NFL.'  And I was so excited about that opportunity, but I never really expected it."
Ohio State: Then and Now
Due to traveling and game preparation on Saturdays, his NFL career doesn't afford him the chance to watch every Ohio State game. Still, he tries to keep tabs on the Buckeyes and although the tight ends haven't been a huge presence so far in this young season, Hartsock, like many fans, is eagerly anticipating their contributions to the new offense:
"I've met [Jake] Stoneburner a couple times and I've been reading about and hearing reports about Coach Meyer's new system… [It's] going to be a lot different from what most Ohio State fans are used to. So I'm excited to see how it all plays out and I think it's going to be good for our team."
Even from a distance, however, Hartsock can relate to the current Buckeyes. After his redshirt freshman season, his team experienced a coaching change of their own. As a member of the 1999 recruiting class, Hartsock saw his coach, John Cooper, fired and replaced by Tressel in 2001. There was considerable less buzz during that transition as there is today with new coach Urban Meyer.
Hartsock explained:
"When we went from Coach Cooper to Coach Tressel, there was a lot of uncertainty, there was a lot of unknown. Coach Tressel, before he came to Ohio State, really wasn't a tremendously well-known person so we were all kind of wondering who this new coach was going to be and how he was going to handle our team.

"But with Coach Meyer coming in, I think obviously his reputation precedes him."
A large part of that reputation is winning two national championships, and Scarlet and Gray faithful are hoping Meyer will deliver at least another one during his tenure as head coach. Ten years ago, Ohio State last celebrated a national title with a memorable 14-0 season. Hartsock was a junior and the starting tight end. 
Steps to A Championship
Before the 2002 season began, a farm in Chillicothe, Ohio, was a building block for the football team's eventual championship. Growing up, Ben's family had hosted many functions on their farm for the various teams he had been on. Prior to both his junior and senior years at Ohio State, the team headed south of Columbus and enjoyed activities such as driving tractors, skeet shooting, and hayrides.
Hartsock reflected on what made those outings so special:
"Every time I cross the 50-yard line after a game in the NFL and I see former teammates on the other team or guys that I haven't seen in a couple years that I played with at Ohio State, often times…those experiences of going to our farm, those are more the things we talk about more so than any of the games that we played in or any of our accomplishments or anything like that. Those were the things that, I think, had the deepest impact on us as a team were those bonding moments where we got to spend time together and get away from football a little bit, and it was just a fun day at the house."
However, it wasn't until the third game of the season when it started to click just how good this team could be. Washington State, ranked #10 in the country, paid a visit to the Horseshoe and the Buckeyes won easily, 25-7. 
According to Hartsock:
"We were really looking forward to that game and we won that game in pretty convincing fashion. The way that we played that game, I think, showed a lot of character and I think a lot of us realized that day, or kind of solidified our belief, that we had something special going that year and obviously, it worked out."
Holy Buckeye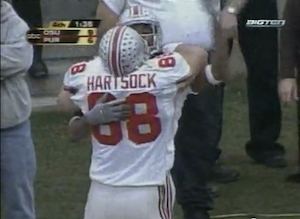 Holy Buckeye is a moment forever etched in Ohio State football lore.
At Purdue, the 10-0 Buckeyes trailed the Boilermakers, 6-3, in the fourth quarter. With only 1:38 remaining on the clock and Ohio State facing a fourth-and-1 situation, QB Craig Krenzel found an open Michael Jenkins for a 37-yard touchdown. The Buckeyes would remain undefeated. 
What some fans forget is the play that set up the fourth down. On third down, Krenzel hit Hartsock for a 13-yard gain, one short of moving the chains.  
The next play was supposed to be a repeat of that. Hartsock said:
"We actually ran the same play twice in a row. It was the same play that we were running to try to get the first down, so I was really the first read on that play, but we had run it a couple times and I was well covered."
Instead, Brent Musburger coined a phrase now familiar to anyone who bleeds Scarlet and Gray. No one can match the view that the tight end had, though: 
"Everyone always sees that play and hears the 'Holy Buckeye' and kind of has a visual of what they remember that play being. I just remember standing on the field and watching this ball go literally over top of my head. So many times in my athletic career, I've had such a unique perspective of these experiences and to actually watch the ball fly directly over top of my head is one that I'm the only person in the world who has that perspective. And looking back on it now, with it being kind of a historical moment in the state of Ohio, it's pretty cool to have been able to be on the field and to be a part of that." 
The Crystal Trophy
With Miami favored by 13 points in the 2003 Fiesta Bowl, everyone knew the Buckeyes were underdogs. That included those in charge of the championship hats and t-shirts presented to the winning team after the game. As Hartsock recalled:
"When we got our hats for winning the game, it was this weird-looking teal and orange and kind of a pastel-looking color palette with a scarlet and gray Block O right in the middle of it. I thought, 'man, we definitely proved them wrong with this one' because everybody in the world, I think, was banking on the other team winning but sure enough, they had to put our logo on those hats."
Nearly a decade later, and the postgame ceremony is still unforgettable to him:
"Standing on the stage and getting to actually hold the crystal football and to have the confetti rain down on top of you...I just remember distinctly thinking that I'm on the other side of the camera now. I've watched it on TV but now I'm the person who's able to hold this championship trophy. That was an experience that I'm so grateful to have had."
But it wasn't for any individual glory that made the occasion so satisfying: 
"To reach the pinnacle of your sport is an incredible accomplishment, an incredible feeling to know that in that year, in the 2002 football season, we were the best football team in the country at the college level."
Senior Year
From a personal standpoint, Hartsock's most productive game of his collegiate career came as a senior. In Ohio State's triple OT victory against NC State, he caught seven passes for 67 yards and a touchdown. It's a matter he can only vaguely recall, though. The team's successes, as well as their failures, are what stick out most to him.
That same year featured the hardest loss in Hartsock's five years at Ohio State, when they fell to archrival Michigan. It's always a meaningful contest, but the stakes were especially high once again in 2003: 
"It was the 100th time we had played The Game. Going out as seniors, we had just come off a national championship year [and] we were still in the hunt for another national championship that year, [so] to go up to Ann Arbor and lose that game, that was a big disappointment."
For a group that was so close, it was a difficult way to end their final regular season together. Yet, Hartsock has been able to play alongside several of his Ohio State teammates at the next level. Right now, that includes Chris Gamble, who is also with the Panthers, but at other points, Hartsock has been on the same team with good friends such as Michael Jenkins, Simon Fraser, and Tim Anderson. He stays in contact with Krenzel, too. 
Even for those he doesn't talk to often, they are forever linked:
"I keep in touch with a handful of guys and it's one of those things that even if it's someone I haven't seen in years and years, we still, we'll always have that bond of wearing the Scarlet and Gray. It's a special brotherhood to be a part of."
That's a distinction not limited to only his former teammates, however. Recently, he passed along a similar message to fellow Chillicothe native and current Ohio State kicker, Drew Basil. Hartsock said, "I told him how proud I was that he's part of our brotherhood now."
NFL JOURNEYMAN
Despite being a nine-year NFL veteran, Hartsock is with his fifth team in the league. After nearly three seasons with the Colts, he moved on to Tennessee, Atlanta, and New York. He's now in his second year as a Panther.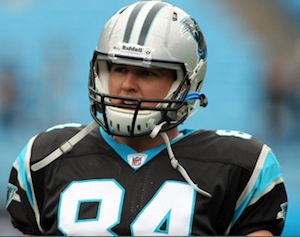 It wasn't until 2009, his first year as a Jet, when he recorded his first and only NFL touchdown, and that's fine with him. His blocking expertise is what's behind his longevity:
"Everyone wants to try to be the marquee tight end and the marquee player who gets all the catches... But looking back on it in kind of the later part of my career now, I have been able to last as long as I have...[because] there aren't really any true blocking tight ends now, so that's why I've been able to stick around."
Compared to college football, he described the NFL as "much more cutthroat" and explained why he's been something of a journeyman:
"I've been a good enough player to make a lot of teams, but I've never been really in the situation to be able to stick with a team for a long time. That makes it more challenging just because the business side of it, there is so much movement around the league for guys like me."
That doesn't mean there's no room for fun and games in the pros. Humiliation bets, particularly between alumni from rivals schools, are popular in the locker room. After Ohio State victories over Michigan, former Wolverines have had to wear Hartsock's old Buckeye helmet or Scarlet and Gray jerseys.
While he admitted, "I had a lot of good years of making Michigan guys look bad", the trash talk is not exclusive to just Ohio State and Michigan. As he put it, "Guys take a lot of pride in their university."
HOME SWEET HOME
Even though he's still in the NFL, Hartsock is thinking about what he'll do after his playing career is over. In the spring of 2004, he received his degree, but at this point, medical school is no longer in the cards. It's been too many years since he's taken the requisite classes and he has other interests that could keep him busy post-NFL.
One field he's looked into is sports performance, which would involve helping high school and college athletes prepare for their seasons. Due to his own experience as a player, it's an area Hartsock is familiar with, and he also ran his own football camp, along with his old high school coach and a high school friend, for five years in Chillicothe.
The camp, which was for younger players and taught the basic fundamentals of the sport, was free of charge and attracted kids from all over Ross County. He called it "a fun way to give back to the home community because I've had such tremendous support from my home community, so it's the least I can do for them."
Hartsock returns home to Ohio a few times a year, but he is now settled in Georgia. Despite being with the Falcons for only one season, he and his wife decided that as parents of two young children, it was time to put down roots.
In Georgia, they found a church they liked, people of similar interests and a place they thought would be perfect to raise their two daughters: Whitney, 5, and Lindsey, 3.
He may not have expected that he'd be in the NFL after all this time, but Hartsock said, "Looking back now nine years later, I'm truly blessed, that's for sure."