Ohio State's offensive line has gone through a bit of a revamp under new position coach Ed Warinner, and early returns this season are looking good as the play upfront has been key in the Buckeyes starting off 2-0.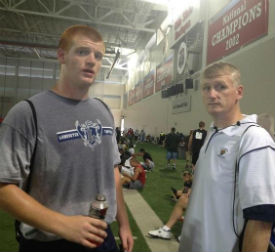 While working to improve this year's group, the staff has also been busy recruiting to the future crop of linemen.
In the class of 2013 the coaches have secured commitments from Centerville's (OH) Evan Lisle and Indianapolis (IN) Lawrence Central's Timothy Gardner, and is still in pursuit of Belle Vernon (PA) Area's Dorian Johnson.
The Buckeyes feel good about where they stand with the 2013 linemen, and thus have been able to move on and look at a number of prospects at the position for the class of 2014.
Unlike with this year's group, the offensive linemen in the state of Ohio for 2014 is a strong group and one of the players that is standing out early is Lancaster's Kyle Trout.
Trout, 6-6/270, had a great summer camp circuit and has made a name for himself amongst college football powers across the nation. He has an early grade of 93 by 247 Sports, making him the fifteenth ranked tackle in the country and the fifth best at his position in the state of Ohio.
Ohio State is one of the programs that has shown serious interest in the Lancaster product, and hosted him this past weekend for their win against Central Florida. We caught up with Kyle to see how that visit went, what the latest is in his recruitment, when he may come back to Columbus next, and more.
Join us after the jump to hear the latest on one of the state's fastest rising prospects, Lancaster's Kyle Trout.
You made the trip down to Columbus this weekend for the Ohio State vs UCF game. How was that experience?
It was awesome. Everything from the fans to the intensity of the team and the coaches was great. I got to sit in the third row which was really cool. At first I was just thinking I had great seats, but then I realized I could see and hear everything that was happening on the sidelines. I got to see and hear how the coaches acted during the game and watched their every move to see how they dealt with problems and situations throughout the games. I think the staff has a great approach and I liked it a lot. Some coaches go easy on you and some coaches will rip you. I think Ohio State had a great balance of explaining to the players what they needed to do or what mistakes they needed to fix. If the players didn't do what was expected of them after it was explained or made the same mistake twice, then they got barked at a bit. I really think that is the perfect way to coach.
Who else did you go to OSU with and what did you do while on your visit?
It was just my mom and me. She loved the experience as well. She had been there for a game before and just really loved the environment on Saturday too. On the visit, we got there late and got on the field and to our seats right before kick off. After the game we went to the recruiting room and spoke to a bunch of the coaches.
What coaches did you get to speak to while in Columbus and what did they say?
We spoke to Coach Vrabel, Coach Fickell, Coach Warinner, and Coach Hinton. Coach Warinner said they were very interested in me and he has been watching my film. He said I have impressed them so far and to keep sending my film to him so that he can keep watching. There is no timetable given on a scholarship, but I think they will eventually offer, it's just a matter of timing.
How is your recruitment going in general? Who has shown interest thus far and do you think anyone is close to offering?
Recruiting is going pretty well. I have five offers right now from Bowling Green, Cincinnati, Illinois, Ohio, and Toledo. I am getting a ton of mail right now from schools like Oregon, Florida, Mississippi State, Florida State, Pittsburgh, Nebraska, Indiana, Washington, and many others. It's so early I really don't have any favorite schools yet, as I haven't visited all of the places that are interested and need to see who offers me. 
Are you planning any return visits to Ohio State? Do you have plans to visit other schools?
I was invited to and want to get back to Ohio State for the Nebraska game. I heard great things about the atmosphere at night games, so that would be cool to see. I will be at Michigan State next week and have a tentative trip planned for Illinois on September 29. Oregon and Florida have said they want to get me to a game, but that will be tough this season.
What are you looking for in the school of your choice?
I want to see how I can relate to the players most important. I also want to play for coaches I like, go to a school with strong academics, and while it's not a deciding factor, I'd like to play somewhere close to home.
How is your high school season going so far? How has your team done and how have you performed individually?
It's going alright. We're 1-2 so far on the year. We're not playing as well as we could and even let at least one of those two losses slip away when we should have won. I feel I played good in our first two games against Mason and Logan, but will have to review the film against Twinsburg. I think I did alright, but I need to see what I can improve on.
What do you feel are your strengths on the field? What do you feel you need to work on?
I feel my strengths are my speed, endurance, versatility, as I have played both guard and tackle, and my vision to get down field and make blocks in the second level. I need work on sustaining blocks longer and not let people go. I can also work on my pass blocking footwork
SOPHOMORE HIGHLIGHTS: