It wasn't always pretty, but Ohio State got the job done. Now at 2-0, as most of the rest of the Big Ten reels, the Buckeyes are having visions of a championship. But enough of that, there are still two non-conference games left on the docket.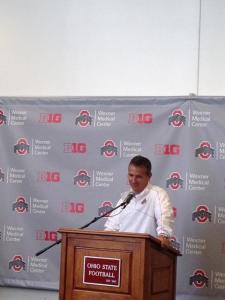 With injuries and lackluster play on everyone's mind after Ohio State's 31-16 win on Saturday, the postgame interview room contained some animated coaches and players. There were no tantrums, but the message is clear: Ohio State must, and will, improve.
Head coach Urban Meyer has now gone for it three times this season – twice against Central Florida – on 4th-and-1. Much to his dismay, they've only converted one of them. But the aggressive style has won over the fans.
"I'm trying to push the buttons to make us a good team," Meyer said. "Midfield you should be able to, on 4th-and-1, get a first down. We did it twice, and I think our offense knows we're going to do it again. At some point you have to do that. When you're a very good team, which right now we're not, but we're working our tails off to become that very good team."
Through two games, the Buckeyes are 2-0, the stated goal. But that doesn't mean everything has gone swell.
"You'd think we'd have a little more pressure (on the quarterback)," Meyer said. "I don't know how good Central Florida's offensive line is. I think they played pretty good today. But their quick passing was, I don't want to say it was our excuse the first week, but we have got to pressure the quarterback. He had far too much time to throw the ball.

"(We're) not where I thought we'd be. Not where I thought we'd be. I thought we'd be a little more explosive on offense and thought we'd get some pressure on the quarterback. Offensive line I think is doing a decent job moving the ball. Receivers are starting to build up a little bit but there's other areas where I thought we'd be a little more explosive on offense."
Sure, Meyer was disappointed about the rash of injuries in the Ohio State backfield, but it was three turnovers and 10 penalties that upset him even more. It's the sign of an undisciplined team, and that's not the kind of perception Meyer wants.
"Pick your poison," he said. "Turnovers and penalties. You can't win. That's not a good team. I don't want to say we're not a good team, but we're not. We're just mushing around out there. And we've got to be much better than we are."
Instead of moping around, Meyer has decided to take the running back injuries head-on. The only thing you can do is get back at it and find solutions. Jordan Hall could return this week, though Meyer was mum on the situation. He took the stance of, we'll find something that works.
"The only answer is it starts (Sunday)," Meyer said. "When we jog the first unit out there (Sunday), someone will jog out at tailback. Our choices are Zach Boren, Bri'onte or Rod Smith. Those are the choices, and maybe some situations Philly Brown."
The inclusion of Brown makes sense due to his game against UCF, which included 33 rushing yards and 81 all-purpose yards. No mention of Hall could mean he's not planning on using him this week, or it could mean nothing at all.
"We're going to have to really ID who is going to touch the ball," Meyer said. "We have to go back to the drawing board and make some decisions on who is going to physically touch that ball and they have to take care of it, obviously."
After playing more plays than anticipated last week, Nathan Williams spent the entire week sore and off of the practice field. There is no word on whether he was rushed into action or if his knee just can't handle the strain of football. Microfracture surgery is a crapshoot, so chances are his knee isn't close to the same as before.
"He was sore all week," Meyer said. "It's frustrating for him, and it's frustrating for us. It's a tough injury."
When it comes to the defense, Meyer steers clear, allowing his defensive staff to handle personnel and plays. But this past week he noticed Orhian Johnson continually standing out on defense and special teams. That's when Meyer went into action and used some head-coaching power. He lobbied for Johnson to see more playing time. The defensive coaches obliged and the fifth-year senior took over star duty from Pittsburgh Brown. It worked, considering he made six tackles, tipped a pass that resulted in an interception and had an interception himself.
"I was very involved with that decision because I see he's so talented," Meyer said. "But he's another guy that's been around here, production hasn't been exactly what it needs to be. He earned that right in practice. He does some really good things for us on special teams, and we felt like we needed more production out of that nickel spot."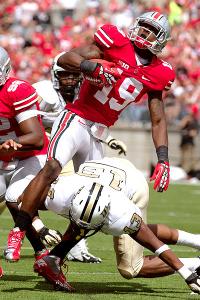 And after all the concerns were aired out, Meyer kept it in perspective.
"I don't want to be a downer around here." he said. "We won a frickin' game. We won by two touchdowns against a quality opponent. It's time to move on and get ready to go play (Cal)."
When Ohio State got the ball back late in the fourth quarter and leading by two touchdowns they didn't just kneel on the ball. Co-offensive coordinator/offensive line coach Ed Warinner gave the answer as to why, and I think fans will like it.
"I don't think that's really our style," he said.
Despite Braxton Miller gaining huge chunks of yards on almost every play, UCF refused to load up at the line or clog the middle of the field. I asked him after the game if it surprised him. Here's the answer:
"Oh yeah. We tried to get some separation by spreading out the wide receivers. But it was wide open," he said with emphasis.
Twenty-seven carries later, Miller figures he might feel a little something on Sunday.
"I wasn't as sore as I am right now (last week), but there's a big gap between 27 and 17," he said.
A key play in Saturday's game was the interception by Etienne Sabino, the first of his career. It came with Ohio State leading 24-10. The Buckeyes turned the pick into seven more points and a 21-point cushion.
"Our defensive line and our front guys, especially Ryan Shazier, had some good pressure," Sabino said. "The ball kind of bounced up into my hands; you can't give me too much credit. I credit the defensive line for bringing the pressure."
Complete Game Coverage
The defensive line's lack of pressure on the quarterback has been a talking point for consecutive weeks. Noah Spence chimed in.
"Both the teams we have played so far are great," he said. "I think Central Florida was a little more physical. They pushed a little more and tried a little harder. I could tell they wanted to win."
One of the biggest moves in the offseason was Jake Stoneburner's shift from tight end to wide receiver. But even Stoneburner has been left flummoxed about his spot in the offense.
"I don't really know what my role is for sure," Stoneburner said. "They have me listed as a starting wide receiver, but they have put me in at tight end and I've played a little bit of fullback. I guess they just want to use me in different ways. I'm fine with that. I just need to make sure I know all the different positions well."
With the decimation of the Ohio State running backs, Boren is likely to get his number called more. He had seven carries on Saturday, but knows there is plenty of room for improvement.
"I need to get a lot better," Boren said. "I haven't played at the running back position in four years, so there is a lot I can an improve on --- not fumbling the ball first and foremost, but also my reads and ability to make defenders miss. There's always stuff you can improve on, and I'm definitely not there just yet.

"This week is a big week for us. We've played well in the last two games, but we've also made some serious mistakes, so we need to see improvement in practice leading up to next Saturday."
The Buckeyes haven't been satisfied with the play of the front seven – few sacks, not enough pressure on the quarterback, etc. Asked his opinion, UCF head coach George O'Leary had a completely different take.
"Ohio State's front seven is outstanding," he said. "John Simon is as good as anyone in the country. You don't want to take your time passing against them. The quarterback can't take more than three or four step drops."
O'Leary caused a minor uprising among Ohio State fans before the game when he insulted Ohio Stadium and its crowd by saying fans sit on their hands. Well, quarterback Blake Bortles had a different stance.
"It was definitely a factor," Bortles said about crowd noise. "We had to switch to our silent count because the noise was such a huge issue. We had two false starts right from the beginning, so yes the noise affected us."