Week two is here. This time, a tougher opponent in the University of Central Florida.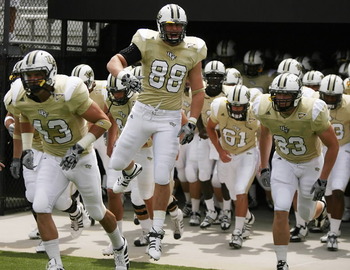 Once again, we have a handful of Eleven Warriors' esteemed staffers here for a RoundTable.
I'd like to thank Alex, Sarah and Corey for their participation this week.
Without further adieu, here we go.
With a week in the books, what can you say you really admired about Urban and staff's week one coaching job against Miami and what do you look forward to in this coming week against Central Florida?
Alex: I definitely think there was some rust coming out the gates, especially with the spread offense, as expected. One thing I liked though is how the coaching staff made the necessary adjustments to give the offense some legs underneath it to get going, as well as how changes were made on the defensive side of the ball to counter some big plays early on from Miami. Adjusting in-game was a major weakness of last year's staff so I'm glad that Urban is in town now to make sure these are taken care of.
Sarah: Rather than running the same plays over and over again, the coaches switched it up until they found plays that actually worked on both sides of the ball. To me, that shows the staff is flexible and boasts a diverse playbook, which is all very new and exciting.
I'm hoping that with the first game jitters behind them, the team won't start as slowly this week, especially against a more dangerous opponent with a different set of weapons. I'm looking forward to seeing how Ohio State responds to a bigger challenge and whether they can resemble the same team that played from the 2nd quarter on, one with a balanced offense and a stout defense.
Corey: I really admired the pace of the offense and the fact the O-Line looked fairly legit for the first game. As much as I loved what Tressel did, it was refreshing to see a different mind set on offense, going no-huddle and keeping the pedal down the entire 60 minutes. I look forward to seeing the offense gel for four quarters, while the defense tightens up their coverage.
What is the one thing the Buckeyes needs to improve on moving forward, especially against UCF, who beat up on Akron 56-14?
Sarah: On offense, it's the OL and on defense, it's the linebackers. At least, that's the correct answer according to Urban Meyer, and he would know just a little bit better than I would.
Corey: They need to improve upon their start, carrying the momentum from the last three quarters from week one. Both sides of the ball are going to be works in progress, but as long as they continue to improve, it will be a successful week.
Alex: UCF is going to be more of a power running team and true drop back passing offense, so the pass rush will need to improve. They are a quality opponent that must not be taken lightly. If OSU starts the way they did against Miami, they'll be in a deep hole early on.
Unlike Miami, who relied solely on Zac Dysert and the passing game to move the ball, UCF seems to be more well rounded with starting RB Latavius Murray rushing the ball 14 times for 108 yards and a TD (7.7 yards per carry) and QB Blake Bortles had an efficient game with three passing scores. What must the defense do differently than last week to ensure another Ohio State win?
Alex: Murray may be out which would be huge for Ohio State, but nonetheless, UCF certainly is more well-rounded. As mentioned previously, a pass rush needs to be present, both from the front four, as well as blitzes from the linebacker and cornerbacks. I expect Everett Withers and Luke Fickell to mix things up when it comes to getting pressure on the quarterback in order to keep UCF on their toes and under duress for the entire game.
Sarah: I understand that UCF will be a tougher test than Miami was, but let's pump our brakes on Blake Bortles until we've seen more from him than how he does against Akron. Remember, Joe Bauserman was lights out against the Zips last season.
Anyway, I think the defense needs to be more aggressive going after the QB and try to rattle him early. Besides, I'm pretty convinced someone named "Blake Bortles" is actually a Harry Potter character and he sounds like a total Hufflepuff, so the D should be able to take care of him.
UCF will be without Murray, but they're pretty deep at running back. There's a Storm coming in Miami (FL) transfer Storm Johnson, who will start in his place. He's good enough that the Knights will want to establish the run game early. Ohio State's goal should be to introduce him to Big Hank.
Corey: I thought the defense played well and they'll continue to improve, so I don't think they need to change anything schematically. Miami and Dysert got rid of the ball quickly, but Ohio State's D-Line was in the back field all day and held them to -1 yards rushing, so I'm not worried about the lack of sacks. Dysert threw the ball 52 times, so there was bound to be some breakdown in coverage and you can bet Coach Coombs worked hard on that this week.
Should we expect to see any personnel changes in the defensive backfield for the Buckeyes? This seemed to be the weakest part of the OSU defense last Saturday.
Alex: I don't think you'd see any personnel changes per se, but maybe more of a rotation. I think Corey "Pitt" Brown at STAR could be toyed with as Christian Bryant can be moved down and Orhian Johnson can play safety. Another option is having Devan Bogard at either STAR or safety in the nickel defense, but I truly think the "poor" performance last week is a result of Miami's unique passing attack.
Sarah: Overall, the secondary graded out well, which means the coaches were mostly happy with their efforts. Their miscues early against Miami seemed to be mainly communication problems and they got better as the game wore on. So, unless the ghost of Jack Tatum inhabits one of the backups, I don't anticipate any changes. But if other players start to step up down the line, especially a couple of the freshmen, I don't think Urban will hesitate to play them.
Corey: No there doesn't need to be any changes yet. Again, with the amount of pass attempts by Miami, there was bound to be some breakdowns, but Howard had two picks, and Roby scored a TD, along with laying some good wood. Barnett and Bryant can play and will learn from their mistakes in week one.
It seems like freshman DT Adolphus Washington got the most playing time of all first years on Saturday and had a good game. Do you expect him to take the starting job from Garrett Goebel to start along side of Jonathan Hankins?
Alex: Washington is a beast, but I don't think he'll ever take the starting job as long as Goebel is healthy. Will he get more reps in? Probably, especially in passing situations, but he likely won't start unless there is injury. I was very impressed with Adolphus though on Saturday.
Sarah: As under the radar as Goebel is, the coaches have also referred to him as an "anchor" and as great as Washington will probably be one day, he won't have that leadership and alliteration that Goebel brings to the table.
Washington will most likely earn his share of playing time and I can imagine him on a similar freshman trajectory as Shazier last season in regard to development, but unlike at linebacker, Ohio State is more spoiled at DT. It'd actually be a pretty awesome troll job for Ohio State to basically tell the entire Big Ten later this season, "yeah, Adolphus Washington is pretty much unblockable…and he's not even a starter. U mad?"
Corey: I think Fickell and Withers will continue to start Goebel, simply because he is a senior and co-captain. However, Washington is going to be special and may play more as the season goes on. Regardless of who starts, it's good to finally see some quality depth at the defensive tackle position.
Did Braxton Miller's performance meet your expectations? How comfortable do you feel with these QBs after watching Kenny Guiton seamlessly take over the offense after Miller had to leave the field due to cramping?
Alex: I think it did for the first game in a new offense. He definitely looked a little rusty and he and hesitant to open the game up, but it all came together and you can see his confidence growing with every throw.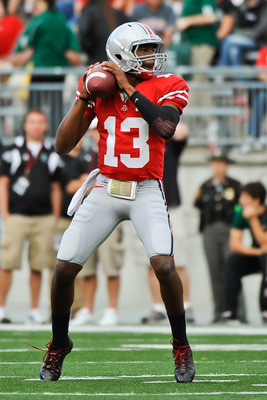 Sarah: I expected an up-and-down game from Braxton, but also one that showed he had improved quite a bit. In that sense, he met my expectations, even if I wish he had hydrated better so I hadn't experienced heart palpitations when he cramped up. 
The fact that he didn't have a flawless game is somewhat comforting. It reminded fans that he still has areas he needs to work on, though because he delivered several majestic plays, it allows us to feel very optimistic about his future, especially considering he's only a sophomore.
If AIRBHG somehow got to Braxton (excuse me while I perform a sacrificial ritual to ensure that he stays away from Ohio State), I'd feel fine with Guiton holding down the fort.  He's knowledgeable and the coaches trust him, and although he isn't quite the athlete or playmaker that Braxton is, as we witnessed in the circle drill, the guy can throw down when need be.
Corey: I don't think it surprised me that much, because after watching Miller in the spring, I knew he was going to have a good season. I don't think he'll run as much this week, so hopefully he can improve his passing stats. I had more faith in Guiton last year than I did Bauserman, so I have no problems with Kenny playing. He looked ready to come off the bench and did a good job of keeping the pressure on Miami, by leading TD drives and not turning the ball over.
In last week's Round Table, we discussed wide receiver targets. Does it seem like Corey "Philly" Brown has emerged as the number one target or would you say it's still a "wait and see" situation?
Sarah: Since there's still a lot we don't know about this team and some of the individual players, "wait and see" can apply to almost everything. But I think Philly has always had that potential. Last season he was waylaid by injury, an inexperienced QB, and a weak WR corps. As long as he stays healthy while Braxton and the other receivers continue to improve, then he'll keeping producing, even if it's in a quiet way that mirrors his game against Miami.
Corey: Philly is definitely the number one target, but I think it was proven last week that Ohio State has many targets. Of course, we all know about Devin Smith's circus catch, but Evan Spencer had a big gain right before half and Stoneburner also had a 20-yard gain. If a team tries to take away Philly, any one of these guys can have a huge game.
Alex: Philly seems to definitely be the go-to guy out of the receivers when it comes to racking up the catches, but I think Devin Smith will be the "big play" guy and Evan Spencer will be targeted plenty as well. I am interested to see how Jake Stoneburner is used going forward, as he wasn't targeted often on Saturday.
The Buckeyes put up 56 points against Miami. How many points against UCF would meet your expectations? How many points against the Buckeyes would be an efficient defensive outing for OSU?
Alex: I am expecting OSU to score somewhere between 31-35 points against UCF. They are a solid team and I think scoring in that range solidifies a victory. As for defense, no more than 17 points is what I am going with. I think if they start getting to 20+ this game will be closer than we all want it to be.
Sarah: According to the Prophecy of Phil Steele, Ohio State is supposed to win 31-20. As such, I would like the offense to score at least that many points and the defense to give up fewer than that.
Corey: I think they'll score at least 45 points. The pace will wear down UCF and Ohio State has too many weapons, with a coaching staff who likes to use all of them for 60 minutes. I think the defense is stout once again, but gives up some late points when the youngsters come in, letting UCF score 17.
In a very unlike-Tressel moment, Urban decided to go for the TD with three seconds left before the half on Saturday. Do you think he'd go for it again in a tighter game? Say the Buckeyes are up 14-7 against Michigan with the ball on the goal line in the same situation. Does he go for it?
Alex: I would have done the same thing given the circumstances in this game, but a tighter game I think even Urban likely takes the field goal. The risk is definitely worth the reward, but in The Game or any other similar contests, 3 points can be the difference and I think you have to take them.
Sarah: Yes, and not just to establish his alpha male dominance. Remember reading about how Urban's dad made him run home after a young Urbz struck out in a baseball game? Well, since the Buckeyes failed to reach the end zone, they will have go for it each time a similar situation presents itself this season. It's his version of making them run home.
Also, Urban secretly hates Drew Basil.
Corey: I think Urban goes for that every time he has the chance, regardless of the situation. As he said after the game, that play was the most disappointing for him. With Hyde in the back field, Ohio State should get one yard every time. You can bet this was another point of focus this week on the practice field.
What were your overall impressions of "Quick Cals" before the game (if you got to see it)? Do you think it'll become a tradition at Ohio State moving forward?
Alex: I thought it was cool and will improve with each game. It's not something that is easy to coordinate but I thought it looked very good for the first game of the year. There are seven more home games, so I expect the students to have it down pretty well by the time TSUN rolls in. I do think this is likely a student/Block O thing only, as I can't ever see a scenario where all 106,000 people participate. I also think this will last as long as Meyer/Marotti are around, but maybe not any further after.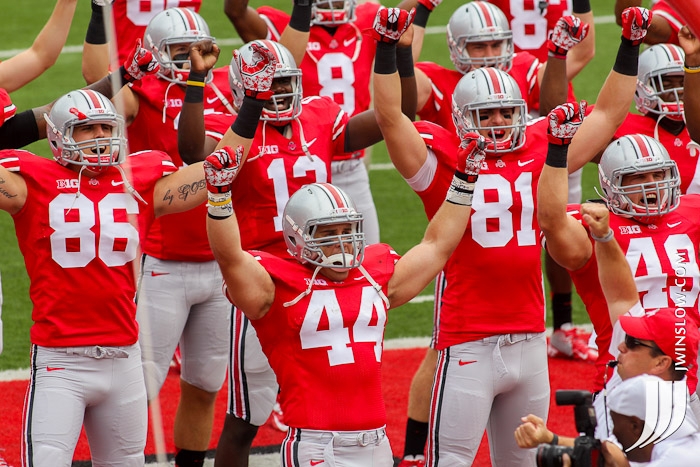 Sarah: The video I saw only showed the team performing the drill, and the guys looked very coordinated, like Filipino prisoners. It still seems sort of unnecessarily complicated, because college students aren't exactly reliable before noon and when alcohol is perhaps involved. But if the team keeps winning, I can see how the student section would start to embrace it.
Corey: I love it, but I do think it will take some time to catch on. It will be a tradition as long as Meyer is here, but it seems unique to him and Coach Marotti.
Bonus: talk about your overall feelings about Michigan getting smacked around by Alabama and Penn State losing at home to Ohio. Were you pleased with the results or did you expect more from the two Big Ten rivals?.
Sarah: I'm not a big fan of people arguing, "You should always root for the Big Ten" vs. "You should never root for Michigan." Cheer for whomever you want, or don't cheer for either team. It's your choice.
Anyway, neither result really surprised me, and Michigan was due for being embarrassed after they overinflated their 2011 season. But I'd still like for the Big Ten's reputation to be restored. That probably won't happen this season, but I think it's only a matter of time before the conference bounces back. After all, next season is Year Two for Urban...
Alex: I have mixed feelings about Michigan. I wanted to see a close game, but I can never sit and root for that program, so it was kind of refreshing to see some of their fans humbled. That being said, I can't stand the S-E-C chant, so that part of me wishes Hoke would have actually used Denard the way he should have to have a chance at winning. As for Penn State, it was kind of sad to me. Ohio is a good team, but Penn State, even without Silas Redd and Justin Brown, should have won that game at home. I truly think PSU is going to be a 5-7 team this year which is not good for the conference. I actually expected both of these game results, though and while it doesn't look great on the conference, I'm only truly concerned with Ohio State.
Corey: I really don't expect anything from Penn State this year and OU is a veteran team, so that didn't surprise me and I loved the fact Michigan got beat like that. Alabama is really good, but Michigan's body of work over the last four years is suspect and Saban exposed their flaws, which was great to see.