Don't expect Urban Meyer to purposely put his team in tough situations the final 11 weeks of the season. But there was an inkling of satisfaction in the head coach on Saturday as he watched his team struggle during the first quarter of an eventual 56-10 victory over Miami (Ohio).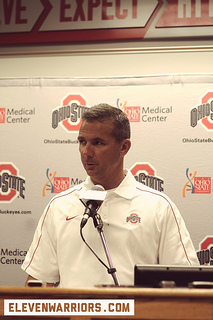 Four punts to begin an era of offensive firepower weren't what fans envisioned. That's what they got, though. As frustration and uneasiness settled into the 105,039 in attendance, Meyer saw a learning opportunity at the outset of the season.
And learn they did, scoring 35 unanswered points after falling behind 3-0.
"Very disappointed in the first quarter, and I'm glad after you evaluate it now," Meyer said during his weekly media luncheon on Monday. "I'm very glad that happened. It gives us an opportunity to coach very, very hard and get some things corrected."
The problems didn't pertain only to the offense, however. The defense also experienced early glitches. There were busted coverages in the secondary and an inability to get to the quarterback.
Miami's Zac Dysert put the RedHawks in position to have a 14-0 lead in the first quarter, but his receivers let him down with a handful of dropped passes. Cornerback Bradley Roby also ran down a receiver to make a touchdown-saving tackle.
"We needed some adversity," co-defensive coordinator Luke Fickell said. "That's what we wanted to see, how they would handle it. All of a sudden, you get kicked in the mouth, and see how you respond."
After throwing for 165 yards in the first quarter, Dysert was limited to 138 the rest of the game. As a team, Miami couldn't even gain a single rushing yard, instead being held to negative-one on the afternoon.
Fickell, co-defensive coordinator Everett Withers and defensive line coach Mike Vrabel decided to give the linemen and linebackers more freedom to make plays, and they answered the call. The Buckeyes finished with two sacks and two tackles for loss to go along with several other quarterback hurries.
"I'm pleased with what happened," Meyer said. "I'm pleased we got thrown around a little bit and were actually losing in our home stadium in the first quarter. I didn't like it at the time, but I think everybody got kind of hit in the face a little bit and responded well."
There is nothing that Meyer scoffs at more than excuse making, but he did say having an entirely new staff that had never worked together added to the early miscues.
Season openers have been a point of contention since Meyer became a head coach. There is a level of confusion and myriad distractions that you don't face in any other game throughout the season.
"So much was new," Meyer said. "I can't stand first games because are we going to the golf course? What shoes do we wear? Can I wear this? What about a visor? What about my parents' tickets, instead of getting locked in on the game."
Meyer, Herman Play Well Together
The players weren't the only group trying to get a hand on things Saturday. While they were feeling out a new system and familiarizing themselves with how the new regime operates on game days, the coaches were attempting to find cohesion as a staff.
The final result would indicate a job well done. But Meyer found areas that the coaches can improve on.
"We've got to coach better, and we've got to adjust a little better, and the players have to adjust, too," he said.
"With a new bunch of coaches, there are some, I don't want to say issues, because there were no issues, but some growing pains as a staff that we have to get fixed."
For the first time since January 1, 2011, Meyer authored an offensive game plan. And for the first time, offensive coordinator Tom Herman executed a Meyer-penned game plan.
The first quarter yielded just 48 total yards – five passing – and zero points for the Buckeyes. But Herman, the man who calls plays, ratcheted up the intensity in the second quarter and helped orchestrate 297 yards and 21 points.
All told, Ohio State tallied 490 yards and 56 points in the final three stanzas. Superior athletes are part of the equation, but the speed at which the offense operates from one play to the other is also a factor.
On Saturday, the Buckeyes ran 86 plays. In the 2003 Fiesta Bowl against the Miami Hurricanes, a game that went double overtime, Ohio State ran 73 plays.
It may have been a new experience for the Buckeyes, but for Herman it was more of the same. During stints at Texas State, Rice and Iowa State, Herman ran a high-octane offense.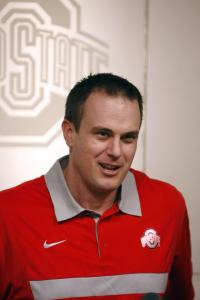 "We went fairly quickly (from one play) to another, and that is called adjusting," Meyer said.  "When you hear what adjustments a team makes, we could have done it a little faster, but they defended a certain formation pretty well, and they defended our base plays pretty well. 
"You have to have counter options, and we went to them fairly quickly. The big hits we had were off different sets and different formations."
Meyer does have veto power, though he doesn't pick plays, per se. If he sees a wrinkle or weakness in the defense, he's sure to let Herman know.
"I'm not going to physically call the play," Meyer said. "I'm going to say take the shot (downfield). We've got to think a lot alike. We should know what that shot is. 
"It went very good for the first time."
While the defense is on the field, all coaching decisions rest on the co-coordinators and other defensive assistants. Meyer observes, but at the same time, he is devising a plan, along with Herman, for the next offensive possession.
"That's when I'll ask, 'Give me the script for the next series,'" Meyer said. "'What are the next five plays, and what are we thinking?' He'll start rattling them off, and I'll say, 'No, let's stay on formation and stay out of that and get going.'
"So the conversation is, 'Give me the personnel grouping and the play.' I'm really the only one talking to Tom, saying, 'Run the counter, run the power, run the three level pass, take the shot,' those type of things. So that is the communication, but it's really fast. It's as fast as I've ever been a part of."
Sitting next to Herman in the press box, fullbacks/tight ends coach Tim Hinton had a front-row seat to the level of difficulty Herman experienced as he sent in play calls rapid-fire style.
"The play caller's got to be really sharp on that next call as soon as he makes the first call," Hinton said. "Sure, we're trying to ID the defense and see what the front is and the coverage and how they played it. But he's already thinking of that next call. It's amazing. It isn't slow down and look at my call sheet, and here's my best 3rd-and-1 call. It's got to be something that's very ingrained in how you call it.
"I thought Tom did a phenomenal job of it."
A Global Force For Good
Feel-good stories are one of the bright spots of intercollegiate athletics, and the tale of walk-on fullback Craig Cataline is no exception.
After serving a tour of duty in Iraq as a member of the U.S. Navy, Cataline came home to Columbus and enrolled at Ohio State. The Grandview Heights graduate had not played organized football since 2005 but decided he would try to walk-on to the team at Ohio State.
In his debut Saturday, Cataline played on the kick and punt return coverage units. He recorded one tackle, and Hinton thought he might have been the guy responsible for knocking the ball loose on Bradley Roby's touchdown.
"Great story," Meyer said. "He earned that right, so it's a great story.
"It's what you would imagine a guy that served in the Navy for a while. He's tough as nails. He's completely committed, has incredible discipline and just goes a hundred miles an hour. I wish he were more athletic, because we'd find a way to get him on the field more. He's got some talent, and he's tough. Our players love him. He's the only one that will go after (John) Simon's tail now, and it's kind of fun to watch."
End of the Line
The second quarter was humming along quite well for the Ohio State Buckeyes. After laying an egg in the first quarter, they racked up 297 yards and three touchdowns, when they found themselves on the doorstep again.
With one second left in the half and the Buckeyes facing 1st-and-goal from the Miami one-yard line, Meyer decided to step on the throttle and go for it.
The call was for Carlos Hyde, who made it to the goal line but was quickly tossed back to the one and failed to score. A disgruntled Meyer said there would be no more non-sense from that close to the end zone.
"Is that what you can expect the rest of the year on the 1-yard line? No," Meyer said.  "We'll do some things different, but that was a tempo setter. That was a timeout. We called them together, and I wanted to see something happen, and we should have scored. We missed a block. The offensive line can't miss a block down there.
"Would we change things up down there? Absolutely. Will there be times that we have to hand the ball back to the tailback and get one yard? Yeah, a lot. So that was the most disappointing part of the whole day, and we'll get that fixed."
A five for seven performance inside the red zone also left Meyer scorned.
"Very disappointing," he said. "That was probably the black mark on the game for us as an offense.
"We spent a lot of time preparing in the red zone."