The third head coach in three seasons led the Buckeyes out of the tunnel on Saturday.
Just two more this decade and Ohio State will quantifiably achieve the same unpleasant Graveyard of Coaches status that marked the 1940s when Francis Schmidt, Paul Brown, Carroll Widdoes, Paul Bixler and Wes Fesler all briefly wore the big whistle before departing.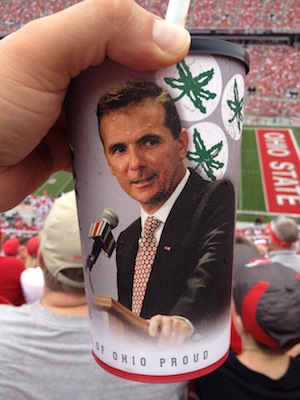 Unfortunately the grueling circumstances of coaching in that decade are 99% similar to those of today: Ohio State still unforgivingly demands a champion, the pressure to win in Columbus is just as iniquitous as it was during those turbulent years and anything short of success won't be tolerated.
It's that one percent that makes the difference this time: Ohio State is no longer a job that allows for voluntary absence. It's a life sentence now.
One percent is significant: Human and chimpanzee genomes are also almost 99% identical. It seems small but obviously that one percent can make a huge difference. The head coaching job at Ohio State has barely changed in 70 years and yet that barely matters.
This coach also knows exactly what he stepped into when he stepped out of retirement. He has the firmest grasp on what's required of him. His predecessors' predecessors during that Graveyard era weren't quite as informed or fortunate as he is.
Schmidt's problem was that he lost to Michigan too many times. WWII plucked Brown from Columbus. Widdoes and Bixler could not stand both the limelight and the pressure of the job.
Fesler was run out of town following the Snow Bowl. Don Faurot had the job for an entire weekend before deciding he didn't want it.
Without all of that happening, Woody Hayes does not land in Columbus.
Ohio State's current coach worked too hard at Florida. He didn't take care of himself. His heartburn felt more like angina than acid reflux. He walked away from a top-ten college football job about four months before Jim Tressel hit the reply button to an email from Christopher Cicero.
Without all of that happening, Urban Meyer does not land in Columbus.
Meyer's arrival at Ohio State has long been viewed as having been inevitable, going back to the stories of him openly weeping at the opportunity to be a graduate assistant under Earle Bruce. It's a job he was born to have.
As nice as that all sounds and as much as we love to romanticize Buckeye football, Meyer landing at the WHAC was 99% serendipity and one percent preordained. He can thank Cicero and Tressel, Woody and Earle, Schmidt, Brown, Widdoes, Bixler and Fesler for granting him the job vacancy, the job requirements and the occupational hazards of the job he accepted last November.
He can thank the University of Florida for a cold dose of life-saving self-awareness. He can thank his family for giving him another chance at coaching.
And he can thank Devin Smith for one of the most memorable touchdown receptions to mark the first six points of his tenure.
One game into what should be a lengthy and successful run in Columbus it appears that Meyer is doing what we all hoped he would do: Tactfully insert his methods into the massively esoteric and perplexing appointment that is Buckeye football.
Buckeye football is power football. It requires mostly Ohioans, all of the freakshow able-bodied variety, a ferocious defense and a seething hatred for the shell of a state to the north that used to be Michigan. It requires a coach who can not only handle the spotlight of 11.5MM interrogators, it requires one who is willing to stare directly into their blinding glow.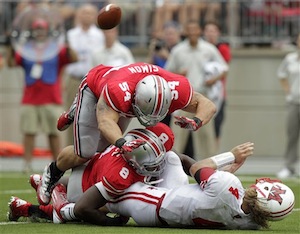 Buckeye football is also a construct with a strong sense of respecting traditions, from the style of play to many of the trappings that adorn those six to eight holy Saturdays when Ohio Stadium is filled to serve its rightful purpose.
Ohio State played plenty of traditional power football on Saturday in its predictable deconstruction of the Miami RedHawks. It also showcased the hallmarks of the spread looks that left the Buckeyes of seven seasons ago spinning in Glendale. It ended the game singing Carmen Ohio with the band.
It didn't telegraph every single move it was making, and there wasn't any deliberately joyless football on display against Miami designed to move the clock closer to quitting time. 
Meyer's strategy was an overlay for what's been known as Buckeye football going back to when Schmidt created the I-formation: The same four trusty wheels, but with better handling and acceleration. 
The third head coach in three seasons serendipitously led the Buckeyes out of the tunnel on Saturday, but for the first time in at least that long a Saturday afternoon in Columbus didn't feature Ohio State facing an opponent while willfully keeping most of its weapons sheathed. 
However, we don't know yet if we will enjoy the actual fruits of Meyer's methods as much as we enjoyed Tressel's. But we shouldn't be in too much of a hurry to find out.
Still, this first excursion proved to be quite the joyride; it accomplished the same required outcome that Tressel notched over 80% of the time during his tenure and 100% of the time in season openers.
But there was one notable, welcome difference: It was just a lot more fun to watch.
While the aesthetics of a victory may seem small, the immediate departure from the joylessness of Tresselball makes a huge difference, and if that ends up being the only difference between the current era and that of Tressel's, Meyer's life sentence may actually end on his own terms.
And that would be the most significant change to Ohio State football in its history.