It took a while for the offense to get warmed up, but once they did the afterburners came on, as Ohio State whipped Miami 56-10. Following the game head coach Urban Meyer and the players had enlightening things to say. A sample of the best postgame quotes is below.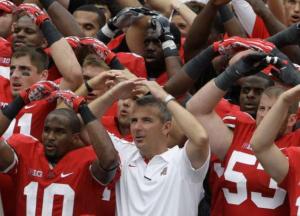 In Game 1, Ohio State wide receiver Devin Smith had what will arguably be the best catch of the season. Needless to say, the Buckeyes have not been practicing the one-handed catch. Meyer said it was the turning point of the game.
"I don't know if Devin has been saving that, but I've not seen him do that. Now that I know he can, I expect he's actually been playing pretty good for us. But that was a wild moment. And that was a moment that ignited the stadium. The stadium got quiet. Our sideline got quiet and we were waiting for a play to happen and he went out and made a play. That's football."
Sophomore cornerback Bradley Roby, who scored a touchdown after Miami's long snapper sent the ball sailing over the punter's head, talked about his position coach, Internet sensation Kerry Coombs.
"He's normally a fiery guy on the sidelines, but he was calm and relaxed. He told us he was going to let us play on Saturdays and coach us Monday through Friday, and that's exactly what he did. I love him as a coach."
Roby on his touchdown and Meyer's special teams philosophy.
"I rushed the punter, heard the crowd and figured something had happened. I saw the ball and just went for it. I felt the ball and muscled it away from the others. I don't know if it was my teammates or not, but I just wanted the ball.

"Coach Meyer has instilled in us the importance of special teams. Many teams don't focus on it as much, but it has been a priority for us."
In the second quarter, Ohio State outgained Miami 297 yards to 38. For the game, the Buckeyes surpassed the 500-yard mark, gaining 538. Meanwhile, Ohio State's 56 points were the most since they hung 73 on Eastern Michigan in 2010. Carlos Hyde, who had two rushing touchdowns, had some words that will lead to smiles on Ohio State fans' faces.
"Our offense is built to keep scoring. That's Coach Meyer's standard and to have fun."
Braxton Miller had a forgettable first quarter, but picked it up in the final three stanzas. Meyer was surprised at Miller's early inaccuracies because he's been solid in practice.
"He didn't throw as well as he's been throwing in practice. So I anticipate he will. He's 14 out of 24 – that's not good enough for what we expect out of him. I saw a couple of the curveballs he threw down the field, because he had a couple times, having hard time gripping it. But he'll get better. I think you saw a couple of glimpses of how accurate a passer he could be once we give him time and he settles in a little bit."
The first quarter did not go as planned for Ohio State, and Meyer didn't mince words on his opinion.
"I want to say I was embarrassed."
Defensive end Nathan Williams missed 12 games last season after suffering a knee injury that required microfracture surgery. After 10 months of rehab, Williams' recovery was ahead of schedule, allowing him to play today – more snaps than Meyer expected.
"I love Nate. I love the fact that he is a warrior, that he loves Ohio State., that he's doing the best he can. And I like the fact that Coach Fickell and Coach Vrabel had enough confidence to get him in the game. He played more snaps than I thought he would. Must have made him feel good, big smile on his face, knocked the rust off of him. He hasn't practiced a whole lot. I'll let you know how he played on next week's press conference."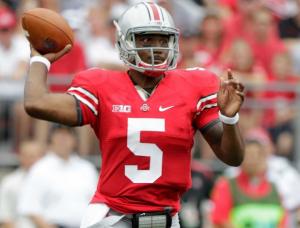 Williams on his return.
"It's like a dream come true all over again for me. Getting another chance to be in this stadium and play. I wake up every morning looking forward to going to work just to make (my teammates) happy. I'm not going to take it for granted.

"It's an unparalleled feeling that I'm feeling right now. It was a tremendous feeling to have, and hopefully I can enjoy it 11 more times this year."
Miller set an OSU quarterback rushing record Saturday, gaining 161 on 17 carries. The yardage was fine with Meyer, but not the number of carries. 
"We ran Braxton too many times. Seventeen. We like the 10 to 12 range. Very few of those were direct runs. There were some scrambles, and some were part of the run/read game where you have to read defensive players. So 17 is a lot."
The night before Meyer coached his first game for his favorite team went fine.
"I slept pretty good. I like this team. I like these guys. When you like that, you sleep pretty good. I was anxious for the day. I was glad the fans enjoyed a decent day."
Coaches and fans may have been upset and anxious after the first quarter, but Miller was A-OK.
"I told the guys, man, first quarter, it's the time for us to look at the second quarter, and that's what we did.

"It's not a game of anger. Go out there, have fun, enjoy the time with your teammates and make sure you're doing all the right things positive ways. If you're doing anything in the negative way, there's nothing that's going to get done at that point."
 
Complete Game Coverage
Miller is playing in a new system, and much has been said about it. The quarterback, who ran the same system in high school, felt right at home.
"I was absolutely comfortable."
In a move that likely sent Ohio State fans into convulsions after 10 years of conservative play-calls, Meyer went for it from the one-yard line on the final play of the first half. Hyde was stuffed, and Meyer was not pleased.
"That's bad. That's absolutely non-negotiable. Nonsense. And we'll hit that with a sledge hammer on Sunday."
Hyde's opinion.
"I definitely thought I scored."