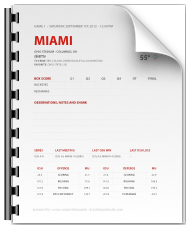 Bucknotes are your pocket guide for the game. Print them off and amaze your friends with your knowledge and insight.
Miami, the Cradle of Coaches, will meet Big Brother for the fifth time in school history tomorrow in Ohio Stadium. I don't need to tell you that the RedHawks have never beaten Ohio State.
Miami also happens to be one of a handful of schools that has a CamelCase name, but if you're Ohio State running back Bri'onte Dunn and you attended Canton GlenOak, there's nothing weird about that at all.
Oh, and of course Miami has a kicker named Kaleb. Of course they do.