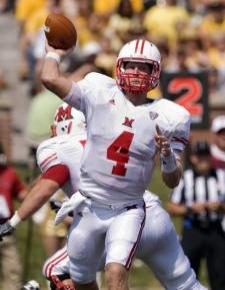 Twenty months after the initial murmurs of bad news inside the Ohio State football program went public, a sense of normalcy has now engulfed the program. The 2011 season acted as a frustration reliever, but even then turmoil still lurked around the corner.
When head coach Urban Meyer and 105 players stampede out of the tunnel on Saturday, 105,000 people will come up out of their seats and let out a collective roar, both of approval and relief.
Finally, it is football season.
There is no need to run through the specifics. Ohio State's soul and closet full of skeletons has already been opened for all to see. Mended back together, something all the king's horses and all the king's men couldn't do for Humpty Dumpty, the Buckeyes are eager and angry, like Meyer wants them, to begin a season of redemption.
There's no bowl game at the end of the season, but it doesn't change the objective: win every game. Winning for the seniors and showing the nation Ohio State is back have also become rallying cries in the locker room.
The team's first opportunity to showcase its new-look offense and stout defense comes against the Miami RedHawks. It's been 91 years since the Buckeyes lost to an in-state foe – Oberlin in 1921 – predating the existence of Ohio Stadium. Meyer nor his players plan on becoming an unwanted historical footnote – or headline – much like the Michigan Wolverines' 2007 team, which fell to Appalachian State in the all-time upset.
With a quarterback-receiver combination that could rival many Big Ten schools, the RedHawks aren't someone to be taken lightly. But the 22-point underdogs also don't pose a serious threat to Ohio State if the Buckeyes play anything that resembles the game of football.
Opponent
Miami head coach Don Treadwell enters his second season at the helm in the tiny southwestern Ohio hamlet of Oxford. Year 1 produced a 4-8 record, but there is plenty to build on, and the RedHawks have gone from the cellar to the penthouse before – as recently as two years ago.
Treadwell, who took over on an interim basis for Michigan State head coach Mark Dantonio following his heart attack in 2010, leads a Miami team that has come close to pulling off program-defining upsets in the season opener the past two seasons, in 2010 at Florida (34-12) – more on that later – and 2011 at Missouri (17-6).
For months on end, we've all heard how great the Ohio State defense, and especially the defensive line, is going to be this season. Well, it should be known quickly if the hype is warranted because they'll face a prolific offense out of the gate.
The defensive line is almost certainly licking its chops when it sees Miami had the worst rushing attack in the country last season, averaging less than 74 yards on the ground a game. But the air-raid offense ranked 14th with almost 300 yards passing per game.
The leader of that aerial assault is senior Zac Dysert, who has an opportunity to re-write the Miami record book this season. He trails Ben Roethlisberger by 2,229 passing yards for first place all-time on the Miami chart. Coming off a year in which he threw for 3,513 yards, Dysert is likely to achieve that. His passing yardage total from last year was the second-most in school history and Dysert added 23 touchdowns for good measure.
A Davey O'Brien Award candidate and three-time captain, Dysert ranked 11th in passing yards per game (292.8) and 17th in completion percentage (65.9). Meyer has already dropped praise on him, deeming him worthy of the NFL.
Get Smart
Miami's 664 wins place them 24th on college football's all-time list.
Miami's 266 MAC victories and .648 MAC winning percentage are tops in league history.
Going back to garbage time in the '05 game, Miami has scored 14-straight points on Ohio State.
Nick Harwell, Dysert's favorite target, was the second-leading receiver in the country last year with a shade less than 130 yards per game. Only a junior, he is already on track to become the RedHawks' career leader in receptions. He already owns the school record for single-game receptions (15), yardage (229) and single-season receptions (97). Last season, Harwell accumulated 97 catches for 1,425 yards.
"That quarterback is a tremendous player," Meyer said. "And that receiver is really good. Those two kids can play anywhere in America."
"Our secondary has some experience. I can't say they played great (last season). Scheme-wise Miami will challenge us. They do things to put you in tough situations. Hopefully we're able to get after quarterback a little bit."
John Simon, Johnathan Hankins, Michael Bennett, Garrett Goebel, Noah Spence and Adolphus Washington will pose serious problems for the Miami offensive line. Ohio State has the size, numbers and conditioning advantage. Bradley Roby should draw the Harwell matchup, and it's something Roby, a possible breakout star on a national level, relishes.
On defense, the RedHawks were rated in the middle or bottom-half of the country in most categories.
In an interesting twist, this will not be the first time Dysert has faced a Meyer-coached team. In the 2010 season opener, Miami traveled to Gainesville, Fla., to take on the Gators in the first post-Tim Tebow game. Florida struggled mightily, trailing at the end of the first quarter and only leading 21-12 in the fourth before taking charge and winning 34-12.
Dysert finished the 2010 contest 25-of-44 for 191 yards, but he threw four interceptions with zero touchdown passes.
That wasn't Meyer's first meeting with Miami, though. In his debut season as a head coach, Meyer's Bowling Green Falcons lost to the RedHawks at home, one of just three loses on the season and Meyer's only defeat at Doyt Perry Stadium in his two seasons at BG.
"I know Miami very well," Meyer said. "I have a great deal of respect for them as a university. I know the history and tradition, and I also know their coach and their quarterback. I've been watching them play. It's going to be a good challenge for us."
Buckeye Breakdown
The spring game and brief images of practice have allowed us to peer inside the Ohio State offense. What is on display Saturday, in a real live game, is likely to contrast greatly.
A passing game that ranked among the nation's worst a season ago has undergone a complete overhaul. Meyer and offensive coordinator Tom Herman installed quarterback Braxton Miller into a system in which he can thrive and become a showstopper.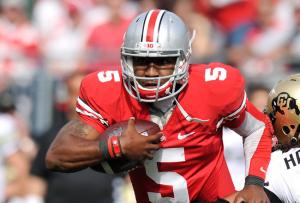 At a recent scrimmage, Miller put up playground numbers, completing 27 of 39 passes for 358 yards and two touchdowns. The RedHawks secondary is arguably the best in the Mid-American Conference, but the MAC is not the AFC, so Miller shouldn't be forced to thread the needle on every throw.
The absence of Jordan Hall could be felt next week when Central Florida comes to town, but Miami is short on big-time athletes on defense. Plus, according to Meyer, Philly Brown has developed into the Buckeyes No. 1 offensive weapon. Devin Smith and former tight end-turned-wide receiver Jake Stoneburner have also earned positive remarks.
A pass-run ratio of 60/40 is Meyer's goal, though opponent personnel will dictate that. With a defensive line that was porous a season ago, Miami could be staring at a long day of Carlos Hyde. The Buckeyes have a decided size and depth advantage.
The junior from Plantation, Fla., had somewhat of a breakout year in 2011, but it was a roller coaster at the same time. One game Hyde would rush for 100 yards, the next he'd get zero carries. Boom Herron's suspension was part of the equation, as was Hyde's immaturity. Still, it was a head scratcher.
Rejuvenated and entering the season as a temporary starter once again, Hyde could seize the job. He's already been given the title of "most improved offensive player" and he's a traditional running back, whereas Hall is more of a scatback. Sure, they'll split carries when Hall returns, but they have entirely different skill sets.
An area to watch, albeit not exciting, will be offensive line and, in particular, the right tackle position. Reid Fragel won the starting job from true freshman Taylor Decker, but Decker will be the first sub in, at left or right tackle.
The matchup between Fragel and Decker was almost a dead heat, with Fragel almost winning by default because of his veteran status as a senior. Both players are adequate, not great. Their evolution throughout the season will be a must-watch, and it will be interesting to see how they each handle action in the first game.
Prediction
Miami (Ohio), picked to finish third in the MAC East, is not the pushover Youngstown State has been in recent years. But the RedHawks also don't pose a Michigan-esque challenge. That being said, anything can happen and that's why they play the games. We've heard that mantra since the beginning of time.
When the Buckeyes welcome Kent State to the Horseshoe in 2014, the victory streak against fellow Ohio school will have reached 93 years, because Miami doesn't have the horses to hang a loss on the Buckeyes – especially in Meyer's homecoming.
The first quarter will be important if the RedHawks have any chance at pulling off the upset. Taking the crowd out – with 29,000 students in attendance due to the academic calendar change – is paramount. It's awfully hard to quiet 105,000 delirious fans. Early momentum, whether it comes on offense, defense, a scoring play or a turnover, is big for the RedHawks.
Meyer, Miller and the Buckeyes are on a mission to show they are for real and that Ohio State is back among the nation's elite. Miami is victim No. 1 on their tour.
Behind an efficient offense and overwhelming defense, the Buckeyes send the fans home happy on Saturday and with visions of sugar plums dancing in their heads. It will be Christmas in September for a fanbase that went through 20 months of coal-filled stockings.
Ohio State 42, Miami (Ohio) 10