"Buckle your chinstrap."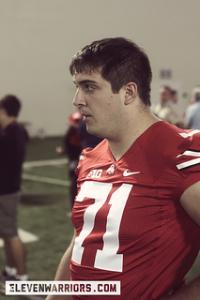 That's the message that has stuck with Corey Linsley for nine months and proved to be prophetic. It came from his high school coach, D.J. Ogilvie, in the form of a text message when he found out Ohio State hired Urban Meyer.
Ogilvie, the former head coach at Youngstown Boardman and current coach at Lemon Bay High School in Englewood, Fla., played at Bowling Green in the 1980s and observed Meyer's two seasons at his alma mater.
After attending practices, Ogilvie knew Meyer – and the Falcons – was on to something. Eight wins in the first season, then nine in the second marked the best two-year stretch Bowling Green had achieved in a decade.
But the wins followed because of an intensity in Meyer that came out in practices and workouts, prompting his roster to toughen up and bring the "juice."
After a sporadic three years, including a redshirt season, Linsley's career was at a crossroads when Meyer came into the picture. The previous year he had been suspended, though he did appear in 10 games. Still, Linsley was out of shape and closer to the doghouse than the penthouse.
What a difference nine months makes. Linsley will start the 2012 opener Saturday as the starting center. But not just that, he will do so as the prototype Meyer offensive lineman.
"I would have to say Corey Linsley is the most improved on offense," Meyer said. "He's the guy that's made the biggest jump, gone from nobody to the apex of our offense. That's the center, which in any offense, but particularly this one, the way we do things, that center's got to be a grown man.
"I love Corey. I love who he is. I love the seriousness. I love the fact that he was honest about his (faults). It wasn't a blame game. He didn't come and blame the previous coaching staff. He blamed himself for his lack of production. So he's without question, in my mind, the number one most improved guy."
The new Corey Linsley began taking shape during the unseasonably warm Central Ohio winter. That's when life as they knew it changed for the Buckeyes. In came strength coach Mickey Marotti and a culture was changed.
Linsley is part of a unit that shed more than 450 pounds of fat while putting on 500 pounds of muscle.
"At first, those were the hardest things I've ever done," Linsley said of Marotti's strenuous workouts. "I was like, 'Am I really going to quit through this?' And the answer was absolutely not. I'd be constantly telling myself I wasn't going to quit. It was layer upon layer of building confidence."
Used primarily as a right guard last season, Linsley's career at Ohio State could be described as being a vagabond. He's played up and down the line. Entering the spring, however, Meyer and Warinner plugged Linsley into the center position.
A starter, though? That part was not expected. When Brian Bobek committed to Ohio State in 2011, many believed he was the heir to Mike Brewster's four-year reign at center.
"Coach pegged him as the center from day one," left tackle Jack Mewhort said of Linsley. "He accepted that role and he's more confident than I've ever seen him."
During spring practice, the offensive skill positions weren't the only group to draw the ire of Meyer. The line was also insulted. It wasn't a unit Ohio State could win with, Meyer reasoned. 
"He told us we didn't look like an offensive line he'd want to play with," Linsley said.
Ohio State has to replace three starters, but only one of the two returnees is playing the same position as last year. Performing well at the apex, as Meyer referred to it, has greatly enhanced the line. It isn't looked upon with skepticism now.
"I really feel like right now I'm 10 times a better player than last year," Linsley said. "I feel like we can be one of the best offensive lines in America."
Whether a coach is mild-mannered like Jim Tressel or to the point like Meyer, players usually take on their personality and demeanor. It was the case with Tressel, it happened at Miami in the 1980s and 90s with Howard Schnellenberger, Jimmy Johnson and Dennis Erickson and it has occurred at Ohio State under Meyer.
With an opportunity to be seized, Linsley beat out Bobek and incoming freshman Jacoby Boren to win the starting center position, and he did it with old-fashioned hard work.
"That's the mentality I took into (the coaching change)," Linsley said. "Obviously, the Xs and Os have a lot to do with Coach Meyer's success, but the biggest part is how hard we work and how much emphasis he puts on outworking everybody."
The coaching staff took notice and that hard-working gene in Linsley is a quality that has won over the staff's admiration. He also exhibits selflessness, looking only for team success and not personal satisfaction.
"He's a very hard worker," offensive line coach Ed Warinner said. "He's totally committed to turnaround in his life and so forth, in terms of the past and moving forward.  He's a very blue collar guy that just trains hard in the weight room and practices hard.  Very physical.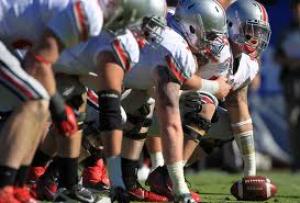 "You just like a guy who comes in and says, Hey, whatever you want me to do, whatever I need to do, whatever changes are made, there's no looking back.  So we're pretty pleased with that."
Linsley and Boren's emergence put the wheels in motion for Bobek to transfer, which he did, to Big Ten foe Minnesota. The unexpected rise in Linsley's game came when he was nearing rock bottom.
"Corey's a fine player," Meyer said. "And he'd be the first to tell you he wasn't a fine player a year ago. His complete commitment to Ohio State wasn't there. It is now."
Said Linsley: "I really think I made a 180 in my life, on and off the field. I feel rejuvenated. I had to make a decision to make myself a better player and better person or continue down the path I was going down."
As the Miami game approaches, the demanding regimen that Marotti put the offensive linemen through is now looked upon as a savior. That's because it helped slim their oversized frames and condition them.
In fall camp, the fast-paced offense has continued to mold the now active linemen. 
"We still get tired," Linsley said. "But now when we get tired, everybody is able to think clear. In an up-tempo offense, everybody knows what they're doing, everybody is on the same page. We're not hunched over trying to catch our breath. We're still tired, but we're able to fight through it."
The realization came to Linsley in the spring that a well-conditioned offense can greatly impact a game.
"Second spring scrimmage, we're running up-tempo and I noticed after seven or eight plays, the defense trying to get the call from the sidelines," he said. "Some of them were hunched over trying to catch their breath.
"I thought, 'Wow, this is the profound effect this offense can have on a defense.'"