There are many roadblocks to Ohio State's season: a bowl ban, new coaching staff and inexperience at key positions. An impediment that came unexpectedly was dog poop.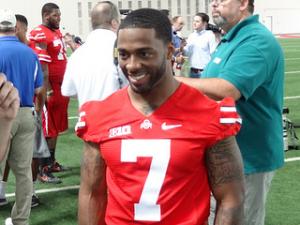 But there it was on June 27. Jordan Hall, being a good dog owner, walked outside his Columbus apartment to clean up the mess his pet had made. Only it was different this time. Instead of wearing his shoes, Hall went barefoot. It's a decision that could cost him more than a quarter of his senior season.
Hall stepped on a shard of glass, severely cutting his foot and leading to a cut tendon. After surgery at the Ohio State Medical Center, doctors estimated Hall would be out of action up to 10 weeks and possibly miss four to five games.
From the outset, head coach Urban Meyer believed Hall could progress at a much earlier pace than many believed.
"I've been in this long enough," Meyer said, "(Hall's) the kind of warrior who will come back rather quickly if he can. We're moving on. I'm planning on him coming back for the season, or certainly after the first couple games." 
Now it appears that prediction will come to fruition. On Wednesday, Hall tweeted, "Boot off. Shoe on!" The newly named captain was optimistic following practice Tuesday that he could return during the non-conference slate of games.
"I'm hoping I can start running and jogging and get back as soon as possible," he said. "I want to play in the second game (Central Florida) so I can get going for Cal and the start of the Big Ten."
Hall brings a bevy of talent and untapped potential. His position in the media guide says running back, but Hall will be used in various roles at the No. 3 slot, a hybrid runner and catcher of the football in Meyer's offense made famous by Percy Harvin at Florida.
In three seasons, Hall has amassed 2,513 all-purpose yards to rank 26th all-time at Ohio State. He has 817 career rushing yards with five touchdowns and has also caught 21 passes out of the backfield for 202 yards and an additional four touchdowns.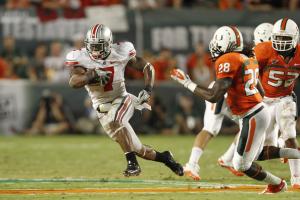 "He's so versatile," running backs coach Stan Drayton said. "He's a physical ball-carrier and he's got great hands. He's a very smart football player who can make a midstream adjustment on the run. We miss that. He's a veteran who understands offensive play."
Prior to Hall's injury, Meyer was already working on a set of plays specific to Hall that would put defenses on their toes. The decision was provoked after Hall's performance in spring drills. He immediately let it be known that he was a bona fide playmaker, one of the few on Ohio State's roster.
"I was so excited because I thought (Hall) had an excellent spring practice," Meyer said in disappointment after Hall's injury. "He has a lot of the skills we're looking for in that hybrid position. I was really anxious. We actually started the mental part of it this summer, studying some plays and working with Braxton Miller, so that was a shot."
Those plays can quickly be added back to Miller's wristband. In Hall's absence, several wide receivers were inserted into a series of plays as the hybrid back, but none of them showed the level of promise that would instill confidence into the coaching staff.
It seemed to frustrate Meyer at times and left Drayton exasperated.
"Did you see anybody out there today," Drayton said cynically. "We're going to have to pull from some other spots right now. We're asking some things from Philly (Brown) and Devin Smith. Jake (Stoneburner) can bring something's to the table. It's a collective effort, whereas if you had Jordan Hall you could hone in Jordan Hall as being that guy."
Still, though, none of the above has etched their name into that role. Adequate, but not exemplary. The other position Hall has left open – starting running back – is a different story.
Carlos Hyde, in particular, has taken hold of his opportunity to make a statement. Rod Smith and Bri'onte Dunn have also flashed glimpses that could possibly earn steady playing time.
"We're in the mindset of getting game ready," Drayton said. "It actually allows the younger guys to get in there, get those reps and improve their game."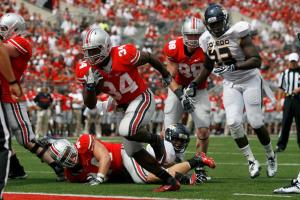 He's not the leading returning rusher, but Hyde did have the most yards per carry a season ago – 5.3, to go along with 566 yards and six touchdowns. Hyde's problem last season was staying in the game. He described it as a "roller coaster," dealing with diminished carries once senior Boom Herron returned from a six-game suspension. It was something Hyde wasn't prepared for, and his actions proved it.
Drayton didn't shy away, calling Hyde lazy in 2011. A year later, Hyde enters his third season at Ohio State more mature, a voice in the locker room and the No. 1 running back. But that parallel from a season ago still exists – a senior running back lurking in the background.
"He's a guy that's really grown up," Herman said of Hyde. "He's got more speed than probably you think in the open field. He's very elusive, he has good hips and he has stepped up his mental game in the last couple months and really kind of taken ownership of that meeting room and position group and said with Jordan out, this is my time to shine."
Hyde will be the first head-down, bruising running back Meyer has employed in his spread attack, though Hyde will tell you he's got the best hands on the team. That statement is up for debate, but Hyde did have 10 receptions last season.
Down five pounds, from 240 to 235, Hyde is as fast and shift as ever, running a 4.45 40. With the weapons in place, Hyde sees an explosive season on the offensive side of the ball. 
"A lot of points," he said. "Way more. Just a lot of more points and more exciting big plays, long plays. Just those big plays that people want to see. Expect that."
Said Meyer: "I think Carlos Hyde is the guy."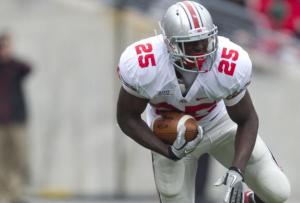 If he's not, it will be up to Smith – who had a severe case of fumble-itis last season, prompting a short-lived stint at linebacker – and two true freshmen, Dunn and Warren Ball.
"Bri'onte Dunn has had a good, physical camp," Drayton said. "With the ball in his hands, he's really good. It's just the other stuff he needs to get honed in on. Protections and that stuff always take a little bit longer with a back.
"Warren Ball just got off the boat. He's hearing this stuff for the first time, he's getting a feel for the intensity for the first time. But he's a guy that goes from point A to point B as fast as he can go."
The offense has gelled throughout fall camps, but watching Hyde, Dunn and Co. from the sidelines has amped Hall up and caused angst.
Happy for his teammates, sure, but like any competitor, Hall is eager to return to the field. He wants to showcase his talents and be a part of the on-field chemistry that leads to greatness. 
"It's really frustrating during camp when we're competing against the defense," Hall said. "I miss being out there with the offense. I've been doing a lot of work over there catching balls and working on my cardio. Hopefully, I don't miss a beat when I do come back."
The answer will come in the near future and one thing is certain: Hall won't get Wally Pipp'd; his starting job is awaiting him. Hall's career speaks for itself. The main objective will be increasing his durability and getting back up to speed.
"Jordan really proved himself in the spring, so we're just trying to get him back," Drayton said. "There wasn't a whole lot he had to come out here this fall camp to prove. He's going to be an integral part to this offense."