As the season inches forward, practice time becomes more important for the 2012 Ohio State Buckeyes. A day after captains were announced, head coach Urban Meyer said practice went well. And good news for Ohio State: the offense continues to improve and exhibit a winning potential.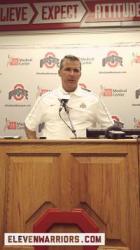 In Saturday's scrimmage at Ackerman Field, quarterback Braxton Miller lit up the scoreboard with 350 passing yards. Meyer provided no more details, but it was clear he was happy with his quarterback. Some guys are still dinged up, but all in all, Ohio State is in a good position with less than two weeks remaining until the opener.
Two more Buckeyes had their stripes removed Monday: Warren Ball and Cardale Jones.
Meyer didn't recruit Ball, but he said the more he gets to know Ball the more he likes him. Said he's a tough guy.
Meyer also said Cardale Jones has shown continued improvement.

 

Last week was deemed "make or break" by Meyer. He said it was "make."
On offense, Meyer likes where the team is. Termed them "fairly competent."
Meyer said he can see every facet of the offense continually improving. The wide receivers have stepped up, with Philly Brown taking the No. 1 WR spot.
Devin Smith and Jake Stoneburner were two other receivers Meyer lauded by name.
Michael Thomas is back from his injury. Meyer didn't specify what was wrong, but said it was minor.
"Nick Vannett is one of the most improved guys on the team," Meyer said. He and Heuerman are 50/50 on who will start.
Heuerman has also missed some practice with a hamstring injury. He is also back now.
Meyer said the right tackle position has to improve. There is still no starter. Meyer said consistency and toughness has to improve.
On the new kickoff rule, Meyer said he is all for players' safety. He said the five-yard start doesn't give you near the momentum to get the ball to or out of the end zone.
The vote tally for captain went: 1. Simon, 2. Boren, 3. Sabino, 4. Hall, 5. Goebel
Meyer didn't realize Sabino hasn't played a lot throughout his career. He said he acts like a veteran and loves the way Sabino carries himself.
Meyer described Goebel as a no-nonsense type of player. "He's the type of guy we want at Ohio State."
The negative publicity for the past year contributed to Meyer allowing the ESPN All-Access series, Meyer said. He wanted people to see all the good the program is about.
Frank Epitropoulos has missed time because of a hamstring issue. Sounds like he'll definitely be redshirting.
Zach Domicone will return in two weeks after having his knee scoped.