The 2011 Ohio State defense, while still ranked among the top 20 nationally, was not the usual stout group that represents the Scarlet and Gray. The linebacker corps was as underwhelming a group that Ohio State has fielded in the past 50 years. The same criticisms were levied toward the secondary, and the players who make up the unit are in agreement.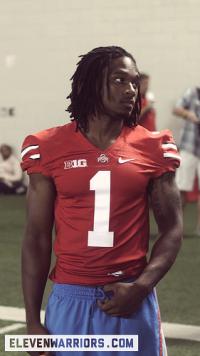 The Silver Bullets take pride in their yearly appointment inside the Top 10 defensive rankings. Last year's showing humbled them and sent the Buckeyes into the offseason with their tails between their legs. Even head coach Urban Meyer got in on the act, referring to them as very average.
In the defensive backfield, the work began as soon as the team charter touched down in Columbus following the Gator Bowl. There would be no more dropped interceptions and missed open-field tackles would be a thing of the past. The returning secondary players banded together promising to have each other's back.
Forgetting about the previous play is an important trait for defensive backs to have. Too many times a touchdown pass or dropped interception compounds itself and all of a sudden, the snowball is going downhill. Last season, the Buckeyes ranked 14th in the country in pass defense, allowing 18 touchdowns through the air. By no means bad numbers, but an opponent completion percentage of 61 percent and just 13 interceptions contributed to OSU ranking 63rd in passing efficiency, leaving the secondary famished.
"You don't have many opportunities," senior safety Orhian Johnson said. "Our goal is to go out there and take advantage of those opportunities. We don't want them to pass by."
A season ago, Johnson did his best, compiling a team-high three interceptions, along with Bradley Roby. Now both are back, as well as every other returning starter in the defensive backfield – Christian Bryant, C.J. Barnett and Travis Howard. Sprinkle in true freshmen De'van Bogard and Najee Murray and the Buckeyes suddenly have depth at a position of need.
Johnson and Howard provide a veteran presence, Roby is a budding star, Bryant is a hard-nosed talent and Barnett gives teammates a work ethic to model. Together as one, they believe perfection is attainable.
"When we come together, we talk about being the best defensive backfield in the country," Bryant said. "We talk about our whole defense being the best defense in the country, and that's what we are trying to accomplish this year."
Cornerbacks coach Kerry Coombs refers to the group as "talented and gifted."
"More than anything, though, they're very good, diligent workers," he said. "They're in my office poking their head in all the time. They want to know what they can do to get better. They want to know where they fell short. And they don't argue with me about what I'm seeing and how we can improve, and that's a real credit to them. That's what the great ones have."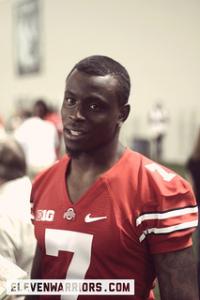 Roby is the ringleader. The one-time Vanderbilt wide receiver commit hopes to be the next in a long line of great Ohio State cornerbacks. From Dick LeBeau to Antoine Winfield and Jack Tatum to Malcolm Jenkins, the Buckeyes' defensive backfield has been a springboard to NFL success.
"If Bradley is not a first-round draft pick down the road, that would be a shame," Coombs said. "It will only be a result of failure to stay diligent at his craft. I think he'll be very diligent, and I think that's exactly who he should be and what he should be."
Roby has been No. 25 since he arrived in Columbus. But he quickly wanted a change of scenery. The switch wasn't just any, however. Roby wanted to don the prestigious No. 1. To do so, he had to earn the right from Coombs and Meyer. But after a superb spring and summer, Meyer gave the single digit to Roby. 
"Coach Meyer called me one day and said, 'I'm going to give you No. 1 like you asked,'" Roby said. "'You showed me the things that you said you were going to do. I can see greatness in you, so here you go. Now make sure you don't slip up or anything.'"
Slipping isn't something in Roby's vocabulary. Speed is, though. Last year, Roby used speed to his advantage, and that burst showed up again this summer. When the team was clocked in 40-yard dashes, Roby's time came up 4.3, the fastest on the team. An offseason workout program with strength coach Mickey Marotti contributed to Roby's quick time, which was one-tenth of a second faster than last season. His playing weight for 2012 will be 191 pounds.
"I feel a lot faster," Roby said. "I gained five pounds and I'm still faster. When your body gets stronger and you do more work, even with the extra weight it brings more speed."
Because he's a receiver at heart, Roby's technique at cornerback hasn't always been picture perfect. That's where his speed comes into play. His recovery time from mistakes is much greater than most corners. But speed can't always bail you out. Eventually, technique has to win out. Roby even admits as much.
"I can get so much better at playing (cornerback)," he said. "My potential is sky high. Technique-wise, I'm still raw. I've worked hard on my technique over the past year, so I've gotten better with that. I feel like I'm going to be so much better this year, it's going to be crazy."
A Georgia native, one may be inclined to say that Roby brings a dose of SEC speed to the Buckeyes. It could be on display this fall on kick returns. With Jordan Hall injured, Roby is slated to be a possible replacement.  Needless to say, it's a commitment Roby has undertaken with full determination.
"I'm excited about it," he said. "I've been trying to tell Coach Meyer and the rest of our coaches to put me back there for a while.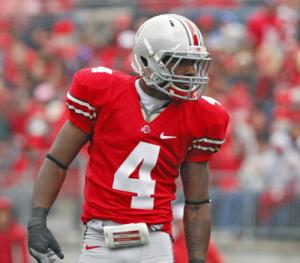 "I just love having the ball in my hands. You can't be scared. You've got just to run and when you see a hole, hit it and make a play."
And that isn't just limited to defense or special teams. Roby is also lobbying to play offense. The accomplished wide receiver's requests have fallen on deaf ears, though. Both co-defensive coordinators, Luke Fickell and Everett Withers, scoffed when reporters told them of Roby's overtures.
The coaches enjoy Roby's flamboyance, but the hard working, quiet effort of Barnett provides a refresher.
"Great kid," Fickell said describing Barnett.  "He's one of the hardest working players out there. It's not hard to tell who puts a foot on the pedal and how they go about their business. He's got the ability. Now, is he Chris Gamble? No. But let's be realistic. Do you have to be? No. There's a fine line. Everybody is in that same ability range. It comes down to the passion to do the intangible things. He does them."
After suffering a season-ending knee injury against Miami in 2010, Barnett returned last season to start all 13 games. In doing so, he led the team with 75 tackles. He also broke up six pass attempts and made two interceptions.
Like Roby, Barnett's number means something to him. The "4" across his chest is the same number that fellow Northmont High School graduate Kurt Coleman wore during a stellar Ohio State career, before he became a burgeoning NFL star with the Philadelphia Eagles.
"I'm living a dream," Barnett said. "I'm starting for one of the best football teams in the nation. There's a lot of history in this program, and I get to be a part of it. Coach Meyer said something about that at one of our meetings, how it's nice to just take a second and step back and enjoy what you have and be grateful for it, and I am grateful for this."
Meyer appreciates what Barnett is about: being a team player, working hard, recognizing Division I scholarships are not a right. At a recent practice, Meyer told Barnett, "I like coaching you. Glad you're a Buckeye, bro."
Withers have also taken a liking to Barnett, one of the new defensive coordinators' emerging leaders.
"It's the way he works every day, the way he attacks practices, the way he attacks meetings, how he handles himself off the field," Withers said. "He's a grinder. He's always working hard on the things he thinks he needs to improve on like tackling in space and covering the deep area of the field. That's what you like, guys who work on their weaknesses and not their strengths."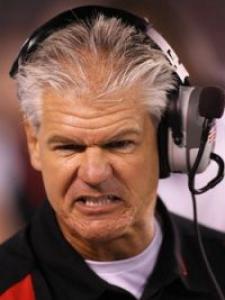 The man in charge of the Buckeye secondary, Coombs, isn't doing so quietly. But Coombs rarely does anything in silence. He brings an in-your-face attitude that promises to bring the most out of his players. He also has experience leading one of the best high school programs – Cincinnati Colerain – in the state. It's something that isn't lost on Meyer.
"Kerry Coombs had an incredible record of achievement as a high school head coach and he is highly regarded as one of the great coaches in Ohio high school football history," Meyer said. "I have watched him coach in high school and at the University of Cincinnati, and I have great respect for the way he works. He is a strong recruiter. He knows defense and special teams. And he is an excellent teacher."
The high-intensity, high-strung Coombs has not changed during his three decades as a coach. While some players resist screaming, Ohio State's backfield has embraced their coach's philosophy, including freshman Tyvis Powell, a popular Coombs target. 
"All great corners have to have the same psychological makeup," Coombs said. "They have to be fearless. They have to have absolutely no memory and very little conscience. Those are guys you're looking for at that position.
"I'm going to coach them hard. It's the only way I know how to coach. I think they know I care a lot about them. I care a lot about winning, so we're going to do our business hard."
In his introductory news conference, Meyer described in detail the type of coaches he wanted, and it drew an apt portrait of Coombs.
"I want a bunch of coaches that coach like their hair's on fire, and I want a football team that goes four to six seconds of relentless effort," Meyer said. "You do that, you have a chance to win in every game you play."
Winning is the motto for this year's Buckeye football team: winning every game, winning for the seniors and executing Meyer's Plan to Win.
"Our goal's to go 12-0," junior running back Carlos Hyde said. With a schedule littered with talented quarterbacks, the likes of Bradley Roby, CJ Barnett and Co. could be the difference from 8-4 to 10-2 to 12-0.
A defensive line that will be among the nation's finest and an improved linebacker corps will help pressure those signal callers. But sometimes you're the bug and sometimes you are the windshield. Coombs doesn't plan on being squished anytime soon.