Friday marks the final day of two-a-day practices for the Ohio State football team. And after talking to several coaches and players today, it's a welcome relief --- for the players.
Running backs coach Stan Drayton talked about breaking down the players' bodies and then building them back up for the season. Everyone is already aware of strength coach Mickey Marotti's infamous workouts. Needless to say, the Buckeyes might be the most physically prepared team in the country. For head coach Urban Meyer, that was a goal. He learned long ago from Michael Jordan that games become easy if you're pushed to the max in practice.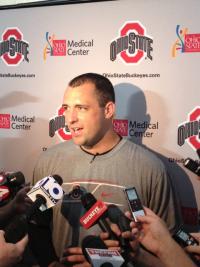 The great mystery of Adam Bellamy was solved, and it sounds like a sad situation. He has left the team due to personal reasons involving his family. When and if he returns, defensive line coach Mike Vrabel said he'd be welcomed with open arms. Another piece of bad news learned today: sports information director Jerry Emig said freshman offensive lineman Joey O'Connor will redshirt this season because of a knee injury. He underwent surgery earlier this week.
Zach Smith said Philly Brown has been the most impressive wide receiver.
Smith also mentioned Devin Smith as coming along nicely. "He has every talent and skill you want in a wide receiver."
Brown and Smith are the clear top two wideouts.
The group is progressing nicely and the staff feels good about where they're going to be, but if there was a game tomorrow, it would be a problem.
Smith said on Sept. 1 they should be where they want them to be.
Evan Spencer is back at practice after suffering a bone bruise.
Michael Thomas has been dinged up the past two days, but it is nothing major.
After last year, Smith said the wide receivers see 2012 as an opportunity. What they've done in practice is very encouraging.
Verlon Reed is running well, not favoring his knee. Smith said he still has a ways to go, but hopes he's one of the guys on Sept. 1.
Smith said his grandfather, Earle Bruce, is at the WHAC frequently and added that everything he's said has been positive.
That he's coaching at Ohio State hasn't sunk in yet, Smith said. "Is it awesome? Absolutely." He said he's not shocked at anything he's seen because he knew everything about OSU was the best in the country since he was a kid.
Smith said Jake Stoneburner is naturally gifted and is able to do wide receiver things in a tight end's body.
Stoneburner is a mismatch problem for any team.
Stoneburner's move to wide receiver was more a program decision than a Stoneburner decision, Smith said.
The staff knew the talent was big at tight end and lacking some at wide receiver.
Smith said Tyrone Williams was as average as a receiver can be in the spring. Now, though, he's completely taken off.
Smith said Urban Meyer has been influential in how he leads his life. If you don't have balance, the profession can consume you, he said.
The wide receivers have embraced the hurry-up offense. Smith said they understand that if they are fresher than the defensive backs, it's a lot easier to get open.
Continually running in practice is going to condition them and make games easier. That's a lesson Meyer learned from Michael Jordan.
Tim Hinton said he is pleased with the development of Jeff Heuerman and Nick Vannett.
Heuerman is a great point-of-attack blocker and has also developed into a dependable pass catcher.
Who starts is still up in the air, but Hinton said both are going to play a lot.
Hinton said there will be multiple personnel sets when both tight ends are in the game.
Hinton referred to Heuerman and Vannett as "tremendous competitors."
Urban Meyer said this week would be the toughest of training camp – Hinton said they've embraced it and responded well. This team gets it, Hinton said.
"I can see this football team getting better."
Hinton said the competitiveness this week has been far greater than any time previously.
While the offense has made improvement, they aren't quite game-ready.
Hinton said the offense is loaded with weapons; plenty of damage could be done.
Hinton described the wide receivers as having good skills.
From the spring to now, the offensive line has made great strides.
The position battles and offense vs. defense competitions have been very physical. "It's not a pillow fight."
Mike Vrabel said the coaching staff is treating the players like professionals. If they do something well, they're going to be rewarded.
On the black stripes, Vrabel said it should be an honor and a privilege to play at Ohio State. He said it's been a good motivator. He hears players talk about the stripes every day.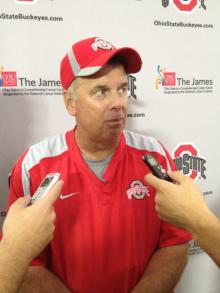 Adolphus Washington had his stripe removed on the field after beating an unnamed first-string offensive lineman on three consecutive plays.
Vrabel said John Simon is such a great asset because you can just say "go" and he knows what to do and does not make mistakes.
You almost have to pull him back some, Vrabel said. He goes too hard at times.
Chris Carter has been making strides on the defensive line. Vrabel said it's one day at a time for him. He said Carter is self-motivated and works hard to get to where he needs to be.
Reid Fragel said the offensive line is steadily improving; leaders have stepped up.
Personally, Fragel said he's improved simply from going against Simon and Michael Bennett every day.
Simon has also been fighting an injury. No word on what it is, but it's said to be minor.
Fragel and Taylor Decker are still 50/50 on first-team reps. The coaches tell them to compete and don't give a hint on who might be leading the battle to start.
The mental part of the game is what Fragel needs to improve on most, he said. Recognizing defensive looks, footwork and pass protection are the Big 3.
Fragel said even when he was at tight end that he felt like a blocker at heart.
Since the end of last season, Fragel has put on 20-30 pounds of "good weight."
Noah Spence is the young guy that has stuck out to Fragel most. He said he's great off the edge and will be a "special player."
Stan Drayton said the players knew it was going to be a grueling week and they've answered the bell.
Drayton said the players' bodies are supposed to be broken down during two-a-days and then built back up before the regular season.
Jordan Hall proved himself during the spring, so other than getting reps, there was nothing for him to prove in fall camp, Drayton said.
Carlos Hyde has stepped up and is becoming a leader.
Drayton said Hyde and Rod Smith have both raised the bar for the younger running backs.
Last season, Hyde was lazy, but he's completely changed his approach this year. "He's escalated his value to the team."
Drayton said Smith's full capabilities haven't been on display, whether it's because of injuries or not having a firm grasp of the playbook.
Hall and Hyde are the only two running backs that have the offense down completely.
The backup spot, behind Hyde, is up for competition.
Drayton said Bri'onte Dunn is having a good, physical camp. He needs to work on his pass-blocking, though.
Warren Ball is still getting a feel of the offense since he missed spring drills, Drayton said.
Adam Homan said the coaches have created an atmosphere where every rep is like a game.
Something explosive can happen on any offensive play, Homan said. There is always the potential to score.
Throughout workouts and practices, Homan said the team has taken the philosophy to grind every day.
He said he's been in the flat a lot more.
Zach Boren's responsibilities have grown exponentially.
Homan said it was a big relief in the spring when fullbacks got some handoffs.
Despite only blocking, Homan said he had full faith in the previous coaching staff.
Homan described Boren as someone who puts his head down and goes to work.
Mickey Marotti's workouts made Homan leaner. He said he's lost 15 pounds, down to 245 from 260.