With the Ohio State Buckeyes coming off one of their worst seasons ever, but heading into an optimistic new era of Buckeye football, I rounded up the Eleven Warriors contributors to get their takes on the upcoming year.
They predict 2012 MVPs, let you know what game on the schedule worries them the most, give their take on what would make Urban Meyer's first year at Ohio State a success, and more. But, enough of my rambling, let's get to it!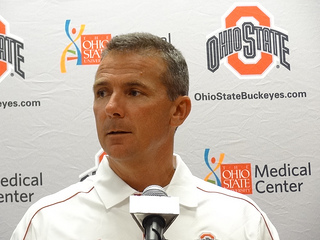 With an elite coach firmly in place, and the season right around the corner, how do you feel about the current coaching staff? What are any lingering questions you may have? Are you completely over Tressel?
Chad: It's honestly difficult to imagine a better coaching staff than the one we currently have. In some ways it's simply addition by subtraction of a few individuals, though I don't see a reason to beat that dead horse any longer. My only question is how long Urban can keep all of these guys around, because they're likely to get offers from other schools to move up the coaching ranks within a few years.
I'll never be completely over Tressel, but I wouldn't have it any other way.
Joe: I'm very excited about the current coaching staff, because it seems as if Urban has cherry-picked the best available talent from wherever he could find it. Also, it's an excellent mix of veteran hands with up-and-coming youngsters. Finally, they all have impressive track records in the college ranks. But I would be lying if I said I didn't miss Tressel. I'll notice it most the first time some reporter approaches Coach Meyer right before halftime or after the game and he gives a straight answer instead of the old "well, you know, the guys are playing hard, UAB's a great football team, we'll be fortunate to come out of here with a win, and so forth, etc." Miss you, coach T.
Chris: I feel reinvigorated by the coaching staff. I appreciate the intensity, increased focus on daily competition and a willingness to call it like they see it when dealing with players or media. The only real lingering question I have about a coach is how well the defense will perform with Luke at the controls. Sure, he's been around the program forever but this will be his first year calling the defensive looks and I'm anxious to see how he performs in that role. As for Tressel, I'm over what happened. Sure, he left a mess but he's paying for his misdeeds and the fact is, unless he commits murder or harms a child, I'll have nothing but love for him because he delivered the one and only national championship of my lifetime.
What are you most curious to see in the first few games of the season?
Sarah: I Bart Scott (that's a verb now, right?) to see how Braxton has improved and how the team has adjusted to the new offense. And who will fill in for Jordan Hall at the hybrid position before he's able to return? Beyond that, given that Urban has mentioned that a lot of freshmen will earn playing time, I'm interested in finding out who those rookies will be.
Ramzy: I'm looking forward to watching Ohio State play a football game without being able to correctly predict 90% of the play calls before they happen.
Jeff: I'm most curious to see the interaction between the coaching staff and players on the sidelines. For the past 10 years we were never really given a window into that emotional interplay. I can remember after the Arkansas game when someone posted a YouTube clip of Tressel screaming and firing up players in the tunnel during halftime. I can honestly say it was the first time I had heard Tressel with a little bit of an edge. I'm sure it was happening behind closed doors during his tenure, but as fans we never got to see it. Urban and company seem to wear their hearts on their sleeves at all times, and I'm excited to see that in a coaching staff.
Jason: Obviously, it will be fun to see how far Braxton Miller has progressed after spending most of the year with a real quarterback coach. Ditto for the offensive line. And I think everyone is excited to see the depth and talent along the defensive line.
Alex: I think the offense is what most people will be excited to see. Between the spread, no-huddle, Braxton developing as a passer, the actual use of tight ends in the passing game, and more, it will be exciting to watch this team and how they adapt to the new system.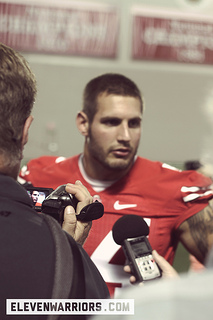 What are your expectations for the team this season?
Kyle: I expect the defense to grow and be dominant, especially if the secondary can find some depth. The offense will need some time to move up from a "4" as Herman rated it. I think we'll lean pretty heavily on Hyde and Braxton early on, and then the passing game matures sometime during the soft middle part of the schedule - the Indiana-Illinois stretch. The lack of a really well-developed passing game might cost us one of the Nebraska and Michigan State games.
I think 10-2 is a fairly safe prediction for this season, barring any significant injuries.
Derek: In general, I expect them to start fast and rejuvenated.  The lingering cloud of last year's tumultuous season is in the distant past and they will be able to showcase on the field that last season may have been a fluke.
The tough games on the schedule are Michigan State, Nebraska, Wisconsin, and Michigan.  I do not see this team losing at home in revenge games against Nebraska and Michigan.  The road tests at Michigan State and Wisconsin are where speed bumps may lie.  I don't see them winning both.  An accurate prediction from me would be 10-2 or 11-1, leaning towards 10-2.
Corey: I expect them to average over 30 points a game and get back to the true Silver Bullet defense that ranks nationally in total defense and scoring defense. If they do that, there is no doubt they have a chance to win every game, but as a homer, I think they are going to be 12-0 every season.
What record does OSU need for Urban Meyer's first season to be considered a success?
Miles: I think 8 or 9 wins would be a success. People forget this was a 6-7 team last year. An improvement of 2-3 wins on a team that's still growing would be a success in my mind.
Chad: At least ten wins and he HAS to beat Michigan.
Kyle: Eight wins is a number fans can probably live with, but I think nine or 10 would go a long way. My prediction is 10-2. The biggest key to the puzzle is who are the losses? You don't want to lose to Michigan in Year 1.
Sarah: Since I'm predicting a 9-3 record, I'll say that or better. What I'm hoping for is that unlike last season, they learn from their mistakes and show progress as the season goes on.
Chris: I think anything less than nine victories would be underachieving from a win-loss standpoint but I'll personally decide how successful this season is based on how well I think it sets the team up for a legit run at the title in 2013. I want to see a high volume of kids get significant playing time – even if that costs Ohio State a game – in hopes of building depth and identifying who deserves the most playing time when things really start to count again next year.
Catch up on everything you need to know ahead of the season kickoff.
What record in 2012 would be considered a failure?
Ramzy: Fewer than nine wins with one of the losses coming at the end. Losing to Michigan at home as they go bowling would be an indignity not felt since, well, pretty much all of last season watching Jim Bollman guide four and five-star recruits to the worst offense in school history.
Derek: With the way the schedule is mapped out, below 9 wins would be a failure.  They have the talent to win at least 9 of the games on their schedule.  With what is considered one of the best college coaching staffs in the nation, not being able to match that would be a disappointment.
Alex: Anything less than 9-3 in my book would be considered a failure, but really, without a bowl, my main goal is to beat Michigan this year, so if that game is a loss than the season is a failure, even if the team is 11-1 overall.
What is your bowl prediction for... oh, oops. Never mind. Are you over the postseason ban yet, or should I ask you in November, once you know what could have been?
Ramzy: I'm not over the postseason ban because Ohio State should have self-imposed one no later than November when the second NOA was sent for Bobby DiGeronimo. This hiatus should have been a sentence to time already served and nobody remembers that Taxslayer Whatever Bowl anyway.
Kyle: The bottom line is it's about what you do on the field. If Ohio State goes 12-0, 10-2 or 8-4, that's what it's all about. Sure it would be nice to play in the Rose Bowl or national championship game, but success is success. Nothing will take that away.
Jason: The postseason ban still stings because if things break the right way, this team could be a BCS Bowl team, but 2013 is when things really line up nicely, so if forced to take a ban, it's better to have it this season. That said, I can't help but feel terrible for guys like John Simon.
Who do you predict will win the Leaders division? Who do you predict will win the Legends division?
With the exception of three votes (Corey, Sarah and Kyle) for Michigan to win the Legends division, everyone expects a rematch of the 2011 B1G Championship Game, between the Badgers and the Spartans.
What one game on OSU's schedule makes you most nervous, and why?
Chris: The B1G opener against Michigan State causes me the most angst. Obviously, playing on the road is always tough no matter how well a team might have fared at a particular venue in previous years and the fact it's the first roadie of the season only causes additional concern. Additionally, I don't like that it's just the fifth game of the season for an Ohio State team installing a new offense against a Sparty defense returning eight starters and a legit defensive line.
Corey: At Wisconsin. There is just something about how Ohio State plays there. They usually come out flat and the home crowd energizes the Badgers into a close game or win. 
Kyle: Cal. Playing them at noon on the east coast may play into the Buckeyes' hands. But the Golden Bears are a team that is well-coached, has solid talent and will be hungry to get a signature victory. In mid-September, the Ohio State offense won't be up to speed and Jordan Hall could still be out. As I said previously, I think the Buckeyes will lose a game no one expects and this one may be it. 
David: UCF. They are actually really good and no one is talking about that game. It could potentially be two top-25 teams.
Ramzy: Michigan. Pretty much the only game that makes me nervous every year. Not even a Tressel-like run can change that.
The Buckeyes ranked 107th nationally in total offense last year. How much of an improvement are you expecting in 2012? What is your biggest concern for the Buckeyes, offensively?
Chad: I think a good baseline expectation for passing yards is around 2200. If Braxton explodes for more than that (say ~2500 or more) then I'd bet Braxton becomes the leading Heisman candidate for next year and the team rolls. I think the running game is similarly productive, with Hyde being as close to a feature back as Urban has ever had. Braxton will make a lot of defenders look really foolish in the run game this year.
It's hard not to have some concern for the wide receivers. They look uniformly solid according to most reports from camp, but no individual is really standing out.
David: O-Line play is the biggest concern. There are a lot of new faces and potentially true freshmen getting snaps on Day 1.
Sarah: I'm not expecting the offense to suddenly turn into Houston's from last season, and it won't always be pretty. Still, there will be noticeable improvement, and not just because there's really nowhere for them to go but up.
Although I like the offensive line, I do worry about their depth. My biggest concern, however, is probably the same as most fans: who's going to step up to be a reliable target for Braxton?
What are you curious and/or looking forward to seeing defensively this year?
Jason: The defensive line. It's loaded, talented and deep. I mean, opposing offensive lines will have to line up against Simon, Hankins and Williams? Yikes!
Joe: I want to see if there will be any significant changes from previous seasons when Heacock was the coordinator. I'm curious about what new wrinkles Coach Withers brings to the philosophy. I'm also curious to see if Christian Bryant steps up to become the premier player that many of us think he can be.
Kyle: Everyone loves watching greatness, so the defensive line is an easy answer here, but I won't take the easy way out. I'd say the linebackers. Curtis Grant's improvement from the end of the season to now has been fascinating and somewhat unexpected, Etienne Sabino has one season to finally live up to the hype and can Ryan Shazier build off a stellar rookie campaign? Lots of intrigue at that position.
Who are your predictions for the 2012 Offensive and Defensive MVPs?
Braxton Miller and John Simon won this vote in a landslide, but here are some other takes...
Chad: Braxton runs away with this award on offense, though I think Hyde surprises all of us with how well he does in Urban's offense. Hopefully we'll hear the end of the "but Urban hates big running backs!!1" after we see how well Hyde does.
On defense, I think it'll be between Simon, Shazier, and Roby. If Shazier doesn't accumulate ridiculous stats this year then it's only because other linebackers have also stepped up - not because Shazier doesn't produce.
Alex: Offensive MVP is Braxton Miller. I think he is going to just explode this year, setting up a Heisman campaign in 2013. Defensive MVP I will give to Curtis Grant. I think he is going to have a breakthrough year that includes leading the team in tackles, while also notching some sacks, forced fumbles, fumble recoveries, and interceptions. We could be looking at a Laurinaitis type of campaign.
Kyle: Offense – Jake Stoneburner. Defense – Johnathan Hankins.
Which Buckeye, that isn't yet well known among non-OSU diehards, do you think makes a name for themselves this season?
Ramzy: I anticipate Jamal Marcus figuring things out quickly and having a Shazier-like second half of his freshman season. The opportunity is especially ripe there.
Kyle: Does Michael Thomas count? If so, he's a lock. Mark it down right now, he'll be starting at some point this season. Thomas is a star in the making. We saw it in spring practice, and he carried it into the spring game and he continued it over the summer and in fall camp. He screams playmaker.
Jason: Most of the players that should make names for themselves this season are on the radar of diehards. I'm going to go with Taylor Decker. I think he emerges as the starting right tackle and starts to turn heads by the end of the season.
Alex: I will go with two players. On offense I am going to say Corey Linsley at center. I think he is going to do an outstanding job stepping in for Mike Brewster and handling the transition to a new position. On defense I will go with Steve Miller. I think he will see a lot of time in the LEO position and on the field in pass rushing spots. He has all the physical tools to be successful at Ohio State and all I have heard this spring and fall are rave reviews about his ability.