On November 24th, the 2012 season will come to a close for Ohio State when Michigan visits the Horseshoe for the 109th edition of The Game. Ohio State will not be up for playing the part of gracious host, though. For the first time since 2004, the Buckeyes will have revenge on their minds as they look to get payback from That Team Up North for the previous season's loss.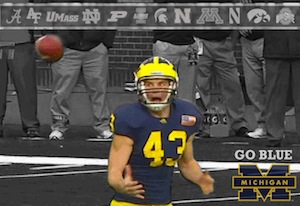 But even before the two rivals face off in 99 days, the Wolverines will be trying to show that the preseason buzz surrounding them is legitimate. Many pollsters are predicting that this is a Top 15, even Top 10, team with a Rose Bowl appearance possibly waiting for them at the end of the season.
When Brady Hoke was hired as the new head coach in 2011, he seemed to get the ineffable "it", and while he made for an easy target1, he also went about immediately trying to improve his squad. He brought offensive coordinator Al Borges and defensive coordinator Greg Mattison on board, who have both proven to be savvy picks.
Mattison, in particular, helped turned Michigan around. In 2010, the Maize Sun and Blue ended the season ranked 110th in total defense and 108th in scoring defense, prompting former Ohio State linebacker Chris Spielman to refer to it as "the worst Michigan defense ever in the history of Michigan football." With Mattison in charge of the unit in 2011, those rankings jumped to 17th in total defense and 6th in scoring defense2.  
That was, arguably, the most stunning aspect of a team that finished with a surprising 11-2 record and a BCS bowl victory. Despite not earning a spot in the Big Ten Championship game, UM received a bid to the Sugar Bowl and defeated Virginia Tech in overtime. Their reversal of fortune in one year was thanks to a combination of better coaching, more experienced players, weak opponents, and a not small amount of dumb luck3. 
Now, the question is whether Michigan can continue to improve or whether the lofty expectations of this season will be too much to live up to. 
OFFENSE
The ground game, led by quarterback Denard Robinson and running back Fitzgerald Toussaint, is the strength of the Wolverine offense. Last season, those two each topped the 1,000-yard mark, with Robinson rushing for 1,176 yards and Toussaint totaling 1,041 yards.
After a DUI arrest, Toussaint has returned to practice, though it's unclear if he'll miss any games. If he does, bruising sophomore RB Thomas Rawls will start in his place. It's a deep position for Michigan, who can also count on capable backups like senior Vincent Smith and sophomore Justice Hayes.
Opening holes for them will be a talented offensive line that can't boast the same kind of depth as the running backs. Taylor Lewan, UM's biggest bicycle enthusiast since Mike Hart, is one of the nation's top left tackles. Joining him is senior right guard Patrick Omameh, a Columbus native who took over as a starter during his redshirt freshman year. Ricky Barnum and Michael Schofield are veterans while freshman Kyle Kalis, a familiar name to many Ohio State fans, is competing for the left guard spot. 
Passing situations will be more of a struggle for the Wolverines. Despite his playmaking skills and his magical pixie dust that enables his receivers to haul in jump balls, Robinson threw a conference-high 15 interceptions last season and only completed 55% of his passes.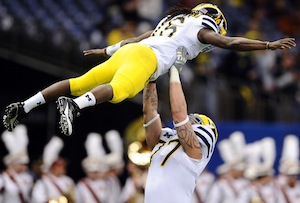 Senior WR Roy Roundtree, who recently underwent knee surgery, is supposed to be ready for the season opener, and although his stats declined significantly from his sophomore year (72 receptions for 935 yards) to his junior year (19 receptions for 355 yards), he is expected to be a reliable target for Robinson.
Backup quarterback Devin Gardner has been taking snaps at wide receiver in practice, and if he sees time at the position during the season, his height could help out the often inaccurate Robinson4. Still, it's a smaller WR, Jeremy Gallon, who is the leading returner in receiving (31 catches for 453 yards). He should play a bigger role this season, but the Wolverines need other members of the receiving corps to step up.
Sophomore Jerald Robinson and senior tight end Brandon Moore have the ability to make an impact, and whether they can reach their potential could matter significantly to UM's success on offense. 
DEFENSE
Michigan may not have much star power on the defensive side of the ball, but the D is a solid, veteran bunch that welcomes back seven starters from last season. 
The secondary fits that particular description. As a group, they're steady performers who get the job done. Once seen as an indictment of a Rich Rodriguez defense, safety Jordan Kovacs5 accounted for 75 tackles, including 8 TFLs and 4 sacks last season and is now viewed as a leader. Cornerbacks J.T. Floyd and Blake Countess also return and the latter could make a name for himself after a promising freshman season.
There's no change in starters at linebacker, with senior Kenny Demens holding down the middle between sophomores Jake Ryan and Desmond Morgan. Demens led the Wolverines in 2011 with 94 tackles and 3 sacks. That doesn't mean there's no room for new blood, however; freshman Joe Bolden could earn playing time as Demens' backup.
Urban Meyer would be the first one to tell you of the importance of an elite defensive line, so if Michigan regresses on defense, the DL could be to blame. Gone are three starters and Craig Roh, a senior who has played multiple positions, has bulked up to move over to strongside DE this season. 
Once a highly-touted recruit, DT Will Campbell's greatest accomplishment so far in his Michigan career has been going all Dukes of Hazzard on a car. The fate of the DL potentially rests in the senior's hands. If he finally has his breakout year, Michigan should be fine. If he fails to produce, the Wolverines will have problems up front.
Sophomore DE Frank Clark, who emerged in the second half of last season, was supposed to build off his freshman campaign, but he pulled a pre-Auburn Cam Newton and has a court date scheduled for September 11. Like Toussaint, he's practicing with the team, though it remains to be seen whether he'll have to sit out any games.  
The DL has been a fairly cursed unit recently. Freshman Chris Wormley figured to see the field until an ACL tear ended his season before it even began. Earlier today, DT Ondre Pipkins, another freshman who was expected to work his way into the rotation, was taken to the hospital with a neck injury. Fortunately, he is in stable condition and can move all his extremities, but as of right now, the severity of the injury and recovery time is unknown.
Special Teams
Catch up on everything you need to know ahead of the season kickoff.
Thanks to the power of brunettes, kicker Brendan Gibbons came through on 13 of 17 field goal attempts. While those aren't Lou Groza-type numbers, it's quite a bit of progress for a unit that only connected on 4 of 14 the season before. Nevertheless, he's not much of a long-range threat.
This guy remains in contention for the punting job, which should tell you all you need to know about the status of that position. Justice Hayes will use his speed to return kicks, which is an area Michigan is almost guaranteed to improve upon considering they finished that category ranked 117th in the nation a year ago.
Jeremy Gallon will continue to return punts, and he was competent in that regard last season, averaging 10.1 yards per return.
Overall, this special teams group would not get the stamp of approval from Urban Meyer or Jim Tressel. Coupled with question marks at DL, it's not hard to see why this team might fail to match the 11-2 record from 2011. Yet, Michigan could still wind up playing for a Big Ten title in Indianapolis. That's contingent on how well they navigate their schedule.
SCHEDULE
Most teams probably don't want to open the season against the defending national champs, but too bad for Michigan, because that's what they're doing. At Cowboys Stadium in Texas, the Wolverines, as 12-point underdogs, will take on Alabama. Their nonconference slate concludes three weeks later in South Bend, where Notre Dame will try to redeem themselves for the atrocity of last season's matchup.
Michigan's conference schedule is a bit more favorable. Although they are riding a four-game losing streak against Michigan State, that contest will be in Ann Arbor and the Spartans have a few concerns on offense (their defense, however, will be tough). The following week, UM will play their other most likely challenger for the Legends crown when they head to Lincoln, Nebraska.  
Despite Michigan facing stiff competition in consecutive weeks, Michigan State and Nebraska will deal with a more difficult Big Ten lineup. UM, for example, does not meet Wisconsin for the second year in a row.
Because of the postseason ban, Ohio State will be playing for nothing but pride when Michigan invades Columbus. The Wolverines, on the other hand, could have a shot at a conference championship and a BCS bowl bid. It all depends on what happens in the next 99 days. 
1 It's hard to miss a target that big. 
2 Yet somehow they gave up 34 points to Ohio State's 107th ranked offense. 
3 Michigan vs. Notre Dame game was the stupidest game I saw last season, and I watched Penn State vs. Iowa.  
4 To prepare for catching Denard's passes, Gardner should also be practicing with Trey Burke, who can throw him some alley-oops. 
5 A former walk-on, in case you missed it the first 6 million times.