If you ever had the chance to go to the team meeting room while Jim Tressel was head coach for Ohio State, you would surely notice a wall-length sign over the white board. The content of that sign read "Special Units Win Championships".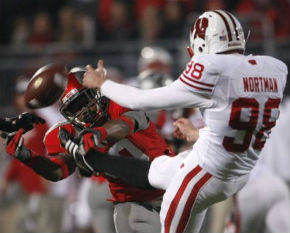 The first time I saw that sign, it was hard to wrap my head around what it said. For as long as I had known, it was "offense wins games, defense wins championships", with special teams play being an afterthought to the result of a football game.
Then, as I grew more and more knowledgeable about the game of football, what Tressel was preaching to his teams not only began to make sense to me, but became common sense.
Special teams play, whether it be kick-offs or punts to determine field position, field goals and extra points to add to the scoreboard, or blocking kicks and making big tackles in coverage, do have a major impact on each and every game, and many times are the difference between what is a good season and what could be a special season.
When people think of Urban Meyer, they immediately point to his explosive spread offense that has seen success in the MAC, Mountain West, and SEC at Bowling Green, Utah, and Florida respectively. It is players like Alex Smith, Tim Tebow, and Percy Harvin or plays like the jet sweep or read option that come to mind when thinking about how the new OSU head coach has compiled a record of 104-23 as a head coach during his college football career.
While all of those offensive highlights certainly have been a big part of Meyer's successes, the coach would tell you that you are wrong if you think that is what defines him. In fact, Meyer has brought with him to Ohio State, and every one of the aforementioned programs, a "plan to win" that he claims is infallible if bought into by his players.
Like Tressel, that plan to win relies heavily on defense but more importantly, the success and efficiency of his special units must be top notch if his teams want to be the sole team holding up that crystal ball at the end of each season.
Meyer's theory on special teams doesn't center just on kicking field goals to give his team points, but rather all areas of both the kicking and punting games. While a theory is nice to have in place, Meyer shows the importance of the unit by personally coaching them himself and his teams have backed him up, showing why he places such emphasis on that part of the game.
While at Florida, three of his six teams led the SEC in net punting, and all six were in the top 12 nationally in the category. Two of his Florida teams and both of his Utah teams led their conference in kick-off returns, including the 2003 Utes squad which actually led the country with a 28.2 yard average.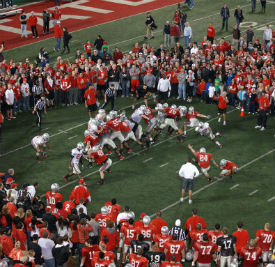 In addition to those impressive statistics, Meyer's Florida teams tallied 32 blocked kicks (21 punts, 8 field goals, 3 extra points) during his six years at the helm in Gainesville, while those teams also led the nation in punt returns allowed during his tenure, giving up just 361 total yards and not allowing a single punt return yard in 25 of the last 33 games he coached at UF. To show the impact of just how much these statistics impacted Meyer's success, Florida was 16-0 in games where they blocked a punt.
Special teams, despite the strong emphasis from Tressel, have not been a strength of the team over the last few seasons. The Buckeyes uncharacteristically struggled in both the kicking and return games in Tressel's last two seasons, but there was some improvement last year under Luke Fickell and there is sure to be even more as the Meyer regime takes over.
At kicker the Buckeyes return junior Drew Basil, who had a rocky start to his career in Columbus, but has turned things around in a big way. In 2011, Basil led the Big Ten in field goal percentage at 84.2, connecting on 16 of 19 attempts with a long of 47. On top of that, Basil was 36 of 37 in handling extra points (the Purdue block) and took care of kick-off duties, averaging 63.5 yards and notching 14 touchbacks in helping lead OSU to third in the conference in kick-off coverage.
Catch up on everything you need to know ahead of the season kickoff.
This year, Basil is expected to improve upon a stellar sophomore campaign and is a legitimate candidate for the Lou Groza Award given to the nation's best kicker every year. He had an excellent spring camp, showing a stronger leg and more consistency and that, coupled with more comfort in his role, should help him give the Buckeye special units a lift this year.
At punter, Ben Buchanan begins his third year as Ohio State's starter at the position. He made great strides in 2011, raising his punting average to 41.3 yards per punt and net to 37.4 yards per punt, which ranked fifth and fourth in the conference respectively last season. He had just three touchbacks in 70 attempts (most by a Buckeye in seven years), while booting 27 kicks inside the 20-yard line (good for sixth in the nation), 13 inside the 10-yard line (good for third nationally), and having 25 of his punts fair caught.
Under Meyer's tutelage, Buchanan is expected to do even bigger things this upcoming season and will continue to be an integral part of the team's success. The Ray Guy Award, given to the best punter in the nation, is something that is not out of the question, and neither is a fourth straight Academic All-Big Ten Conference honor, as the punter excels in the classroom as well.
Buchanan and Basil play important roles in the kicking game, but their job cannot be done without the success of their long snapper. Just a couple of weeks into camp, the Buckeyes are still not sure who will be manning that position, but they know they have two good candidates in redshirt junior George Makridis and redshirt freshman Bryce Haynes.
Makridis is a walk-on at Ohio State who won the starting job last year, so game experience is in his favor. Haynes is actually a scholarship player recruited by Tressel and took a redshirt during his first season to put on some weight needed to help contribute at the college level in making plays downfield. Both players seem to be able to handle the duties this upcoming season and it will be interesting to see who gets the final crack at things when September 1 rolls around.
In the return game, the depth chart is subject to change with fall camp underway, but heading out of the summer it was Jordan Hall and Chris Fields listed in the top two spots on both kick and punt returns.
Hall is obviously dealing with recovery from a cut on his foot that needed surgery this summer, and it is likely he will miss at least the first game or two as he tries to get fully healthy. When he comes back, it is expected he will handle both kicks and punts, as he has had success in those roles over the last few seasons.
Fields also has some experience in the return game, albeit limited, having fielded one kick for a return of 15 yards and 5 punts for a total of 88 yards and a touchdown in 2011. The former Painesville star has shown flashes of the speed he displayed in high school, but has not put it all together on the field as a receiver just yet, so the return role may be a good one for him to make an impact this year. If he can hold on to the job throughout camp, the Bucks will get a player who has the ability to leave the pack behind in the open field and who also has shown sure hands when it comes to protecting the ball on kicks and punts.
Finally, other candidates to contribute in the return game while Hall is out or if Fields cannot handle the job include Corey "Philly" Brown, Devin Smith, Bradley Roby, Carlos Hyde, Doran Grant, Najee Murray, and Rod Smith.