Penn State long ago staked claim to the moniker "Linebacker U." And why not, they've certainly had a long and illustrious list of great players at that position. But if any school has a right to be braggadocios about a history of producing great linebackers, it's Ohio State.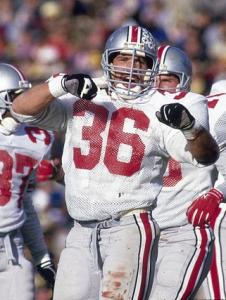 For years, the men in the middle have upheld the proud tradition of the Silver Bullets. Twenty Buckeye linebackers have been named First-Team All-Americans, from Ike Kelley in 1964 to James Laurinaitis in 2008. Since Kelley's selection in '64, an Ohio State linebacker has earned All-American honors a shade over every two years.
And the list isn't just a flavor of the year. It includes revered Buckeyes who are some of college football's all-time greats.
Ike Kelley
Randy Gradishar
Tom Cousineau
Pepper Johnson
Chris Spielman
Steve Tovar
Andy Katzenmoyer
Na'il Diggs
A.J. Hawk
James Laurinaitis
Under Jim Tressel, the list grew by three, with Matt Wilhelm joining Hawk and Laurinaitis. That doesn't include the impact players who weren't named All-Americans, such as Bobby Carpenter, Anthony Schlegel, Ross Homan and Brian Rolle.
Stout linebacker play during the Tressel era contributed to a 10-year stretch of excellence on defense, which also led to an unprecedented decade of team success: one national championship, two additional appearances in the title game and seven Big Ten championships, including six consecutive. One-hundred and six wins were had by Ohio State from 2001-2010 with just 22 losses.
But last year that dominant force took a leave of absence. Now head coach Urban Meyer and co-defensive coordinators Luke Fickell and Everett Withers are tasked with putting the product back together again.
The Big Ten Network has been re-airing the best games of the 2011 season throughout the summer. Two of those contests involved Ohio State – Nebraska and Michigan – and the Buckeyes lost both. Much to the chagrin of Meyer, the defense was largely at fault for both losses.
At Nebraska, a second-half collapse of epic proportions unfolded. Ohio State led 27-6 before the flood gates opened and Nebraska roared back for a 34-27 victory. It should be noted, though, that Braxton Miller suffered an injury in the third quarter and did not return.
In the Michigan game, the defense surrendered 40 points and 444 yards – 277 on the ground – to the Wolverines. Quarterback Denard Robinson (170 yards) and running back Fitzgerald Toussaint (120 yards) shredded the OSU defense.
It's enough to cause a new coach to wake up in cold sweats.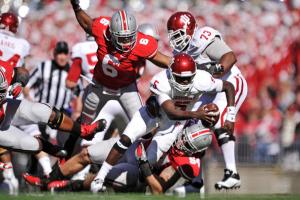 "On purpose I've tried not to watch a lot of film," Meyer said. "That wasn't the Ohio State defense I'm used to seeing. For a decade they had one of the best defenses in America. We did not have a good defense last year. That's what I saw."
But Meyer keyed in on the linebacker play specifically as the perpetrator in the poor defensive play.
"You think about the last 10 years of football who's played linebacker at Ohio State, I'd put that group against any group in America," Meyer said. "Maybe in college football history. That wasn't the Ohio State defense I'm used to seeing. They have to play better."
Etienne Sabino, Ryan Shazier and Curtis Grant will lead the charge to restore the glory of seasons past. Those three names aren't likely to grab headlines, but the talent and potential is immense.
Sabino has had an up-and-down career at Ohio State after being one of the nation's top recruits coming out of Dr. Krop High School in Miami. After redshirting in 2010, he was one of the top tacklers on the team with 62 total tackles last season. He added two sacks and 6.5 tackles for loss for good measure. Sabino closed out the year on a high, as well, earning team MVP honors in the Gator Bowl against his homestate school in front of his homestate fans. 
"He has to be one of those guys," Meyer said. "He's a nice guy and he hasn't played to his potential yet. He's doing everything he can and I trust that he will. He had a tremendous spring and he's an incredible person."
Instead of hiding behind a set of excuses, or as Meyer commonly puts it "dog ate my homework," Sabino took his career head on, referring to it as "not by the book." It's the future, though, like his head coach, that Sabino is focused on.
"I'm excited to be where I'm at," he said. "If could do it all over again, I'd still come to Ohio State. I love it here."
And for good reason. Despite an underwhelming three years to this point, Sabino's coaches and teammates still very much believe in him. The leadership he provides in the linebackers' room and foundation on the field is invaluable for Fickell, who doubles as his position coach, and Withers.
"We have this saying, 'You act like a man, you get treated like a man,'" Sabino said. "And that's something I think we thrive on.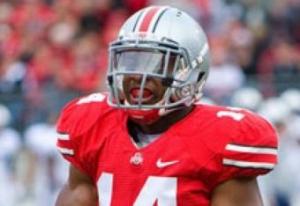 "You take care of your business, you do what you have to do and you'll be fine. If you mess around, you mess up, there's going to be consequences."
He's also a sophomore, but Curtis Grant's freshman season was a microcosm of Sabino's career: disappointing. Grant was a consensus high school All-American and was expected to make an immediate impact last year. He had two tackles. Not quite the impact he wanted to make.
Grant admitted that the speed of the game overwhelmed him on the field and that he even considered giving up football because he was so depressed. But Meyer's hiring breathed new life into Grant.
Reinvigorated, he took spring drills by storm and steadily moved up the depth chart until he was listed as the starting middle linebacker, the quarterback of the defense. It's been a remarkable eight-month turnaround.
"He was the first guy to come and say, 'I wasn't ready,'" Meyer said. "So (Fickell) spent time with (Grant). It's really helping (Grant). He's had flashes."
The one proven commodity at linebacker is sophomore Ryan Shazier. He started just three games last season but still made 57 tackles, the most by a freshman since Katzenmoyer's 86 in an epic 1996 campaign. Shazier has proven he can compete at that level, never more so than in his first career start when he tallied 15 tackles against Penn State. In the three games Shazier started last season, he accumulated 33 tackles.
"He was a leader from the day he came in," Fickell said. "He really has that natural ability to do that. He's going to be in a situation where he has to do it a lot more, so we're going to push him to do that. He's definitely a guy that if you try to evaluate how important is football to him, it's up there, and it shows. It wasn't just the way he finished. It was what you saw as a young kid and I think that's what we're trying to see from a lot of other guys. You want to see what guys have that 'it' to them."
Even a knee injury couldn't keep Shazier off the field. In the first half of the Michigan game, he went down with a left knee strain but returned. Though slowed, Shazier still did everything he could to make an impact. Still, Meyer felt his play could have been more pleasing.
"Dog ate my homework," the head coach said. "He didn't play very well. Linebackers have to play banged up a little bit. The great ones do."
Shazier is a talent Meyer is familiar with. A native of Plantation, Fla., Shazier committed to Meyer and the Florida Gators, but had a change of heart when Meyer resigned. Now they're back together again.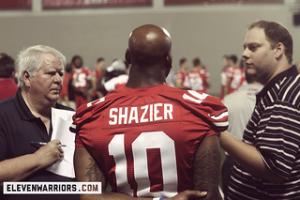 The production level Shazier exhibited last season, and especially in November, caught everyone's eye, Shazier included, but after watching film in the offseason, he tended to key in on the errors he made.
"Even when I was watching the Florida and the Penn State games, I see a lot of gaps I should have filled and a lot of tackles I missed," Shazier said.
Learning from those mistakes will be key for not only Shazier but also his running mates. Behind them is a who's who of unproven players. Storm Klein's dismissal in July left the Buckeyes with no experienced backups at the linebacker position.
"We don't know that we truly have three starters yet, let alone have depth," Fickell said. "That's my biggest concern. We have to develop depth. I'm looking for those six guys that you can lie on the pillow at night saying they're going to give you everything they've got, that football is that important to him that they're going to figure out a way to be successful."
Several freshmen are making a push for playing time and to put Fickell at ease, most notably Jamal Marcus and David Perkins.
"He had a heck of a scrimmage yesterday," Meyer said about Perkins on Sunday at media day. "He's a fly and hit guy, which we want. He'll play this year. How much, he's still working on that."
Some are surprised by the sudden impact Meyer's first Columbus recruiting haul is having. Even Perkins is one of those flummoxed, but the rookie emergence came about because of the establishment of a strong work ethic.
"We have a lot of (freshmen) here that all work hard," Perkins said. "Before any of us got here we were training to be good and come on campus and make an impression. But when we got here and actually strapped up and laced up, I don't think any of us expected to play the way we do.
"We all train to play well, but you can't imagine playing as well as we've been playing. We still have stuff we need to work on, but we're high competition and high effort guys. That's what sets us apart. We come in here and compete."
There are two weeks to solidify a second-team spot and begin a new cycle of All-American linebackers.