Luke Fickell always aspired to become the head coach at Ohio State but not in a manner that called for him to replace his mentor amid turmoil and inherit a team without its planned star quarterback, running back, left tackle and wide receiver, all under the dark cloud of impending NCAA sanctions.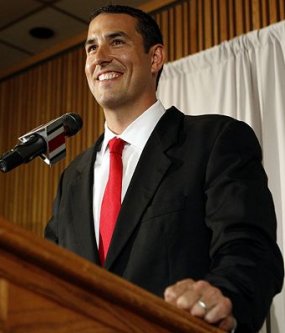 But if there's one thing we know about Fickell, it's that he's as Buckeye as they come and taking on the impossible challenge of steering the shell-shocked and woefully inexperienced 2011 Buckeyes through rough seas was something he did more so out of loyalty and respect for the program and its players than for the glory that comes with being named the head coach at The Ohio State University.
He knew he was now the King.
He also knew it would be temporary.
How could it not be? Full or partial season suspensions had decimated the offense, leaving it with a talented but raw freshman quarterback and no offensive assistant coach capable of accelerating his development.
On top of that, through no fault of his own, Fickell simply wasn't yet ready for all that comes with being the head coach at a nationally elite program like Ohio State. He'd never say it but his own self-awareness of this fact makes what he did for the school that much more special.  
Falling on the sword, Fickell willingly allowed his inexperience to be broadcast across the country, a situation he would not have faced had he been able to gain meaningful head coaching experience at a school with less national limelight such as in the MAC or Big East.
Luke was noticeably uneasy in front of the media so he typically diverted to the Tressel approach of not really saying anything while speaking a lot of words. It just didn't work like it did for Tressel because Fickell didn't exude the stoic confidence in what he was saying.
On Saturdays, again in what everyone knows were ridiculous circumstances, Fickell failed to put his own signature on the game or his team. Instead, he essentially made decisions by not making them at all. This included the half-hearted idea of not having official season-long captains and allowing Bollman to be so conservative that the offense essentially never had a true game plan – certainly not one that showed any signs of aggression or determination to win. Defensively, he was significantly more involved but with Jim Heacock still around, Fickell opted not to take over the play calling. That made sense in a lot of ways but seemingly left Fickell as a man without a country on game days considering many coaches typically oversee one side of the ball.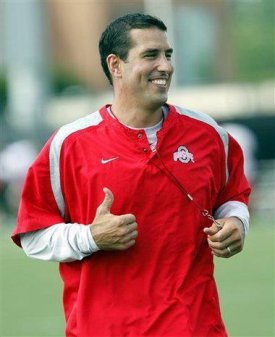 Through the week, however, Fickell performed yeoman's work behind the scenes keeping together a team that wasn't used to losing or dealing with the ongoing national stoning as the NCAA uncovered DiGeronimo.
Sans a functional offense, Fickell did manage to win six of his first nine contests, including the dramatic finish in the 'Shoe against Wisconsin but four straight losses – all by a touchdown or less – finally euthanized a 6-7 season all Buckeye fans were hoping they'd be able to erase though selective amnesia.
The ability to forget became far more realistic on November 28, 2011 when Urban Meyer was named the 24th head coach in the history of Ohio State Football.
It's telling that one of Meyer's initial actions at the helm was to meet with Luke to determine if he should be a part of the new regime – something Ohio State brass didn't require – and decided it was paramount that Fickell be part of his inaugural staff in a prominent role.
How impressed was Meyer with what Fickell brings to the table?
He made it clear in his opening presser:
"There's no doubt I wanted him to be a part of this team. I thought that he's a man's man. Obviously he's everything that you hope for from an Ohio State former player."
In the coming weeks, Meyer determined that Fickell would be his Defensive Coordinator, also in charge of the linebackers, and most importantly that Luke would be the man making the schematic calls despite Meyer also adding Everett Withers, a man with 24 years of coaching experience including stops at four different schools as the overseer of the defense.
Since his appointment as the defensive play caller, Fickell has eased back into a role in which he's inherently more familiar, and as a result, considerably more comfortable.
Now that's not to say he isn't putting in long hours and attacking his post with the intensity Meyer requires from anyone associated with the program, or that he still isn't hell bent on being a head coach someday, but Luke is back where he's currently most valuable – as a hands-on coach overseeing player development and overall defensive strategy.
Fickell said as much last week when he met with the media offering:
"You have to find what's exciting and what you have a passion for. Coaching is what I love. It doesn't matter if you're coaching or you're helping out academics, you're a strength coach or the head coach or you're an assistant coach, helping these young people has to be one of your passions. To be around these young people and be around the sport, that's what I love to do."
As the man calling the defensive shots, Fickell has a chance to bring the Silver Bullets back to a nationally elite level after the 2011 campaign saw them finish 19th in Total Defense, 65th in 3rd Down Conversion Defense and 50th in Rushing Defense.
Catch up on everything you need to know ahead of the season kickoff.
With a bevy of talent across the defensive line and a reinvigorated group of coaches and players across the board, Fickell's defense should improve in every major statistical category and will no doubt be leaned on at times while Meyer continues to execute the chore of installing and calibrating the offense.
A successful 2012 season will once again have schools making overtures, trying to convince Luke to leave Columbus for his first true head coaching gig.
No matter how long he stays, where he finally goes to become a head coach or if he makes his way back to someday once again take over the reins at Ohio State, he'll always be royalty in the eyes of Buckeye fans.
Maybe being the King won't be so temporary after all.