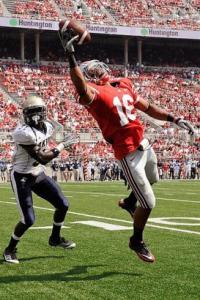 The first full week of Ohio State's fall camp is in the books. From all reports, it was a success. The defense has continued to show that they are among the nation's elite, while the offense finally performed well consistently.
After getting through with no significant injuries, however, it appears the luck has run out. Wide receiver Evan Spencer is the unlucky man down. Spencer was carted off the field with an apparent shoulder or collar bone injury. He was clutching his shoulder pads and near tears. It has since been reported that it is a deep bone bruise to his left knee. At first, the training staff believed it could be an ACL tear.
Spencer's injury came on a kickoff drill while he was blocking.
Offensive line coach Ed Warinner and co-defensive coordinator Everett Withers graced the media with their presence today and each gave good reports on their units. Warinner shed light on the battle at right tackle and Withers commented on some of the young defensive lineman.
Ross Oltorik and Orhian Johnson were also taken off the field. No word on Oltorik's injury, while Johnson was seen vomiting into a trashcan for an extended period of time. He looked very weak, so it's possible he was dehydrated. Johnson was scheduled to do interviews but opted out.
Riding the bikes and not participating in drills were Michael Bennett, Kyle Dodson, Zach Domicone, Oltorik and Jamie Wood. No word on what possible injuries they might have but nothing looked serious.
Withers raved about the depth on the defensive line. Unit can go two- and three-deep at nearly every position. While Withers mentioned depth, he talked specifically about Noah Spence and Adolphus Washington.
On the subject of young players, Withers continued the praise for Jamal Marcus. He said he has a motor that runs constantly from the word go.
Withers believes the defense is better than in the spring, obviously. He said they are now at the point where fundamentals and technique improve.
A lot has been said about Urban Meyer's health. Withers believes the head coach is healthy and happy. He said Meyer will continue to delegate the more he trusts the staff.
Bumps and bruises are a part of camp, Withers said. He added that guys have to fight through it but that the Buckeyes are relatively healthy. Luckily we have depth, he said.
Asked about Bradley Roby wanting to play offense, Withers responded, "He's one of those guys that thinks he can fly to the moon. He's a talented guy. We want him to be great at being a corner. To me, he's still working to do that, so let's keep him on defense."
Withers said the thing Roby needs to work on most is his consistency. He said the mark of the really great cornerbacks he's been around is their consistency.
The challenge for Roby is to not be overconfident. Confidence is part of a CB's DNA, but Withers said maturity is what balances that.
Some practices this fall have been moved to another on-campus field. Withers said the move was made to build team chemistry. He said it's a practice used in the NFL. Guys are forced to get out of their comfort zone away from the normal locker room and facilities.
On and off the field, Kenny Guiton said his attitude has changed immensely – a 180. He said he lost the passion for the game when Braxton Miller came in and took the reins.
The two are close friends, though, now and worked together all summer.
As the backup, Gution said his role has been clearly defined by Meyer and the staff. They need him to learn the offense and be a leader. He's on-call and could be needed at any time.
Apparently Meyer will randomly quiz the quarterbacks on the play they just ran. Guiton said it's happened to him before and that he is already prepared mentally. One time Guiton had no idea what to tell Meyer. He said that made him realize the importance of the details and staying in the game mentally.
Guiton said he learns a lot from watching Braxton. Like his head coach, Guiton references Miller's dynamic ability and specialty at making defenders miss.
Curtis Grant said he is much more comfortable on the field this season. He said John Simon and Johnathan Hankins are two players that have helped learn all the nuances about the defense.
At middle linebacker, Grant is the "quarterback" of the defense. It's a role he says is much easier than last year. He said he's learned all the concepts from Luke Fickell.
The spring was an important time for Grant, he said. He was able to make mistakes and learn from them by watching film and then make the necessary corrections.
Grant is aware how important his role is. It was something Withers and Fickell have also touched on. The middle linebacker position was something that hampered OSU's D last year.
Grant said the defense's versatility makes it much more difficult for opposing offenses to gameplan. Grant said it should make it much easier for the defense to react.
James Laurinaitis is someone that Grant looks up to and speaks to about playing linebacker and being in such an important role so soon.
Laurinaitis told Grant to be a leader and to act like a veteran on and off the field.
Part of what Grant has done is become more vocal. He said he tells the freshmen a lot of the mistakes he made last season and how to avoid them, as well as leading by example for the veteran players.
Despite his less than stellar year, Grant deemed last season a success personally because it's something he can grow from.
Grant did not mention any names when asked which young guys stuck out, he simply said every freshman linebacker has done a good job.
Grant believes the defense has the opportunity to be "great" because of experience.
A 4.6 40 did not make Grant happy. He said he wants to get down to a 4.5.
Grant said Meyer "brings out the beast in everybody. He makes everything so competitive that you want to compete because if you don't compete you're going to get embarrassed."
At right tackle, Warinner said Reid Fragel and Taylor Decker are splitting first-team snaps. The other four line positions are pretty much set.
Warriner doesn't believe settling on a starting unit at this point in camp matters. He said the unit will have cohesion regardless because they've all played together throughout camp.
"Tremendous" was the word Warinner used to describe the condition of the offensive linemen. Guys are lean and "don't have bellies hanging over their belts." Warinner said cardiovascular, eating habits and strength training have all been improved. The team can go no-huddle, fast-paced for two and a half hours and maintain a good tempo.
Warriner said the physicality and energy on the line have been impressive throughout camp.