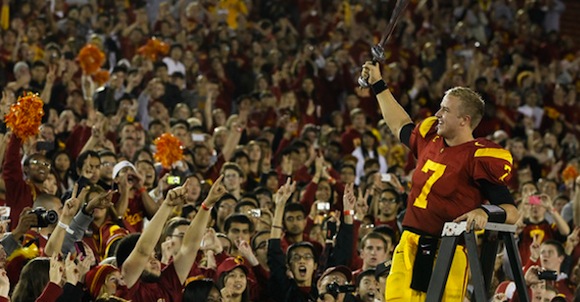 I woke up on November 26, 2011 with hopes that a win over Michigan would redeem a season that had just followed up a three-game winning streak with back to back losses. The difference between the high of Braxton Miller's 40-yard touchdown pass to Devin Smith in the final minute against Wisconsin, and the low of the pathetic ending in West Lafayette was colossal.
Actually, scratch that. The low got even lower, when Ohio State would give Penn State their first Joe Paterno-less victory since 1965.
Either way, a win over that team up north heals all wounds. Especially in a season that had already made its way down the toilet, a win over the Wolverines would rescue the season, and continue what had become a November tradition. Never mind that Ohio State was 6-5 going into the game, Michigan was 9-2, and the Buckeyes hadn't lost to Michigan since 2003. Society hadn't yet seen a single Facebook status update about a Michigan win over Ohio State, because Facebook didn't exist the last time the Wolverines won The Game1.
Much like several other games in 2011, Ohio State had that one within reach. Just one overthrown pass from a true freshman QB is what kept the Buckeyes from keeping that streak alive, against what was supposed to be a Michigan team that was back. As that ball dropped, so did my heart. I wasn't quite sure what to do with myself for the rest of the day, so I hibernated and wasted away in my desolate room.
Later that night, when I decided to rejoin the real world, my brother and I went out for a drink and a bite to eat. We sat in front of TVs and watched as USC beat UCLA.
Actually, scratch that. We watched USC pummel UCLA in that kind of game that makes you abandon your basic human instinct to root for the underdog, because now you're just mad at the underdog for showing absolutely no resolve to at least make this assault semi-respectable.
This was now funny. The only thing that could redeem UCLA now was to lose so poorly they'd have no choice but to fire Rick Neuheisel. Even my UCLA alumnus brother (whose second UCLA degree was in progress at the time) was cheering on the Trojans in their quest to hang half a hundred on the apathetic Bruins. 
Following the game, the 6-6 Bruins would be on their way to represent the Pac-12 South in the first-ever Pac-12 Championship, while the Trojans would be headed to the locker room for the final time that year. As they poured into that locker room, USC had Pac-12 South Division Champions t-shirts waiting for them. Unofficial, obviously, since they were at the tail end of their two year postseason ban, yet still... awesome.
The reminder to themselves, and to the college football world, that they were the rightful owners of that title was fitting. Not only did they certainly earn that recognition by what they did on the field, but USC was exactly the kind of program that would spin NCAA sanctions and a postseason ban into something you couldn't poke fun at them for.
How could you poke fun at a team that just put up 50 against their crosstown rival, made a point to remind everyone they were clearly the best team in their division, and laughed at the NCAA in the process?
As much as that moment impressed me, it impressed me even more so weeks later, when Ohio State's new head coach Urban Meyer was officially in place, and the NCAA handed Ohio State their own postseason ban, effective in a year that instantly came with high expectations. As a spectator, how do you keep a season exciting when what the team "plays for" each year has been removed?
USC fans started by reminding themselves that "you can't sanction the end zone." The traditional goals for the season are no longer available? Make a new one. Root for your team to destroy every team they face that year, and then just tell everyone where you deserved to be post-season.
As an outsider, it actually looked kind of fun! And frankly, it appears way less stressful than actually having to win a bowl game. Your team never loses a hypothetical gloat-fest! They are literally undefeated when you get to completely make up a bowl game that never happens.
Others may roll their eyes at first, but when the team caps off an impressive season with total domination of their rival, and they hear that conviction in your voice, how can they argue? Oh my gosh, your team IS awesome! And they DEFINITELY would have crushed in the conference championship game! And in their BCS bowl game? Forget it!
Perhaps the Buckeyes weren't meant to redeem 2011 with a win over the Wolverines after all. Perhaps 2011 needed to be nothing more than a reminder that the Michigan game isn't a sure thing every year, so that it could serve as The Game, the conference championship, and the bowl game for the Buckeyes in 2012.
But even before Michigan heads to Columbus on November 24th, there are other things to play for as well. The chance to beat two other teams with postseason bans in 2012. The chance for victory over a team with a fire-breathing dragon as its mascot... The 2012 Ohio State Buckeyes, FIRE-BREATHING DRAGON SLAYERS! The chance to beat a Pac-12 team, and call it our Rose Bowl. The chance to see Bielema's face when the Buckeyes beat his Badgers, again2.
The chance to see John Simon eat people alive. The chance to remind Purdue of their proper place, as they seem to forget from time to time. The chance to avenge the 2011 Michigan State and Nebraska losses as if they're Albanians that kidnapped our daughter, because WOW those days sucked. The chance to show the college football world that Ohio State can hire an offensive coordinator that isn't completely obsessed with Dave. The chance to watch this team develop into what is hopefully a contender the following year. The chance to climb the AP poll, just for fun. The chance to witness the effects of Urban's man-crush on Braxton Miller, on the field.
So, what do you look forward to as a fan? What do you not look forward to? College football is in a league of its own because every game means so much. That's true this year for Ohio State, just as much as it's always been. And while it won't serve to determine the conference champion this year, The Game has an even greater sense of purpose than it typically does. Did you even think that was possible?
What could possibly set up 2013 better than a dominant year in 2012, and the added motivation of coming off a postseason ban? The results are still yet to be seen, but it appears it may work for USC this year.
Even without a postseason, Ohio State should have a pretty memorable year, with something new to root for each week. And if not, there's always basketball...
1 Yes, "The Game." You're cute, Harvard and Yale.
2 Let's be honest, there's really no other time when seeing his face is pleasant.