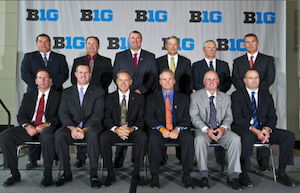 A few days ago, Athlon Sports revealed what supposedly happens when Big Ten coaches anonymously talk about their conference opponents and fellow coaches. I say "supposedly" because unless the only coach Athlon spoke with was Kirk Ferentz, no one would give such canned, milquetoast responses.
This is not the Big Ten of even five years ago. The conference may have a reputation for being pedestrian1, but there's a lot more contention than assumed, whether it's Urban Meyer ruffling feathers because recruits find him to be a more appealing coach than Bret Bielema or if it's Tim Beckman sending his staff to stalk Penn State players.
Four schools, all traditional powers at that, are on probation. Today, the second-longest tenured coaches in the B1G are Bielema and Pat Fitzgerald, neither of whom I would describe as "boring", albeit for entirely different reasons.
Despite all of that, here's an example of what was said about Ohio State:
"Last season, they had to deal with the suspensions of Terrelle Pryor, DeVier Posey, Boom Herron and others to start the year. This time they have to deal with the realization that they are banned from playing in the postseason. Even with no hopes for a bowl game, Urban Meyer will quickly learn firsthand the expectations of coaching at Ohio State."
Really? An opposing coach has free rein to discuss Ohio State and all he provides is the most banal three sentences I've ever read that involve Terrelle Pryor, a postseason ban, and Urban Meyer? I don't buy it. 
Granted, the Big Ten is still relatively tame compared to other conferences. In the Pac-12, you've got a coach taking an insensitive dig at the safety of his rival's campus.
And if SEC coaches were promised confidentiality in exchange for remarks about the rest of the league, their statements would make YouTube comments look civilized. Then they would probably follow it up with a Roll Tide/Woo Pig Sooie/War Eagle/Geaux Tigers/Gator chomp2 because they don't care about their anonymity.
But B1G coaches don't need sodium pentothal in order to offer honest assessments of their colleagues. As proof, I'm bringing you their actual3 quotes about each of the 12 schools and coaches. Though their identities remain secret, you might be able to figure out who said what.
Ohio State / Urban Meyer
"I peed my pants when Ohio State hired him. The combination of Urban and Braxton Miller is, to say the least, not going to be fun for the rest of us."
"Just when you think karma finally came for Ohio State, they had to go and snag one of the game's best coaches. They're not going to go 12-0 this season, but next year...God, the O-H-I-O cheers will be even more insufferable."
"Uhhh, Urban is, uhhh, a skinny guy. Does, uhhh, Ohio State—Ohio, I mean! Because that's, uhhhh, what I've always called them. Does Ohio, uhhh, not pay him enough so he can, uhhh, eat? I'm hungry. "
"Urban seems like a good guy. Braxton Miller is a good player. So is John Simon. They will be tough."
"I need a drink."
"Man, I hate Ohio State and then Urban Meyer Wiener has to waltz in here and act like he owns the B-1-G? Excuse me, Urbz, but only one coach has ever won the Big Ten Title Game and it wasn't you... I really want him to be my best bro."
"HE'S NOT A TRUE DARN BUCKEYE! HE DIDN'T EVEN BLINKING PLAY FOR OHIO STATE! WHAT BLINKIN FERTILIZER THAT HE WAS CHOSEN OVER A FORMER PLAYER!" - as translated by Vin Scully4
Michigan State / Mark Dantonio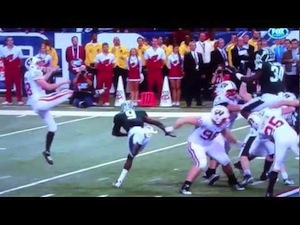 "I think they were the best team in the Big Ten last season, even better than Wisconsin. The same could be true this year, but they won't win the conference because they will always, always, always screw it up."
"Mark seems like a good guy. William Gholston is a good player. So is Isaiah Lewis. They will be tough."
"Maybe Danno should start teaching his guys not to run into the kicker. BURN!"
"I've got three competent players on my offense. Please don't let their defense kill any of them."
"Dantonio once invited me out for a drink. I woke up three days later in a cabin in the U.P. wearing Sparty's costume head."
"Mark's doing a fine job and Gholston could be playing for an SEC team. But they aren't disciplined enough to be elite. That's why, as my good friend would say, they're Michigan State."
"They're, uhhh, due for a, uhhh, punching."
Michigan / Brady Hoke
"I'll give Brady credit for this: he understands the importance of hiring top coordinators. And Denard's a playmaker, but I'd use him as a slotback. He's just not sturdy enough to be my QB." 
"Gotta disagree with Brend-o. Bottle blondes are the way to go."
"They will probably be better than they were a year ago, though their record will be worse. Did they really win 11 games last season? How'd that happen? No seriously, how?"
"At the Big Ten Kickoff Luncheon, I saw Hoke eat a 6-pound can of Crisco. He called it his appetizer."
"They get all the attention. We get the wins. So where's the threat?"
"Is Michigan back? Well, they've got a talented team, but they're overrated. So yeah, in that sense, Michigan is back."
"Brady seems like a good guy. Denard is a good player. So is Taylor Lewan. They will be tough."
Purdue / Danny Hope
"I heard that once in practice, Caleb TerBush threw a pass right into Hope's mustache. The football was never seen again."
"Does anyone actually believe Purdon't (LOL) will win the Leaders Division? Cuz Badgers are repeating, baby!"
"Danny's mustache seems like a good guy. Kawann Short is a good player. So is Ricardo Allen. They will be tough."
"I'D RATHER EAT FERTILIZER THAN SPEND MORE THAN THREE HOURS IN WEST LAFAY-BLINKING-ETTE." - as translated by Vin Scully
"On offense, Purdue needs to get the ball in Raheem Mostert's hands. On defense, they've got an SEC-level tackle in Kawann Short. How'd he wind up playing for Hope, anyway?"
"His mustache isn't that great. He doesn't even have the best one in the Big Ten."
"Purdue has a decent team and they'll somehow win at least one game they shouldn't, but unless you start measuring victories in ACL tears, they're not going to win consistently under Hope. Their fans probably won't realize this for seven more seasons."
Iowa / KIRK FERENTZ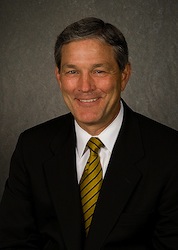 "Never give this guy your number, or he'll call you at 3 in the morning and talk about socks for two hours."
"I say a prayer every night for Damon Bullock."
"James Vandenberg's arm will fall off halfway through the season, but they'll pick up some wins before that happens."
"Iowa Hawkeye football rules! Class of '92!"
"I'm not sure how it's possible to both overachieve and underachieve, and yet, Iowa manages to do it year in and year out."
"Everyone says Ferentz is dull, but one time, I witnessed him drop acid and then bust out, 'Nuthin' But a G Thang.' It was just a dream, though."
"I think Iowa's running back curse is slowly spreading to the entire conference. Silas Redd is gone, Jordan Hall is injured, Montee Ball got beaten up, Fitzgerald Toussaint was arrested... I'm monitoring my RBs every hour of the day now. This does not make me a stalker."
Northwestern / PAT FITZGERALD 
"Pat seems like a good guy. Kain Colter is a good player. So is Ibraheim Campbell. They will be tough."
"The only way Northwestern could reasonably claim the title of 'Chicago's Team' would be if Robert Lamm was a big Wildcat fan."
"I could go for some, uhhh, deep-dish pizza now." 
"I've got mustache hairs older than Pat."
"Colter has thrown, run for, and caught touchdowns. My kind of quarterback."
"Even though he's a total nerd, I bet Fitz would make a great wingman at the casinos, if I could still do that. Twenty-one weeks, five days..."
"Unlike most of the Big Ten teams, they're pretty solid at the wide receiver position, especially now that Kyle Prater has been cleared. Maybe they should trying moving some of their receivers to the secondary. They made even Matt McGloin look adequate last season." 
Nebraska / BO PELINI 
"At the Big Ten Media Days, Bo came up to me and asked if he could borrow $20. He wasn't wearing any pants."
"I'm pretty sure Pelini and Taylor Martinez play the choking game and not for the high, either. They just hate each other."
"Thank you for, uhhhh, high-fructose corn syrup, uhhhh, Nebraska."
"Last year, they found out the Big Ten isn't the pushover conference it's often perceived as. This year, they're still not going to take over, and Pelini might literally explode in a ball of rage. And yes, I mean literally."
"Bo seems like a...good?...guy. Rex Burkhead is a good player. So is Brett Maher. They will be tough."
"Bro Peni, as I call him, is hilarious. When we first met, I asked him, 'how's it going?' and he nut-punched me."
"Only one Big Ten school is allowed to be referred to as NU, but never, ever, ever tell Pelini it shouldn't be Nebraska." 
Minnesota / Jerry Kill
"I honestly like Jerry and hope he does well but yikes, Minnesota."
"Kill should hire Prince to his staff. Not Ron Prince, but the musician Prince."
"I ONCE YELLED 'KILL THAT MOTHER-BLINKER' AT A HORSE FERTILIZER BIG TEN COACHES MEETING. EVERYONE BLINKING THOUGHT I MEANT JERRY AND I DIDN'T." - as translated by Vin Scully
"Jerry seems like a good guy. MarQueis Gray is a good player. So is, um, MarQueis Gray. They will be..."
"Selling beer in their stadium? Call me when they start allowing bourbon."
"Looking at their non-conference schedule, I bet they beat Syracuse. Maybe not New Hampshire, though."
"I give him a 2 out of 5 on the Dali scale."
Illinois / Tim Beckman
"We all liked Tim until he pulled that stunt with Penn State. Now everyone wants to hang 50 on them. It won't happen because of their defense, but no one's going to let up, either...except when the wind forces them to."
"I'd really love to know what Zook left behind in his office for Beckman. I'm going to guess lady mags, Quaaludes, and a tuxedo t-shirt."
"First they try to call dibs on Chicago and now on the entire state? I can't wait to see how Illinois State responds to their 'Illinois. Our state. Our team.' slogan."
"It looks like they have quite a few talented players. How many of them did Beckman poach from other teams? Not that I'm bitter or anything."
"Mark it down: they'll beat Michigan and then turn around and lose to Indiana."
"Tim seems like a good guy, I guess. Nathan Scheelhaase is a good player. So is Michael Buchanan. They will be tough."
"Timmah! Or as I nicknamed him, Timmah What-the-heck, man."
Indiana / Kevin Wilson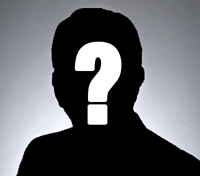 "Doesn't he have diabetes? No, I'm thinking of Wilford Brimley. Wait, is Wilford Brimley the coach of Indiana?"
"Kevin seems like a... Stephen Houston is a good player. So is Larry Black. They will be tough?"
"I talked to him for an hour at a coaching conference. As it turns out, I was actually talking to a tree. I may have been drunk."
"Indiana has a few respectable players, but you may as well call them the "Fightin' MACs" because that's the talent level of the rest of them. At least they'll win one Big Ten game this year. Probably. "
"I wonder if I could convince Kofi Hughes to transfer to my team..."
"Christian Grey was actually based on Kevin Wilson. He also speaks fluent Mandarin and has a stuffed parakeet named Alistair that he takes with him wherever he goes. I made all of that up because I know nothing about Kevin Wilson."
PENN STATE / BILL O'BRIEN
"Poor S.O.B."
"I wouldn't want to be in his situation. Sixty-five scholarships? That's like one recruiting class in the SEC."
"He's, uhhhh, in for a, uhhhh, rocky road. I could really, uhhh, go for some ice cream right, uhhh, now."
"What did Penn State end up doing with that Joe Paterno statue? They'd be better off starting that at quarterback than McGloin."
"Bill seems like a good guy. Silas Redd Justin Brown Anthony Fera Gerald Hodges is a good player. So is Michael Mauti. They will be tough."
"My advice to him is to start drinking heavily."
"If the roles were reversed, he'd try to poach some of my players, too. Not that I poached anyone. That's an ugly word. I presented them with an opportunity to play in a bowl game. Maybe." 
WISCONSIN / BRET BIELEMA
"Ugh."
"He once asked me if I was interested in the Eiffel Tower. I'm assuming he didn't mean the one in Paris."
"Bret seems like a...guy. Montee Ball is a good player. So is Chris Borland. They will be tough."
"IF CAT URINE WAS A PERSON, IT'D BE BRET BIELEMA. BLINK HIM." - as translated by Vin Scully
"One of the reasons the Big Ten has a lousy reputation lately is because they keep sending Wisconsin to the Rose Bowl. Bielema beats up on the little guys but folds against the top dogs. I'm really looking forward to kicking his giggle-blanking posterior5 on a regular basis." 
"Madison obviously isn't a safe place for Montee Ball. He should switch to a different Big Ten school, perhaps one just a little farther south."
"Cheese!"
1 Also because the players are so slow, they may as well be walking, AMIRITE?
2 The SEC is home to a lot of dumb cheers, huh? 
3 Nope.
4National treasure, indeed. 
5 /Vin Scully'd.