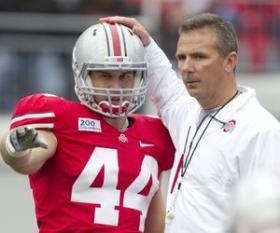 Under normal circumstances, Zach Boren would have a handful of catches and (maybe) one carry this season. His main duty would revolve around blocking for another 1,000-yard running back, something he had done in two of his three seasons at Ohio State. A reward and goal for him and his teammates at the end of another grueling Big Ten season would be awaiting: a bowl game in a warm-weather locale.
But these aren't normal circumstances. The Buckeye football program has just recently returned to normalcy after a 12-month period of near uncertainty. Jim Tressel, gone; conservative offense, gone; 2012 postseason, gone.
All has not been lost for Boren, however. Head coach Urban Meyer and offensive coordinator Tom Herman have ushered in a new era of Buckeye football on many fronts, one being an offense deemed futuristic in Columbus. The fullback will be a ball carrier and a receiver. Gasp!
Pushing the rewind button even further on Boren's career reveals that he came to Ohio State to be a linebacker. It comes as no surprise that Boren – a Boren – was primed to play a position that imposes physical home on the opponent.
"When I went to fullback I kind of brought the linebacker attitude to fullback," he said. "I was going to go out and hit someone. I prided myself on leading the running back to the right area and then making contact and hitting a guy."
Boren's offseason success story is two parts. Not only did he develop a Simon-esque workout style, but he quickly established the offensive skillset that Meyer's "power" spread offense calls for. Boren dropped 25 pounds and now checks in at 240. His career totals read one carry for two yards and 20 receptions for 151 yards and a touchdown.
"He's a very good player," Meyer said. "He can catch, he can carry the ball. He doesn't exactly have the homerun ability you'd like to see. But he's a tough guy and he will carry the ball for us."
Said Boren: "Twenty-five pounds is a lot. Everything's a lot easier than it was. I'm a lot faster than I was last year. I'm a lot quicker, more agile. Hopefully it shows during the season.
"I had to work harder. I had to be doing more stuff each day. I'm not just working on my hand placement and hitting dummies. I'm working out with the tailbacks and doing cuts and stuff like that, next time catching balls out of the backfield, next time catching routes from Braxton (Miller) out wide. It's just expanding my role and putting in more time."
Exhibiting an agile running ability and as sure a set of hands as there are on the team, Boren's career numbers should increase exponentially. Save for tight end, there isn't a position on the team that has benefitted more from Meyer's hiring in terms of productivity.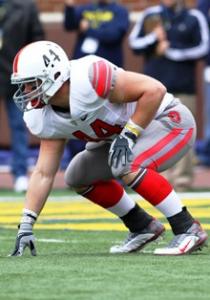 "It's been a while since I ran the ball," said Boren, recalling a sterling career at Pickerington Central High School. "But I'm trying to get back to those roots. I see my role expanding a lot in this offense, and I'm excited about it – ecstatic to be doing whatever I'm going to be doing this season.
Already, in just the first full week of drills, Boren has flashed the traits that make him a legitimate threat. On Tuesday, he scored two touchdowns in red zone drills, running straight into the teeth of the defense both times.
With Jordan Hall due to miss multiple games to begin the season, Boren's importance becomes even more magnified. Carlos Hyde is expected to take a bulk of the carries, with Rod Smith and Bri'onte Dunn providing some relief. But now Boren becomes the wild card. Ohio State will have two players in the backfield who are plenty capable of running the ball and not just gaining yards but making an impact.
"I'm as strong as I've ever been, actually I'm stronger," Boren said. "What people have to realize is we're not running an I-offense anymore. I don't need to be going through on an iso and trying to take out a dude and cracking my helmet or cracking my facemask. Our offense isn't in that era anymore."
Meyer has made it clear that the best 11 players and those who are game-changers will be on the field.
"The coaches came in and said they wanted to expand my role," Boren said. "But in order to do that, I had to lose some weight, get faster and stuff like that. I was on board from the moment they got here."
Still, regardless of how much success Boren or the team have, and the expectations are lofty, there will be no national championship, no Rose Bowl, no Big Ten championship. Boren is among the group of 21 seniors that also includes the likes of John Simon, Jake Stoneburner and Etienne Sabino.
At the Gator Bowl, Boren said he tried not to focus on the game serving as his last bowl. When the subject was brought up at Big Ten media days in July, Boren's entire vision on the postseason ban shifted.
"I didn't even realize we weren't going to a bowl game until I got around here and was asked questions about it again," he said. "We have never talked about it in the offseason. The only time we've brought it up was in December when they handed out those penalties."
Senior offensive lineman Reid Fragel said the team will use the punishment as motivation.
"Nobody is saying 'woe is me' and all of that stuff," he said. "We were a little aggravated, but we'll use that to our advantage."
It's undoubtedly something that Meyer likes to hear. He spoke at length about angry and hungry teams, providing past experiences as evidence that they play better than friendlier, famished teams, so to speak.
Meyer, himself, is irked about the bowl ban. When he accepted the Ohio State job in November, he believed the football program would steer clear of the most serious NCAA sanctions. More than that, though, he feels badly for the senior leaders who won't get a prize in their Cracker Jack boxes.
"It's uncomfortable," Meyer said. "I see Zach Boren walking across the hall here. That kid deserves to play for a championship. He's earned that right. John Simon is one of the hardest working guys I've ever been around in 26 years, same with (Etienne) Sabino.
"Is there a light at the end of the tunnel for these guys? Yeah. We can go win the Leaders. Can we go to the championship game? That's out of our control. But they're playing for something."
Winning every Saturday and putting maximum effort forth out of respect for the seniors have been stated as the goals.
For Boren, South Florida or Pasadena would certainly make a grand exit. But it doesn't get any bigger than Nov. 24 in Ohio Stadium for the 109th renewal of "The Game."
A win would mark a return to normalcy in the rivalry and close the curtain on the beginning of a new era of Buckeye football.